Vol. VI, No. 5, October/November 2006
---
---
Welcome to the world of 'tainment'
Tainment is a hot concept that continues to take hold in consumer location-based venues, from restaurants to museums to airports. Tainmentizing is all about the experience economy, when an entertainment and/or educational component is added to engage customers in a memorable way. Read on for an in-depth look at this important trend.
Consumer location-based venues are being 'tainment'ized. It probably started with eatertainment, which is entertainment incorporated into restaurant destinations. Then came edutainment, which gives an educational overlay to entertainment. Not to be left out in the cold, retailers, shopping centers and mall developers starting adding entertainment to their stores and centers, calling it shoppertainment (coined by the Mills Corp.), retail-tainment, or mall-tainment, a term our company was the first to coin. Waterpark developer Schlitterbahn incorporated entertainment into the company's waterpark transportation systems, such as the uphill waterslides, so they trademarked the concept as transportainment™ (transportation+sport+entertainment).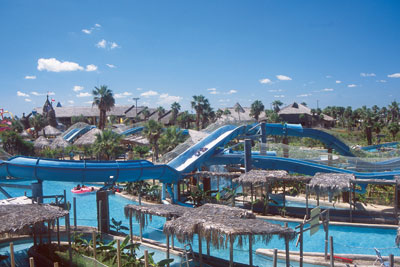 Schlitterbahn transportainment system at their
Schlitterbahn Beach Waterpark at South Padre Island, Texas.
Museums are making their facilities more fun, so we have culture-tainment. Zoos have added carousels, rollercoasters, and children's play areas, so you might call it zoo-tainment. (We haven't seen either of these terms used yet, but we're sure we will.) Farmers have turned their farms into entertainment destinations with agritainment (also called agri-tourism). Some factories are now entertainment destinations, so we have factory-tainment. And airports are being tainmentized as more than just departure and arrival facilities. Indoor waterparks are being added to hotels, so there is hotel-tainment. We're sure there are other tainments out there and more to come.
So let's take an in-depth look at some of these tainment concepts.
Shoppertainment, retail-tainment or mall-tainment
Retail-tainment basically entails creating a festive, fun shopping atmosphere, such as adding entertainment and entertainment venues within shopping centers and malls. For example, Stew Leonard's supermarkets in Yonkers, New York, and Norwalk, Connecticut, was one of the earlier retail-tainment pioneers with the addition of animatronic-singing vegetables and milk cartons, a petting zoo, costumed characters and a country fair atmosphere.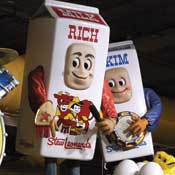 Animatronic singing milk cartons at Stew Leonard's supermarket
Whole Foods supermarket chain has not only created a festive shopping atmosphere, but sometimes even has live music. Now, Cabco Group, a New Zealand-based company, has designed a car-shaped shopping cart to assure that pint-sized shopping companions have plenty of tainment when their parents visit supermarkets. Their TV Kart is equipped with a television screen that plays popular children's shows. The carts come in three kinds: Barney, The Wiggles or Bob the Builder. To view a video of the TV Karts in action, just click your preferred format:
Embedded Flash Quicktime Windows media
The Mills Corp's shoppertainment malls (called Mills) include entertainment destinations such as movie theaters, GameWorks, IMAX Theaters, Medieval Times and themed restaurants. The exteriors and interiors of the Mills aren't so serious, but are almost whimsical at times.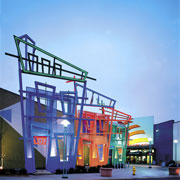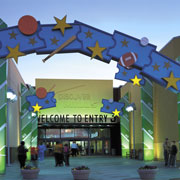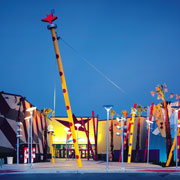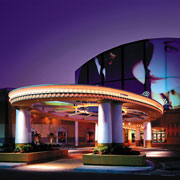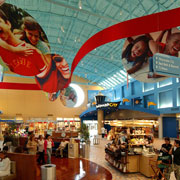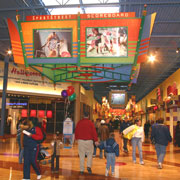 In our last eNewsletter, we featured the article Retail developers are becoming restaurant and entertainment operators. It discussed the Cordish Company's projects and the Mall of America. Both are excellent examples of the tainment of retail-type destinations. Another good example is Mall of the Emirates www.malloftheemirates.com with its indoor ski slope. For more about snow in the Middle East, see More snow for Dubai.
Culture-tainment
We're going to tread very carefully on this one. Much of the museum industry can be rather stuffy and slow to change, so we don't want to get them up in arms. Nevertheless, adding entertainment to make museums more than a bunch of static, passive exhibits is a nascent trend. A lot of the shift toward making museums more fun to visit has to do with funding. No different than for-profit venues, museums have to pay their operating costs. Costs are up, and grants and donations are increasingly difficult to obtain. So museums are working to increase attendance and admission charges, or what they call earned income. Make it more entertaining, and people not only will want to come, but be willing to pay a reasonable admission fee.
One of the most recent examples of a museum that overlays entertainment on the educational experience is the new Abraham Lincoln Presidential Museum in Springfield, Illinois. BRC Imagination Arts, using its Showmanship Meets Scholarship approach to experience design, has transformed the museum experience from a static exhibit paradigm to one of entertaining storytelling. Attendance has exceeded all expectations at over 600,000 during its first year of operation. The Abraham Lincoln Presidential Museum has become the new model that other museums are now trying to imitate.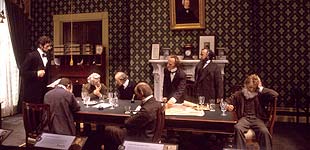 Lincoln's Office in the White House at the Lincoln Presidential Museum brings you into an exacting reproduction of Lincoln's White House office. As you enter, Lincoln has just unveiled his plans to issue an Emancipation Proclamation to his cabinet. Each in their own way disapproves. Some say it goes too far, others not far enough; a few believe it is political suicide.
Children's museums have always had hands-on play areas for children in addition to more educational exhibits. One of the most successful children's museums in the country, both in attendance and the percentage of revenues generated by earned income (mostly admissions), is The Magic House in St. Louis, Missouri. The vast majority of the museum has always been devoted to children's hands-on, interactive play.

Science museums have also been moving in the direction of more entertainment and experiential exhibits. COSI in Columbus, Ohio, was the early pioneer in adding their dedicated Little Kidspace play areas for preschoolers. Many science museums now include IMAX or 3D theaters, and they aren't just showing science films.
Factory-tainment
Take what might be a mundane factory, make it fun for people to tour and learn how products are made, and you have factory-tainment. Better know as factory tours, these are sometimes called brand museums. The website factorytoursusa.com lists 481 factory tours. Factory-tainment is so popular, there's even a book that reviews and gives information on 300 factory tours: www.factorytour.com.
One of the first factory tours to really bring on the tainment was Kellogg's Cereal City USA, a museum, factory tour and theme attraction all wrapped into one. At Kellogg's Cereal City USA, you can take a tour of a simulated cereal production line where you'll learn exactly what goes into the making of Kellogg's Corn Flakes® cereal. You can start the day with breakfast with Tony the Tiger. You can hold your birthday party there. And you can even take home a box of Kellogg's Frosted Flakes® cereal with your photo on it.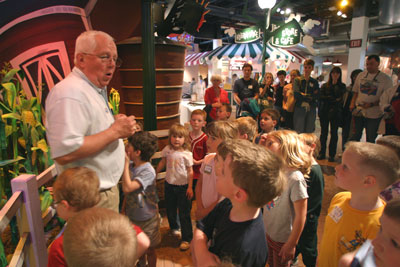 Another very popular food-oriented factory tour is Hershey's Chocolate World, where you can learn how chocolate is made, see a 3D movie and even help operate an actual Hershey's Kisses chocolate packaging line. And if that isn't enough fun, right next door is Hersheypark, a family theme park.
Edutainment
We've written a lot about children's edutainment over the years. Perhaps our best overview is our white paper That's Edutainment. Edutainment is almost exclusively used when referring to venues for younger children, typically eight years and younger.
Children's edutainment venues continue to grow in number. In our last Leisure eNewsletter issue, we wrote about a derivation of children's edutainment centers (also known as children's play and discovery or children's discovery play centers) called 'at-home mom's cafés' or play cafés. See Coffee, café, play, Mommy and me.
Nature-tainment
New entrants to children's edutainment are botanical gardens and arboretums. Throughout America, botanical gardens and arboretums are adding children's discovery gardens, special nature- and play-based areas designed for young children to attract the family market. Maybe we should call this nature-tainment, instead (but then again, maybe not, as we don't want to upset Mother Nature. Getting flash-fried by lightning is no fun). But children have always learned by playing in nature, so even here, the tainment is not new. The only difference is that these natural environments are designed by humans, and in most cases, admission is charged. So instead of playing in their backyards or the woods and fields near their homes, children now go with their parents to a destination venue to play in nature. This advent is a sad commentary on modern society, at least in America.
As an aside, our company has worked extensively over the years to bring nature back to children's play environments, whether at childcare centers, elementary schools or venues such as children's edutainment centers. In educational environments, we call our nature-based designs play gardens rather than playgrounds, to help break the typical paradigm of using only manufactured playground equipment. In children's edutainment centers, we call them adventure play gardens. If you are interested in reading more about both the importance of nature to children's lives and its absence from their lives today, read:
In the early 1990s, interest in children's gardens developed in the botanical garden and other not-for-profit sectors. In 1992, the American Horticultural Society held a symposium and created demonstration children's play gardens at the River Farm facility in Alexandria, Virginia. The first children's discovery garden, created by the Michigan 4-H Foundation and known as the Michigan 4-H Children's Garden, opened in 1993 in East Lansing, Michigan. The first children's discovery garden to be located in a botanical garden was at the Brooklyn Botanical Garden in New York City. The number of botanical children's discovery gardens has continued to grow, including;
There are many others. The Children's Garden at The Morton Arboretum in Chicago, Illinois, is one of the most recent and elaborate ones, and a first for arboretums.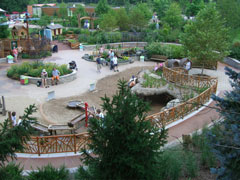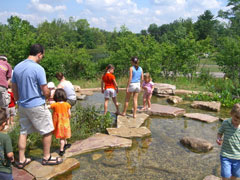 Children's Garden at Morton Arboretum
The children's garden movement has become so widespread that there is now an annual National Youth Gardening Symposium sponsored by the American Horticultural Society. The event covers youth gardening, the greening of school playgrounds, place-based education in school gardens, and destination children's gardens. (Read a story about the 2006 symposium as a PDF download). The 15th Symposium will be held July 19-21, 2007, in Chasta, Minnesota.
Zoo-tainment
And speaking of children's edutainment, another derivation is now starting to appear in zoos. Yes, called children's play zoos or children's zoos (there comes that zoo-tainment), they are special areas with hands-on and play activities for children 10 and younger. The idea behind a play zoo is that children need to touch, explore, build, and do to learn. Touching live animals, planting a garden, examining animal X-rays, fingerpainting with mud, searching for bugs, exploring a stream, and building animal homes are all in a day's play. The goal of play zoos is to foster in kids a connection with nature as they have fun. This the same approach the botanical gardens and arboretums are taking with their children's discovery gardens. The only difference is that play zoos include animals and focus more on animals than plants.
The first children's play zoo, the Hamill Family Play Zoo, was opened at the Brookfield Zoo in Chicago in June 2001. Since then, the Lincoln Zoo in Lincoln Park, Chicago, has also added the Pritzker Family Children's Zoo, although it is not as hands-on as the one at the Brookfield Zoo.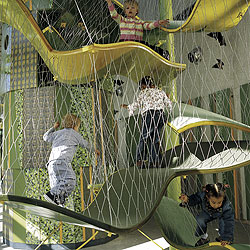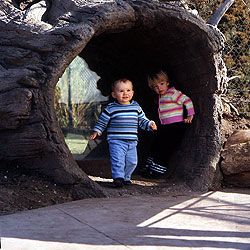 Other children's play zoos include: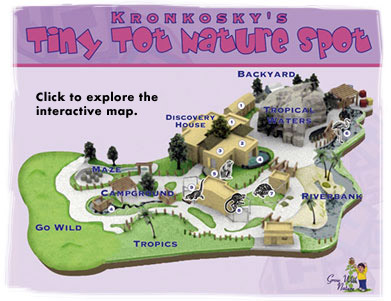 And speaking of zoo-tainment, let's not forget the trains found in most zoos, as well as the many shows. And yes, the rollercoasters. We know of at least one zoo in the U.S. with one, as the Indianapolis Zoo (Indiana) added the Kombo Family Coaster in 2001.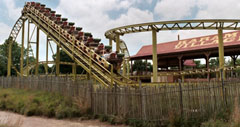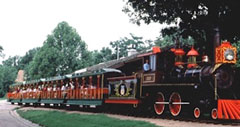 Agritainment
Bring the children and family out to purpose-designed entertainment environments on the farm, and you have agritainment (also called agri-tourism). Agritainment includes a wide range of activities, from corn mazes (there are hundreds each fall) to u-pick, from hay rides to autumn and Halloween festivals, from petting zoos to children's discovery farms.
Agritainment is a rapidly growing industry, as farmers have learned that in addition to selling crops, you can earn profits by offering entertainment on the farm. In fact, farmers have learned that you can even get the public to do some of the work - pick the crops at u-pick or pick-your-own operations and at pumpkin patches. Customers will pay a premium for the crops, as now they are also having an entertainment and educational experience in picking them. To see a slideshow of agritainment, click here.
Agritainment (and farm markets) now has its own annual convention sponsored by the North American Farmers Direct Marketing Association (NAFDMA).
Agritainment children's discovery farms parallel the development of children's discovery gardens at botanical gardens and the play zoos. Children's discovery farms are dedicated areas on farms designed for young children accompanied by their parents. In many respects, they are an outdoor version of a children's edutainment center with some animals added. Just like the children's discovery gardens and play zoos, they are hands-on and play-based. For over 13 years, our company has been the consultant and designer for perhaps America's first, largest and most successful children's discovery farm, Davis' Farmland in Sterling, Massachusetts . It has grown over the years from originally just a small farm-based petting zoo to a multi-acre facility with a four-hour to all day length-of-stay. Davis' Farmland, and its adjoining Davis' MegaMaze, the maze of mazes in North America, now totally support the seventh generation farm.
We've written several in-depth articles about agritainment:
You can also read about our agritainment projects and see a slide show of Davis' Farmland on the agritainment page on our website.
Hotel-tainment
OK, this is not a real word, at least not yet. We've made it up to describe a significant new tainment venue, the family hotel waterpark resort. Once you rented a hotel room just to have a place to sleep for the night while you were traveling. Now families rent hotel rooms, even in their own home towns, so they can enjoy the hotel's indoor waterpark. This not only increases the hotel's average daily room rate (ADR), but also the occupancy percentage for the hotel. That all equates to a greater profit.
The idea of taking the waterpark indoors and combining it with a family hotel evolved in the Wisconsin Dells, Wisconsin, in 1994 when the Polynesian Resort Hotel opened the area's first indoor waterpark. Now, indoor watepark resorts are opening in non-tourist destinations such as Kansas City, Kansas; Milwaukee, Wisconsin; Dundee, Michigan; Sheboygan, Wisconsin, and Utica, Illinois. The growth of indoor waterpark resorts is partially attributable to a change in American vacation habits. Families take more short vacations, many two- or three-day getaways planned on short notice. Indoor water park resorts within driving distance make it easy for quick getaways for families, as you don't have to book a flight. You just pack up the kids in the car and drive.
Great Wolf Resorts, Inc. (Nasdaq WOLF) is the largest dedicated hotel waterpark resort development company in the world, currently with nine operating properties and two more under construction. Holiday Inn is now adding indoor waterparks to hotels under both the Holiday Inn & Suites and Holiday Inn Express flags.
Whereas the overall hotel industry grew about 1% in 2005, the number of hotel waterpark resorts increased 28%. As of the end of 2005, there were 104 indoor waterpark resorts in North America. Another 35 are expected to open in 2006 (34% growth), and an additional 155 indoor waterpark resorts are under development or in planning stages.
The industry has now grown large enough to support a Waterpark Resorts Conference.
Airport-tainment
So you thought that an airport was just a place where you departed for or arrived from a flight. No more. Airports started diversifying when the Pittsburg (Pennsylvania) International Airport pioneered the first airmall shopping concept with 65 stores. Palm Beach (California) International Airport has a putting green right in the terminal. McCarran International Airport in Las Vegas (Nevada) has 3,100 slot machines. San Francisco (California) International Airport is the only U.S. airport with an accredited museum program offering changing art, science, historical and cultural exhibitions in 20 galleries located throughout the terminals. There's also an Aviation Museum and Library dedicated to the history of flight. Schiphol Airport in Amsterdam, The Netherlands, has a casino, and Rijksmuseum Amsterdam Schiphol is the world's first annex in an airport by a museum. Kids can also have some airport-tainment. Many airports now have airport-themed play areas, including O'Hare Airport in Chicago, Illinois, and the Minneapolis-St. Paul (Minnesota) International Airport.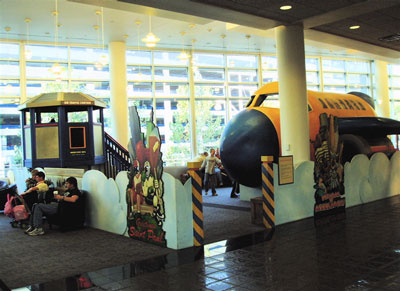 Eatertainment
Eatertainment is currently the largest tainment industry. Also know as restaurant-entertainment, eatertainment combines dining and entertainment. There are many forms of eatertainment. Las Vegas-style dinner shows are one example. Another is Medieval Times - sort of a medieval dinner show. Theme restaurants made an attempt at trying to be eatertainment, but it didn't work well for most. The problem was they couldn't charge extra for the theme (the entertainment), so the food had to be higher priced -- and wasn't perceived to be worth it. T-Rex Café is making a stab at a variation on the themed restaurant with some additional entertainment. See last issue's story, First T-Rex Café opens.
However, most eatertainment with a proven track record doesn't depend on passive entertainment, such as theming or a show, and includes a much heavier dose of participatory entertainment than offered at T-Rex Café. We categorize true eatertainment as having participatory entertainment plus 50% or more of its revenue coming from food and beverage sales. The concept dates to at least May 1977 when Nolan Bushnell created the first Chuck E. Cheese's Pizza Time Theatre in San Jose, California. The enterprise combined single-user, token-operated rides designed for small children, redemption games, a robotic animatronic show, and that staple of every Stateside kid's diet — pizza — into one-stop centers. Later, Chuck E. Cheese's Pizza Time Theatre merged with Showbiz Pizza Place (its direct competitor) and became just Chuck E. Cheese's. The chain has since grown to more than 500 units. That's definitely a concept with legs (American slang for longevity).
Another long-timer in the eatertainment industry is Dave & Buster's, now 24 years old, without that many changes over the years.
There is no question that eatertainment is a proven and solid concept. Both the restaurant industry and the location-based entertainment industries have a hard time with eatertainment, as neither claim it as a part of their industry. That makes sense, as eatertainment is its own unique formula. Part restaurant and part entertainment, the concept has a unique identity.
Consumers are increasingly attracted to eatertainment, as its different concepts meet their needs for a number of away-from-home occasions centering around dining, socialization and fun:
Friends getting together
Family outings
Something special for the kids
Celebrations and parties
Group functions
Eatertainment can be broken into five rather distinct segments:
Dinner and Show - Las Vegas dinner shows, dinner theaters and Medieval Times fall into this category

Pizza and games - This includes Chuck E. Cheese's, as well as the 140-unit Peter Piper Pizza chain, Eatza Pizza with 77 units and rapidly expanding, and the 52-year-old Shakey's Pizza chain that just opened its new Shakey's Pizza and Grill eatertainment concept.

Young adult concepts - Dave & Buster's and Nolan Bushnell's new uWink fit in here (we haven't seen any revenue figures on uWink, but if the games generate substantial income, it will definitely be eatertainment). ESPN Zone should probably be included, although it also targets families. In a sense, the new bowling lounges like Lucky Strike and Pin-up Bowl also fall in this category. Just like Dave & Buster's, the bowling lounges also attract families during weekend and holiday daytimes, but families are not the target market and don't generate the largest part of revenues.

At-Home Mom's Cafés/Play Cafes - This is a new category that is unique in the sense that the food component predominately targets moms while the play or entertainment component targets preschoolers. It's unlike Chuck E. Cheese's, where adults can play the games with their children. To learn more about play cafes, read Coffee, café, play, Mommy and me.

Family pizza buffet/entertainment centers - This is the big box, mega eatertainment concept targeting families, with some facilities as large as 90,000 square feet. Family pizza buffet/entertainment centers (FBECs) combine the appeal of a one-price all-you-can-eat buffet with pizza, pasta, soup, salad and desserts with family entertainment attractions and party facilities. Revenues break down to almost exactly 50% food and beverage and 50% entertainment. FBECs are rapidly spreading throughout the U.S., and shortly into Mexico, taking market share from restaurants that cater to families, as well as from traditional family entertainment centers.
Eatertainment venues understand the seriousness of food to their appeal, (unlike entertainment-oriented facilities, such as family entertainment centers, which treat food as a snack bar) because food is both a driver of destination and frequency. Family and children's eatertainment facilities are also targeting adults with food selection and quality and upscale décor to assure that parents don't consider themselves held hostage to their children's desires to visit facilities with games and entertainment. Ron Stillwell, former chief executive of Eatza Pizza, says, "The food component to restaurants is such a profitable one, but the days of going into a restaurant and getting cruddy food and entertainment are over."
One example is the new Shakey's Pizza & Grill, which will retain Shakey's original thin-crust pizza, fried chicken and MoJo potatoes. But it will also offer new menu items such as made-to-order hand-tossed salads, burgers, micro-brewed beer and gourmet pizzas, plus a new layout and decor. Tim Pulido, chief executive of Shakey's, says the goal of the new prototype is to bring the chain into the 21st century with a fast-casual menu that appeals to health-conscious parents, who might have felt "dragged by their kids to Shakey's" in the past.
Peter Piper Pizza is upgrading its menu to include different styles of pizza crusts, including a Chicago-style pan pizza, three new entrée salads and new desserts. The chain has already installed new prototype décor in about 25 units that aims to be more enticing to adults. Even Chuck E. Cheese's is working at increasing the adult appeal. The company has been testing new ciabatta sandwiches and refreshing the décor in many stores.
Although a newer concept, even family pizza buffet/entertainment centers (FBECs) are starting to go upscale in both décor and food. Our company designed the new StoneFire Pizza Co. in Milwaukee, Wisconsin, to include an Asian wok station, a first for FBECs. The center will also have upscale décor and superior acoustics throughout, including the entertainment area.
The growth of family-oriented eatertainment concepts is being fueled not only by time-strapped parents looking for an away-from-home affordable family meal solution, but also by an increasingly kid-centric culture. Michelle Poris of Just Kids, Inc., a Connecticut-based consulting company that tracks family-oriented business trends, says, "Families today are so invested in delighting and pleasing their kids. You have limited time and resources. If you go out, you want to make sure it's something kids enjoy and they don't go ballistic. It makes them part of the experience, not the spectator ... Anything parents can do to make the experience more pleasant, they will take advantage of."
For more information about eatertainment (including the new Shakey's Pizza and Grill concept), retail-tainment and agritainment, see last issue's article, Away-from-home leisure competition increasing.
Mega-tainment

So what happens when you combine a number of the tainment concepts into one big project? You get a mega-tainment destination. We're starting to see these all over the world as an evolution is underway in the shopping center industry. West Edmonton Mall in Edmonton, Canada, and Mall of America in Minneapolis, Minnesota, were early pioneers. West Edmonton Mall bills itself as "The greatest indoor show on earth." It includes:
Galaxyland, with 25 thrilling rides and attractions
World Waterpark - a 5-acre (20,000 sm) indoor waterpark
The world's largest indoor lake with bumper boats
Sea Lion Rock - a sea lion show
Sea Life Caverns - an aquarium with over 200 species of fish, sharks, penguins, even a Giant Pacific Octopus
Regulation size ice rink
Miniature golf
Ed's Rec Room with bowling, billiards and games
Las Vegas-style Palace Casino
Jubilation's Live Dinner Theater
Cinemas
Kidtropolis - a 50,000-square-foot kid-friendly city that provides kids with the opportunity to play as doctors, shoppers, trades people, journalists, firemen and more. Each job site (pavilion) is like a movie set, with costumes, props, and supervised activities that help kids learn about the real world while just playing.
Dinosaur Adventure Museum
Laser tag
A shooting range
Two dance clubs
Two hotels
800 stores and services, many featuring retail-tainment
100 eating establishments
Many new open-air and lifestyle centers are becoming mega-tainment centers. And not to be outdone, the mega of all megatainment centers, the world's largest, The Dubai Mall, will open in Dubai with 9 million square feet of gross leasable (letting space) area and over 1,000 stores, restaurants and other tenants. Because of their wide diversity, these new megatainment complexes are characterized as retail resorts by some retail commentators.

So what's all this tainment about, besides adding some new English words to the thousands created each year? (American English is a unique language in that the words rapidly evolve with culture, technology and new concepts.) There are a number of factors that have contributed to the tainmentizing of many consumer destination concepts.
One is the need to differentiate new concepts from old ones. Back in 1997, our company started using the term 'children's edutainment centers' in location-based leisure industry articles we wrote to describe the low-tech, for-profit, children's centers based on children's hands-on, interactive play that we were designing and producing for clients. The purpose of this new term was to differentiate the centers from the entertainment-only and amusement-only children's center concepts that existed at the time, such as Discovery Zone or Jungle Jim's Playground (now Jeeper's). Play for young children, besides being fun, is educational for them, so we used edu-tainment (education + entertainment). After we used the term in several industry articles, the term children's edutainment caught on and was extended to all types of primarily entertainment experiences that incorporated an educational element. The term edutainment, unfortunately, has also been misused, such as when it is employed to market entertainment and amusement products and offerings that don't incorporate education. For example, a themed soft-modular-play structure does not qualify as edutainment, nor does a carousel that features endangered species.
Another reason for the increase in tainment is pure marketing. Heck, everyone loves something that at least seems new. Tell the world your waterpark has transportainment™ and everyone will think you have something unique and will come to give it a try. Whether they will come back again is another story.
Competitive pressure is also pushing many out-of-home consumer destinations to tainmentize. Today, supply exceeds demand. That means you have to differentiate yourself with an offering that has greater appeal and value than the competition. Would you rather go to a waterpark with the standard mix of attractions, or one where you can enjoy transportainment™? For other tainment concepts, such as retail-tainment, adding entertainment also increases the appeal. Shopping can be a chore, or it can be an adventure and fun. Tainmentizing moves it away from competing on the basis of price alone and transforms shopping into an experience.
Another major reason for tainment has to do with major changes occurring within modern world societies that deal with both the value of education and the lack of leisure time, or at least its perceived lack in a time-pressed culture. Today, consumers want to get the most bang for both their buck and their precious time. In the information age, more and more people now work with their brains rather than their bodies. As a result, lifelong education has a high value. So you add an educational and enriching overlay to your leisure offering, and it suddenly has much more appeal and perceived value (and often commands a higher price).
Tainmentizing is all about the experience economy. It's about adding an entertainment and sometimes educational component, staging an experience that engages customers, connecting with them in a personal and memorable way.
Generation X, and more so Generation Y (the Millennials), are greatly contributing to the need to tainmentize consumer offerings. They expect things to be interesting and fun.
In a sense, modern culture, at least American culture, is moving toward the Thai concept of sanuk, that anything worth doing, even work, should have some element of fun and be enjoyable. To Thais, if it doesn't have some sanuk, then it is drudgery. The English language doesn't have a word that is a true match for sanuk, at least until now that we have coined the word tainment.
Tainment is no fad. It is a definite trend that is transforming away-from-home consumer destinations. All forms of destinations are evolving; entertainment and education are converging with shopping, dining, farming, cultural institutions and other destination businesses, and new hybrids are emerging. Entertainment, as we once knew it, is becoming something of the past, and tainment, in many variations, is rapidly taking its place. We are now seeing only its earliest incarnations. The future is sure to be very exciting for consumers and challenging for purveyors who will have to tainmentize their offerings as experiences in order to continue to attract consumers.
Vol. VI, No. 5, October/November 2006
---
---