One-Day Consultations for Location-Based Entertainment Centers
Some of our clients prefer to work with us in phases, starting with a one-day consultation. One-day consultations are also appropriate where the type of project and its location need initial analysis before proceeding with site acquisition or a formal market and economic feasibility study. During the one-day consultation we conduct a preliminary evaluation of:
The potential site(s)
Direct and indirect competition in the market area
Whether the market area will support development of a project
What type and size project will be the most feasible
Prior to the trip:
We develop a preliminary set of socio-demographic data based on an estimate of the geographic market area using computer drivetime modeling.
Develop a list and map of potential competition in and near the market area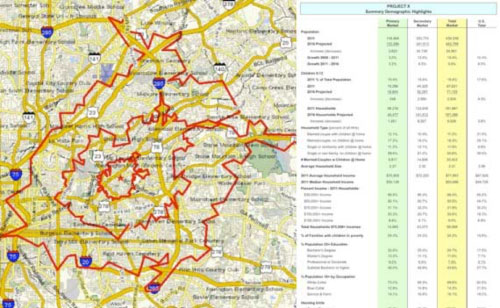 During the trip, Randy White, CEO of White Hutchinson, will:
Meet with you to review and discuss your plans
Inspect the prospective site(s)
Evaluate it/them on issues of physical size and characteristics, visibility, access, parking, etc. or help you select a suitable location, subject to formal market study validation.
Inspect the competition and the market area.
Discuss with you whether the site and its market are acceptable, what mix of attractions appears to be a best fit for the market and many aspects of the business including capital entry costs and operational considerations, all to assure that a location-based entertainment center or FEC is the right business for you and that the center will be a success.
Our objective is to assist you as our client to make the best possible decisions. We would prefer to advise you not to proceed with your project with its current proposed mix, or if a location-based entertainment business does not seem like the right business for you, or the market is too small or your site is not suitable (or not to proceed until a suitable market and site is located) versus proceeding at a less than ideal site or with a center concept that does not appear that it will be successful initially or long term.
A one-day consultation is not a substitute for a formal market feasibility study, but provides a good preliminary evaluation for whether the market appears to have sufficient size and characteristics to support development of a project and therefore warrants investment in a more detailed formal market and economic feasibility study.
We also conduct center audits and consultations for existing projects for their enhancement, expansion, renovation or other issues on a one-day or longer consultation basis.
The cost of a one-day consultation in the United States and Canada varies between $4,000 and $5,000 plus travel expenses.* The work typically includes preparation and review of any advance information before the trip, a preliminary market evaluation and demographic report, travel time and the one-day consultation. Fees for initial consultations for international projects are quoted upon request, as they require longer travel times and often a longer visit at the location.
* Fee is current as of August 15, 2023 and subject to change. Travel expenses include a 5% administrative fee.