Skating Center Design & Feasibility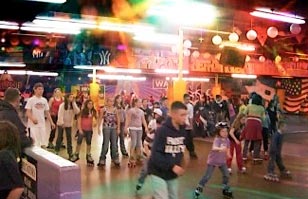 Roller-skating has experienced resurgence with the advent of in-line skates and in-line hockey. Roller and ice skating are only a few of the entertainment/recreation activities that has stood the test of time.
To compete with an increasing variety of out-of-home entertainment destinations, many skating rinks and centers are repositioning themselves as family recreation/entertainment centers (FECs), rather than as just free-standing skating rinks. The White Hutchinson Leisure & Learning Group's experience with the roller skating, ice skating and family entertainment centers qualifies us to assist skating centers with developing the most effective strategies and designing the highest quality, most profitable centers for competing in the modern out-of-home entertainment marketplace.
Our skate center consulting and design services include.
Site selection
Skate center market and financial feasibility studies
Audits of existing skate centers
Strategies to expand as a family entertainment center (FEC)
Skate center design for new and expanding centers
Equipment selections and procurement
Assistance with management
Our skating experience includes:
Adventure World, Christiansburg, VA
Conducting initial market feasibility study to expand this existing roller skating and laser tag center as an indoor-outdoor family entertainment center (FEC).
United Skates of America

United Skates of America is the largest operator of skating rinks with 19 WOW Family Fun Center locations throughout the US. WHLLG was retained to evaluate one of their facilities for possible additions and renovation to broaden its appeal to its core market, broaden the age appeal and increase food and beverage and game sales.
Skateland Playdaze, Omaha, NE

WHLLG conducted the market and financial feasibility studies and developed the schematic plans to renovate the skate center and add a 25,000 square foot children's entertainment addition. The renovated and expanded center has enjoyed a substantial growth of business as a result.
Sportland America, Danbury, CT
WHLLG conducted market research and developed a turnaround strategy for this skate-based family entertainment center.
XPlosions, Caguas, Puerto Rico
This mega-FEC is still under development. WHLLG conducted all the market and financial feasibility studies and developed the schematic plans for this FEC which will include both roller and ice rinks.
Sports Plus, Smithtown, LI, NY
WHLLG has been serving as a feasibility and design consultant for Sports Plus and their owners for over three years. In addition to work on Sports Plus which includes an ice rink, WHLLG has conducted feasibility studies and developed concept plans for three new centers the owners (now Family Golf Centers, Inc.) are planning, each of which will include one or two ice rinks.
Roanoke Ice Palace, Roanoke, VA
WHLLG conducted evaluations for expansion of this rink to become a family entertainment center.
Greater Washington, DC area
We are currently assisting a client with feasibility and design for a 68,000 sq. feet indoor, 1.2 acre outdoor family entertainment center which will include roller skating as one of the anchor attractions.
Hyper Space & Wheels, Windsor, Ontario, Canada
Conducted evaluation of potential to expand the skating and children's pay-for-play facility with 20,000 square feet of additional family entertainment attractions.