Vol. VI, No. 5, October/November 2006
---
---
New clients
We currently have 14 active projects in various stages of feasibility, site selection and acquisition, design and opening. Here are the latest three (all tainment projects).
Mother Nature's Farm, Gilbert, Arizona, U.S.A.
Mother Nature's Farm, a 45-acre agritainment farm has become completely surrounded by development in the town of Gilbert, a suburban area southeast of Phoenix, Arizona. Having outgrown its existing facilities, Mother Nature's Farm has retained White Hutchinson to develop a feasibility study and new master plan that includes a children's discovery farm, a farm restaurant, a farm market and seasonal/harvest festival event area and to process a special use zoning approval with the town of Gilbert for the new development plan.
Family Buffet/Entertainment Center, Richmond, Virginia, U.S.A.
Our client has retained us to conduct market feasibility and evaluate potential sites for the development of a family pizza buffet/entertainment center.
Westview Orchards & Cider Mill, Romeo, Michigan, U.S.A.
Spanning 188 acres, Westview Orchards & Cider Mill is the result of six generations of family dedication. Dating back to 1813, Westview Orchards began as a small garden and orchard established by Michael Bowerman shortly after his service in the War of 1812.
In 1981, the three women of Westview, Katherine and her daughters Abigail and Katrina (6th generation), took over the operation of the farm. They have developed it into a major Detroit area family agritainment destination, a place where old-fashioned values and fun are still part of the traditions. Many newspaper articles have referred to the women of Westview Orchards as women of the 90s and now the new millennium -- women succeeding in the predominantly man's world of farming. However, they are more than liberated women. They are displaying the spirit of their ancestors, those early pioneers whose determination and courage built and maintained the Westview Orchards. (Learn more about Westview's history.)
Customers can stock up on homegrown fruits and vegetables from the farm market, sample fresh apple cider from the state-of-the-art cider mill, enjoy homemade confections in K's Kitchen Bakery, visit and pet the farm animals, challenge themselves in the 12-acre corn maze, feel like a kid again in the Kidz Korner, pick apples or pumpkins or sit back and enjoy a cozy wagon ride through the picturesque orchards.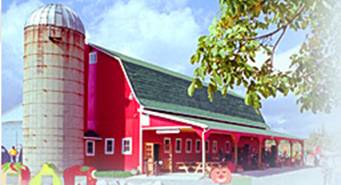 Westview Farms & Cider Mill has retained White Hutchinson to assist with developing
a master plan to accommodate the continued growth of the enterprise.
The Mall at Marathon, Nassau, Bahamas
The Mall at Marathon is planning a new entertainment anchored addition. White Hutchinson has been retained to determine feasibility and develop the mix for relocation and expansion of the existing family entertainment center in the mall to the new addition.
Vol. VI, No. 5, October/November 2006
---
---