Vol. V, No. 7, August/September 2005
---
---
Peter Piper Pizza revamps its stores

While it's the largest pizza eatertainment chain, Chuck E. Cheese's is not the only player in the pizza and games arena (see the preceding story). Coming in second in kid and family eatertainment is Peter Piper Pizza, with 138 stores in the Southwest and Mexico. The company ranks 17th among all pizza restaurant chains (most of them gameless).
Peter Piper Pizza began in Scottsdale, Arizona, in 1973, which makes it 5 years older than Chuck E. Cheese's. The company is currently in the middle of a major makeover of its stores. Last year it rolled out new products including garlic cheese bread and a "Cinnamon Crunch" dessert, and last month it added an ultra-thin pizza and new salads.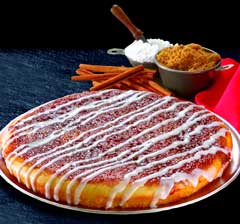 Peter Piper Pizza's new "Cinnamon Crunch" dessert.
The chain is remodeling its stores with a shift away from its kiddy-parlor image. The restaurants are being divided into three seating sections. One is a quieter, more subdued area with booths, red and purple colors and accents of light wood and brickwork. Another is for family dining with chairs and tables. The last is a party place with benches and a play area for kids.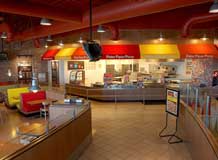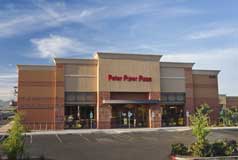 The new look for Peter Piper Pizza.
The games have also been getting a lot of attention. Peter Piper is moving away from vendor-operated games and is buying its own games for its stores in California and Arizona to minimize downtime and better control quality and costs. Last year it purchased 1,000 new games.
Peter Piper has big plans. It plans to open 61 new locations by the end of 2007, increasing its size by almost 50%.
Peter Piper is another good example of the success of building a concept around 'come for the food and stay for the fun,' in other words, driving frequency with dining rather than entertainment. As Vice President Laurie Katapski of the chain says, "The food is what sets us apart. At Peter Piper, we're more about the dining experience." Whereas the average pizza restaurant in the U.S. averages only $480,000 in annual sales, Peter Piper averages more than $1 million.

Vol. V, No. 7, August/September 2005
---
---