Vol. II, No. 8, November 2002
---
---
ROTUND GOURD COMMANDEERS OCTOBER - THE GROWTH OF AGRITAINMENT
That rotund gourd, better known as the pumpkin, is successfully commandeering family leisure spending in October.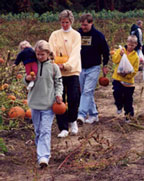 In some respects, October could be labeled as "pumpkinmania month." All across North America, the growing industry of agritainment is attracting families and children to farms in October for pumpkin picking, maize mazes and hay rides.
We surveyed this past October's agritainment industry in the greater Kansas City area and found eleven farms holding one or more of these activities. That's more farm entertainment locations than family entertainment locations in a metropolitan area of 1.6 million. This is typical for many cities. Across North America, there are now over 500 maize mazes. And many aren't your old fashion corn mazes. Rather, they are sophisticated business ventures that use global-positioning systems to layout the maze, elaborate sound systems to add atmosphere, communication systems with a mazemaster to help lost bewildered guests, multilevel bridges and concession stands in the middle of the maze. They are big business. Some charge as much as $10 admission and in their limited season of August to October generate more revenue than many family entertainment centers.
Pumpkinmania on the farm is also capturing the lion's share of childcare and early grade school field trip business in October.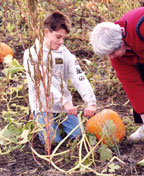 We have one farm client that has as many as 1,300 school children come on field trips on one day--yes, one thousand three hundred. That's serious business requiring sophisticated logistics.
There are a lot of pumpkins picked by children in October. We know of one farm where customers pick 50,000 pumpkins. What's even more amazing, at least to us, is that parents will often pay more for the pumpkins they and their children pick themselves than what the pumpkin would cost in a supermarket. Why, because farmers have learned how to move the pumpkin up the ladder of economic value from a commodity to an experience. As a side note, the total farm pumpkin production in the US in 2001 was 319,000,000 pounds. That's a lot of jack-o'-lanterns and pumpkin pies.
In addition to mazes, pumpkin picking and hay rides, apple picking is also a popular Fall agritainment activity, creating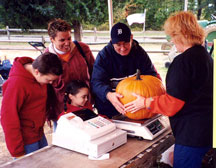 a reason for families to visit agritainment locations in late September and early October and return again later in the month to take a hay ride and pick a pumpkin.
Fall is not the only time farmers are capturing family entertainment spending. Some are operating 7+ month agritainment businesses. One example is our client, Davis' Farmland in Sterling, Massachusetts. Located up a farm lane in the middle of the country, the Davis's have established a destination children's discovery farm that attracts families from over an hour away in the Boston area. Davis' Farmland includes an animal showcase, multiple dry children's play areas, hay rides, the Herd Rock Calfe and Udder Herd Rock Calfe, and their newest addition, water spraygrounds. You can learn more about agritainment and Davis' Farmland and see some pictures by clicking here:
www.whitehutchinson.com/leisure/agritainment.shtml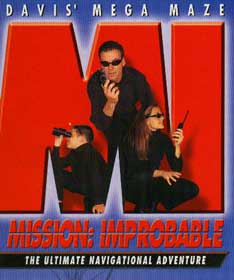 |
At least one of North America's most successful theme parks, Knott's Berry Farm, grew out of a Boysenberry farm and roadside farm stand that was started during the depression.
The family entertainment industry needs to look out. Farmers are getting savvy on how to capture entertainment spending from families with children with some of the most basic high-touch, low-tech experiences.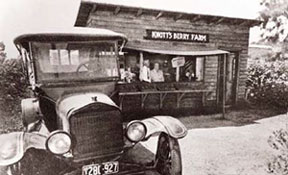 The original Knott's Berry Farm roadside farmstand
Vol. II, No. 8, November 2002
---
---