Vol. VI, No. 4, August/September 2006
---
---
First T-REX Café opens
July 25, 2006, was the date that the latest themed restaurant concept opened at the Legend's at Village West lifestyle shopping center in Kansas City, Kansas. Named T-REX after that most famous of dinosaurs, the restaurant has taken themed restaurants to the next level. In a way, you might call it a prehistoric Rainforest Café on steroids.
Created by Steven Schussler, also the creator of the Rainforest Café, T-REX is built around water, fire and ice, which work together to take visitors back to a time before people walked the earth. Animatronic dinosaurs are placed amid cascading waterfalls, ice caves, bubbling geysers, and sounds of roaring dinosaurs.
T-REX seats 375 and is divided into separate, distinctively themed dining rooms with animatronic creatures. A giant animatronic octopus sits over the Shark Bar. The Ice Age Room resurrects the woolly mammoth, complete with baby and machine-made snow. The Sequoia Room is the home of a Triceratops and its infant, along with a 2,000-gallon fish tank. Other dining areas include the Shark Room, Fern Forest Room, Geo-Tech Room, Aqua Room and an outside deck for al fresco dining.
T-REX Café offers more than just dining with the dinosaurs. There's the gift shop and a Build-A-Dino store where dinosaur fans can take home their own personalized dinosaur. Build-A-Bear Workshop developed the store in partnership with T-REX. Would-be-paleontologists can practice their skills in a dinosaur dig with replicas of fossil bones; there is a mining sluice to find treasures and small caves that can be toured with fascinating crystals and gems.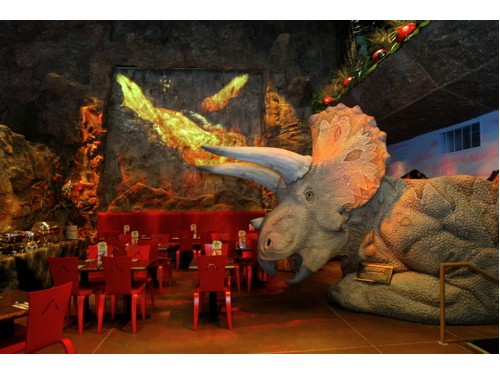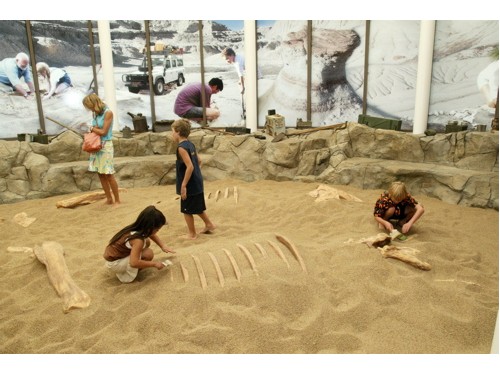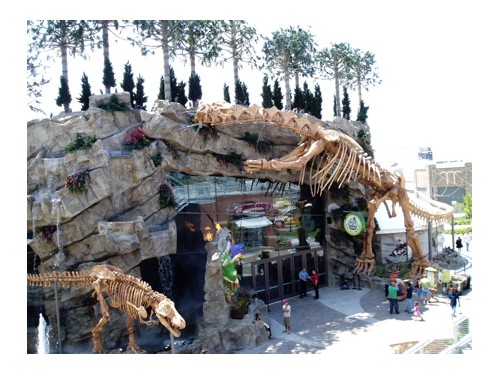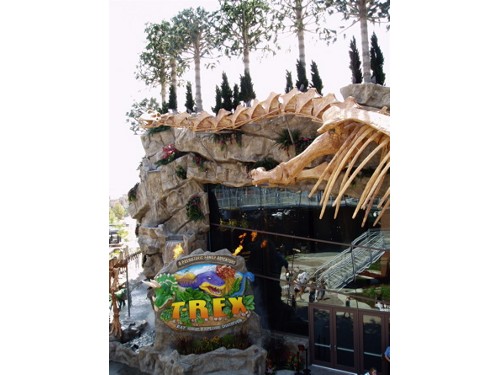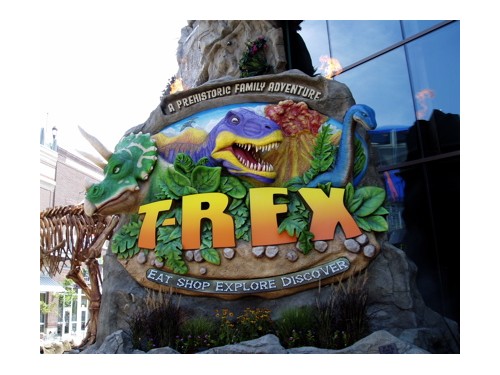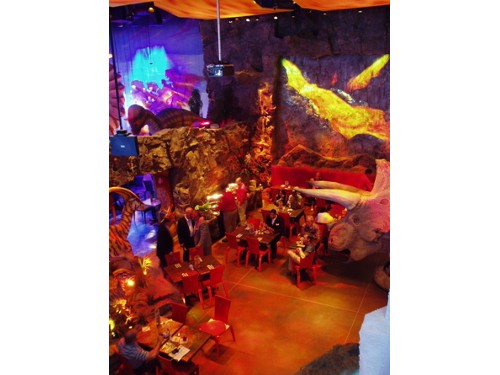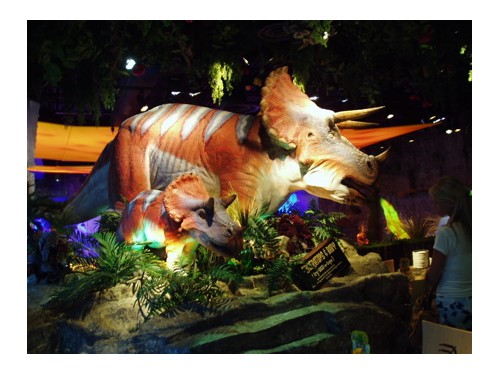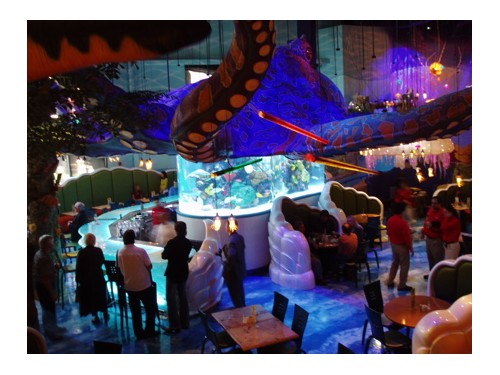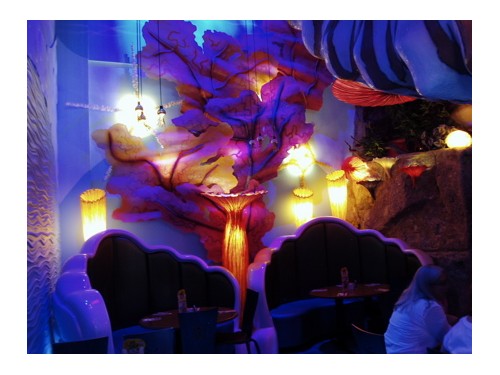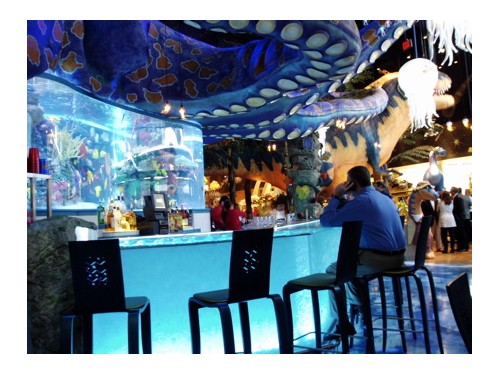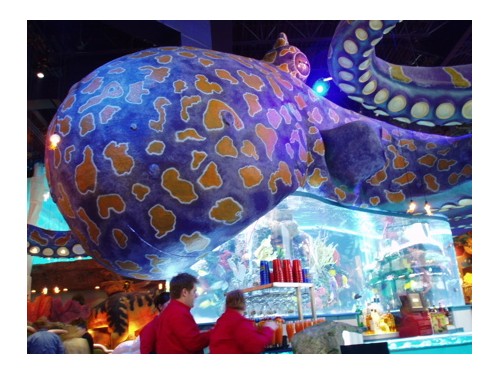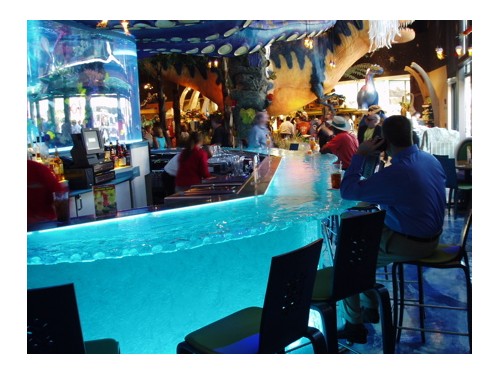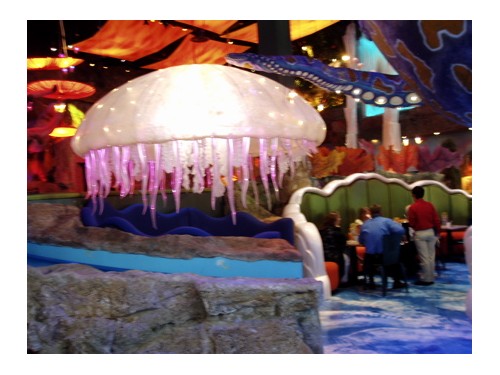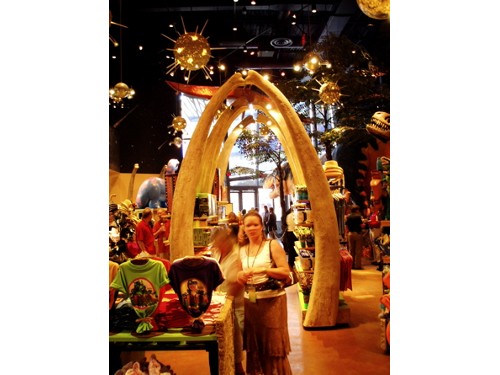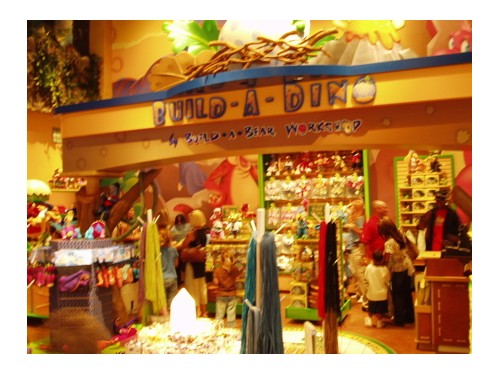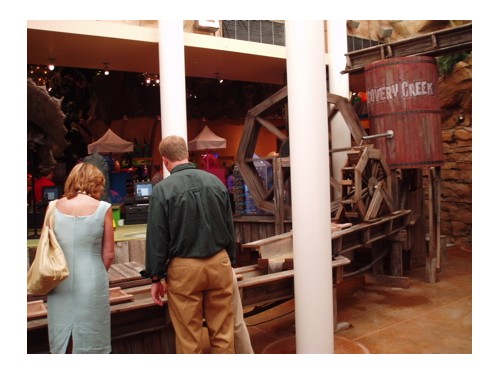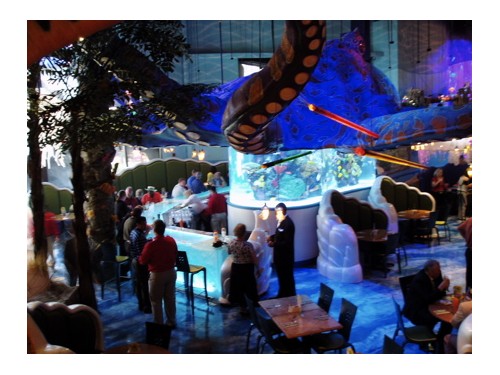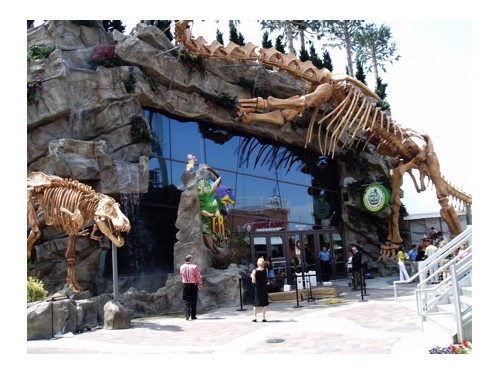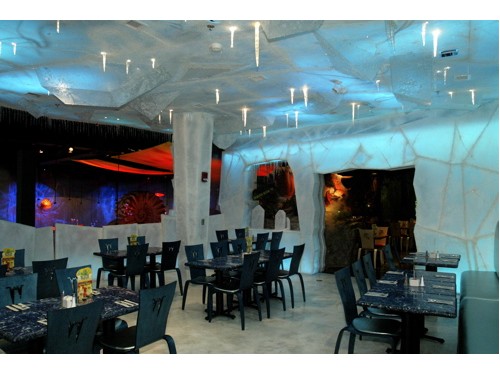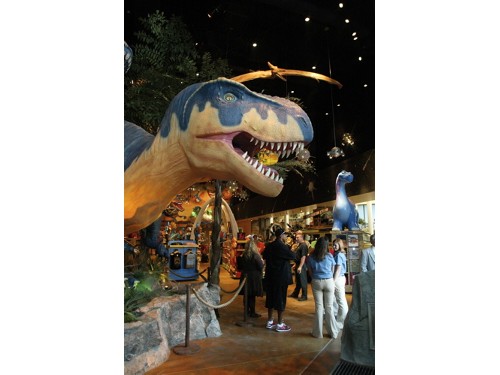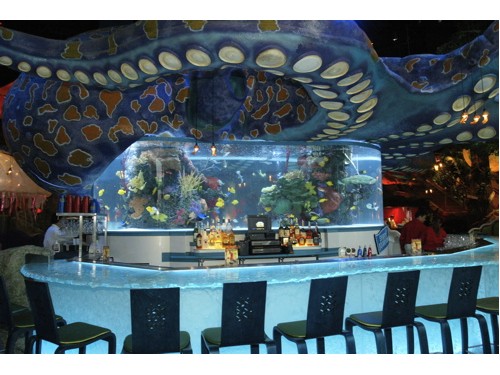 New T-REX Café in Kansas City, Kansas
Schussler and his partner in the venture, Landry's Restaurants, say they have planned T-REX so it won't make the mistake of earlier defunct themed restaurants that offered too much flash with the décor and not enough quality and value with the food. For example, Planet Hollywood has gone bankrupt twice since it began in the early 1990s and has closed several restaurants, including one at the Mall of America. "I think it's a pitfall that some themed restaurants have that they are so reliant on the theme that they forget that food and service are what bring people back a second time," said Rick Van Warner, president of the Parquet Group, restaurant consultants based in Winter Park, Florida.
"People will come once for the 'wow' factor, but they will come back for the great food and quality service," according to Schussler. Drinks and dishes at T-REX include Mastodon Margaritas, Mammoth Mushroom Raviolis, Triassic Tortellini, the Bronto Burger and Macadamia Nut Crusted Snapper. Desserts include Chocolate Extinction and Build-Your-Own-S'mores. Menu prices are more than reasonable for the quality of the food, ranging from $8.99 to $22.99.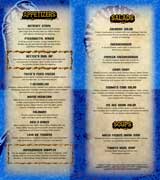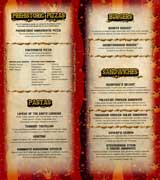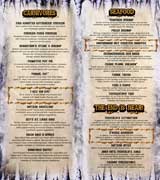 Click on each image to see menu
The 20,000-square-foot T-REX cost in excess of $15 million dollars, far more per square foot than a typical freestanding restaurant and also bigger in size and cost than Schussler's first Rainforest Cafe that made its debut in the mid-1990s at the Mall of America. To justify that investment, T-REX will have to draw thousands of patrons daily and entice them to spend some serious money, industry experts said. Schussler considers drawing a mob to be a foregone conclusion, bragging that T-REX will be a "blockbuster hit" that could be around for 50 years. He waxes effusive about T-REX, calling it "over the top, the best thing I have ever done." Tilman Tertitta, president, chairman and chief executive officer of Landry's, said T-REX will be very successful if it averages 1,000 customers a day. Jeff Cantwell, Landry's senior vice president of development said Landry's expects T-REX will post annual sales of $8 million to $12 million.
Eight more T-REX Cafés are scheduled to open in the U.S. with the next in Downtown Disney Marketplace in Walt Disney World, Orlando, Florida, in early 2008. Additionally, 10 international T-REXs are planned.
T-REX Café's
website is
www.trexcafe.com
.
Vol. VI, No. 4, August/September 2006
---
---