What is a Family Entertainment Center?
This history of the family entertainment center industry was written in the late 1990s and is not up to date. The early history is still accurate, but there have been significant changes to the industry since the late 1990s, so this document no longer accurately or fully reflects the type of centers that are viable today. We plan to update this document in the near future. Meanwhile, we recommend checking out the last few years of our Leisure eNewsletters for information about the current industry.
What exactly is a family entertainment center (FEC)? The term serves to designate an industry as a whole, as well as to define a specific segment within that industry. The FEC industry consists of for-profit leisure centers that range from 10,000 S.F.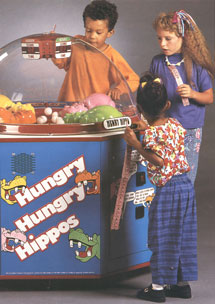 indoor children's play centers to outdoor Fun Centers, large category-killer indoor family entertainment centers to multi-acre outdoor mega-centers, and encompasses centers that target families with children, teenagers and/or adults.
The term "industry" didn't really apply to the FEC market until about 1990. Before then most FECs were mainly outdoor miniature golf-anchored family Fun Centers. Today's rapidly growing FEC industry now encompasses many new and different categories of centers in both outdoor and indoor configurations, including children's entertainment centers (CECs), children's edutainment centers (CEdCs), FECs, adult entertainment centers (AECs), and urban-based location-based entertainment (LBEs) centers.
Although many pioneering and early generation indoor FECs, such as the Discovery Zone chain (not technically an FEC), experienced difficulty or failed, the industry has matured with successful formulas and with the entry of many corporate players. A number of indoor FECs have now stood the test of time with long term, successful operation. Examples include Sports & Games in Hanover, NJ; American Adventures in Atlanta, GA and probably the oldest operating indoor FEC, Enchanted Castle in Chicago, IL.
Family entertainment centers are generally defined as having these characteristics:
Unlike theme and amusement parks, their markets are community-based.
Locations are in or near residential areas rather than in downtown or tourist locations (urban and tourist equivalents of FECs are often referred to as urban entertainment centers, UECs, or location-based entertainment centers. LBE's).
Success depends on repeat visits of six or more times per year.
Length of stay averages two to two and one-half hours.
Per-capita expenditure per visit are in the US$8-US$14 range.
FECs have multiple anchor attractions. This is what differentiates FECs from single anchored leisure attractions such as bowling centers, skating centers, laser tag facilities, miniature golf only facilities and pay-for-play centers using soft contained play equipment such as Discovery Zone. It is the multiple anchors that create an FEC's image and critical mass and create its appeal and draw.
Although not considered an anchor draw to FECs, a significant percentage of income (25± percent) comes from token-operated games.
A significant percentage of income also comes from food and beverages, birthday parties and other celebrations.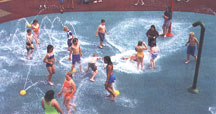 FECs range in size from 15,000 to 200,000 square feet for indoor facilities and up to 15 acres for outdoor facilities. Types of anchor attractions often found in FECs include for the indoorsūrides, soft-contained play, laser tag, children's edutainment events and skating; and for the outdoors-miniature golf, go-karts, bumper boats, children's adventure play gardens and batting cages.
The following discusses in greater detail different types of FECs.
Children's Entertainment Centers
In a CEC, every attraction is targeted to children. Parents may be encouraged to join the fun, but they are secondary. They are not, however, an afterthought, because if parents don't enjoy the experience, they will be unwilling to return with their children.
The expanding number of CEC variations tends to reflect different approaches to play-pure entertainment, children's fitness, parent-child interaction or education-and to target specific age groups.
The roots of CECs reach back to the seaside boardwalk amusement centers and indoor arcades that proliferated in the U.S. during the first half of this century. While not exactly designed with children in mind, a few entrepreneurs did add elements for kids in order to increase their market base by projecting a more wholesome, family atmosphere.
There things stayed, except for the introduction of video games, until 1977 when Nolan Bushnell created the first Chuck E. Cheese's Pizza Time Theatre in San Jose, California which combined single-user, token-operated rides designed for small children, redemption games, a robotic animatronic show, and that staple of every Stateside kid's diet-pizza-into one-stop centers. Then in 1979 Bob Brock, an entrepreneur who owned several Holiday Inn hotel chains. started his own chain of similar restaurants called Showbiz Pizza Place. In 1984, Bob Brock purchased the Chuck E. Cheese's Pizza Time Theatre chain after they filed for Chapter IX Bankruptcy reorganization and merged it into Showbiz Pizza Time, Inc. The two concepts were operated under their separate brand identities until 1992 when all the stores are remodeled as Showbiz Pizza and the existing Rock-afire Explosion shows in the old Showbiz Pizza Place stores were replaced with new Chuck E Cheese character shows. Finally in 1993 Showbiz Pizza Time changed the name of all their restaurants to Chuck E Cheese's Pizza and in 1998, changed their corporate name to CEC Entertainment, Inc.
The growth of what are called children's entertainment centers was spurred by the invention of "soft contained play" equipment by Jack Pentes in 1982. Children's entertainment centers differ from the eatertainment concepts like Chuck E Cheese's, as the food component is less emphasized and makes up a much smaller percentage of sales-usually about 20% of revenues versus around 50% in Chuck E. Cheese's.
Soft contained play equipment was designed to overcome the safety hazards of most outdoor playground equipment of the time. Soft contained play equipment (SCP) was designed to encapsulate the child so they could not fall or hurt themselves. Since SCP is very compact and can have multiple levels, it is ideally suited for indoor environments. This equipment opened the door for entrepreneurs to design indoor children's play facilities that could offer children and their families play in inclement weather. The first indoor SCP systems were installed in Showbiz Pizza restaurants and quickly became standard components. Shortly thereafter, Burger King, a fast food restaurant chain, discovered that SCP play systems located in front of their restaurants dramatically increased sales. SCP play systems quickly spread to other fast food chains including McDonald's.
The first documented indoor children's entertainment center was Physical Whimsical which was developed and opened by Nathan Elinoff in Englewood, Colorado in 1983. It was a 50,000 S.F. indoor center on three levels in what used to be a department store. The center had a dozen play elements including a ball crawl, pillow bounces, self powered cart tracks, a punch bag forest, puppet theatre, carousel, play houses and traditional playground equipment. Nathan then opened two more Physical Whimsical's in Houston, Texas in 1984 and 1985. He then moved back to Denver in 1986 and opened a 33,000 S.F. center named Funtastic Nathan's which included a carousel and roller coaster.
Photos of the 1st children's entertainment center, Physical Whimsy, opened in Englewood, Colorado in 1983.
Then in 1988, the first all ride-based indoor children's entertainment center, Jungle Jim's Playland, opened in San Antonio, Texas. It contained about 25,000 S.F. of indoor space with approximately seven indoor children's amusement 'iron rides' including a roller coaster, carousel, jeep ride, bumper cars and red baron airplane ride. Jungle Jim's Playland billed itself as an 'indoor children's amusement park.' The first Jungle Jim's did not include SCP. Now a SCP unit is standard equipment in all 20+ of their centers which have been upgraded and now named Jeeper's.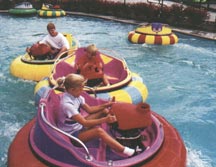 In 1989, Ron Matsch and Al Fong, with backgrounds in physical fitness, opened Discovery Zone (DZ) in Kansas City, Missouri, the first children's entertainment centers anchored by SCP. The first DZs were about 9,000 to 11,000 S.F. in size and later grew to as large as 18,000 S.F. in size. A large SCP unit with capacity for 200+ children was the featured event. McDonald's soon entered the scene with their own Leaps 'N' Bounds SCP pay-for-play centers and legitimized the industry. These were similar to DZs with large SCP units being the draw, but with much better design and management. On the verge of bankruptcy, DZ was acquired by a group of moneyed investors and soon merged into Blockbuster (now part of Viacom/Paramount). Blockbuster then bought the Leaps 'N' Bounds chain from McDonald's to eliminate their main competitor, converted them to DZs and expanded worldwide to a chain of over 300 centers.
The primary flaw with DZ's was that the centers were developed based upon the mistaken belief that children only needed to be offered the opportunity for physical play in a static SCP unit rather than a diverse variety of different types of play. DZ's had other problems, not the least of which were the nicknames they gained with many parents-'disease zone' and 'dirt zone.'
Several years ago, DZ filed for Chapter IX bankruptcy and was purchased by new owners. A number of the stores were closed. The new owners retrofitted the remaining centers with laser tag, an art studio, a toddler play area and made other upgrades, including introducing branded food to the snack stand.
DZ again filed bankruptcy in 1999 for the second time and all their stores have now closed. The basic problem with the remodeled stores was that they still failed to offer children an adequate variety of play and entertainment. The addition of lazer tag also resulted in DZ's loosing their age focus. Chuck E. Cheese's purchased approximately 15 of DZ's locations for conversion to their concept.
CEC centers attract 2 to 8/9 year-old children accompanied by their parents as their customers. Many centers advertise that they are for children up to 12 year olds, but our company's studies indicate otherwise. The major brain and developmental changes that occur to children at 8/9 create a change in the type of play they like, which includes more emphasis on competitive games. White Hutchinson Leisure & Learning Group's focus group research also indicates that when children are about age 9/10, a 'sissy factor' sets in and they generally no longer want to be mixed in with younger children.
With the majority of centers being independently owned, entrepreneurial businesses, the children's entertainment center industry has grown to about 1,000 facilities worldwide. Most CECs charge an admission for the child and require the child to be accompanied by an adult. Some CECs also charge admission for the adults. In addition to SCP and/or rides and games, food and beverage and birthday parties represent a significant portion of CEC business, often as much as 50% of revenue. Many CECs host over 100 parties weekly. Some of the larger ones host over 200 parties a week.
The CEC segment of the FEC industry can be further delineated by size, environment, type of play or age, and focus. Today, there are five basic types of CECs. New forms have expanded beyond soft contained play to include different mixes of attractions such as animatronics, rides, games and discovery learning (edutainment) and play.
The following are the five basic types of children's entertainment centers:
Multi-Attraction Indoor CECs

Typically these combine redemption games, a small- to medium-size soft contained play unit, up to a half dozen children's rides, possibly an air bounce, birthday party areas and a concession stand. An example of this type is Jeeper's (formerly Jungle Jim's Playland,) a chain of 20+ indoor centers averaging 25,000 S.F. in size and Dinotropolis, a 50,000 S.F. CEC in Caracas, Venezuela designed by the White Hutchinson Leisure & Learning Group.

Indoor-Outdoor Centers

These centers focus on both indoor facilities and outdoor attractions. There is usually some combination of miniature golf and children's rides, along with an indoor play area that includes redemption games, a concession stand, one or more anchor attractions and a soft contained play unit. An example of this type is American Adventures in Atlanta, Georgia, which combines five acres of outdoor attractions with a 35,000 S.F. indoor facility.

Soft Contained Play Centers

The SCP centers (also called pay-for-play centers) fueled the early boom in CECs. The basic center has 10,000 to 18,000 S.F. of floor space, 3,000 to 5,500 S.F. of multi-level SCP, four to six birthday party rooms, a small number of redemption games, a concession stand featuring pizza and a toddler area. The emphasis is on a combination of birthday parties and SCP play. A few of these centers also offer drop-off daycare. Although SCPs were one of the earliest types of CECs, they have not been successful in the long term since they don't have a sufficient variety of play and entertainment to attract children on a repeat basis. Despite the failure of these type centers in the U.S., they continue to be developed in the international market by entrepreneurs.

Restaurant and Entertainment (Eater-tainment)

These facilities emphasize pizza and other food, along with animatronics, small soft contained play units, redemption games and kiddie rides, birthday parties and, possibly, beer for the grown-ups. They are sometimes referred to as children's eater-tainment. The Chuck E. Cheese's chain with over 350 locations fits this category.

Edutainment (Leisure & Learning) Centers

The newest form of children's leisure center that has evolved has a primary emphasis on hands-on discovery learning through free spontaneous play, but can also incorporate some elements of pure entertainment. Most adults don't fully understand and appreciate the value of spontaneous play to the social, physical, mental and emotional development of their children, so these new type children's centers are marketed in the U.S. as children's discovery or edutainment centers (CEdC's). This communicates to the parents that their children will learn by visiting them. Therefore, the parents show up with their children because it's good for the kids, and the kids show up because it's just plain fun.

Just like children's entertainment centers, CEdC's charge an admission price for the child and usually also for the parent. CEdC's typically have 25,000 S.F. or more indoor space plus outdoor adventure play gardens.

The first incarnations of learning through play children's edutainment centers were the for-profit PlaySpace that opened in New York City in 1994, and an unrelated not-for-profit Playspace that opened in Raleigh, North Carolina, about the same time. The play events in these centers include social, pretend and creative play with such events as interactive water play, sand play, block play, pretend supermarkets, restaurants, medical offices and houses. These and a number of similar centers that have subsequently opened typically attract children age 8/9 and under.

Simultaneously, many similar learning through play environments appeared in children's and science museums. Rather than static educational exhibits, these areas had play components such as pretend supermarkets, water tables, dinosaur digs, block play, television studios and arts and craft activities. The museums quickly found that children and parents loved these play components. Perhaps the best example of a children's museum based almost exclusively on the learning through play philosophy is The Magic House in St. Louis, Missouri, with annual paid attendance of over 500,000 children and parents. The for-profit New Jersey Children's Museum has also been developed based upon the learning through play philosophy. There are currently over 300 children's museums in the United States, all of which incorporate some discovery learning through play.

CEdCs often include a separate indoor area for token-operated redemption games such as skeeball. These games generate 20-25 percent of the center's revenue. CEdCs also include birthday party facilities and can incorporate some rides and technology-based attractions.

CEdCs not only include inside play components, but also often have outdoor children's adventure play gardens. In the early 1990's, interest in children's gardens developed in the botanical garden and other not-for-profit sectors. In 1994 the American Horticultural Society held a symposium and created demonstration children's play gardens at their River Farm facility in Alexandria, Virginia. Children's play gardens have been created in East Lansing, Michigan, by the 4-H Program; at the Denver, Colorado, Botanical Garden; the Brooklyn, New York, Botanical Gardens; at the Davis campus of the University of California and are being developed at many other cultural and for-profit venues. Children's play gardens not only create pleasing outdoor natural environments for children's open-ended and unstructured play, but also use nature as the basis and tool of much of the discovery type play.

Children's outdoor play is different from time spent indoors. The sensory experiences are different, and different standards of play apply. Activities which may be frowned on indoors can be safely tolerated outdoors. Children have greater freedom not only to run and shout, but also to interact with and manipulate the natural environment.

Adventure play gardens use nature as the basis for much of the learning-based play. These gardens are designed to appeal to children's preferences for their play and outdoor environments. Plants are vital. In fact, the identity of many of the activity areas is created through ecological theming with vegetation. Plants that replicate a prehistoric setting, for example, would surround a dinosaur dig, or interactive water play would be set in a bog or stream habitat.

PlaySpace which opened in 1994 in New York City and The Clubhouse, that opened in June 1995 in Bedford, Texas are probably two oldest continuously operating CEdC in the US.

Two of the most evolved examples of children's edutainment centers are Bamboola, a 25,000 S.F. indoor and 3,500 S.F. outdoor center that opened in San Jose, California in June 1997 and LouLou Al Dugong's, a 25,000 S.F. indoor center that opened in Dubai, U.A.E. in May 2000. Davis' Farmland, a three acre outdoor children's discovery farm in Sterling, Massachusetts is an example an outdoor oriented children's edutainment center. Since it is farm-based, it is also sometimes referred to as an agritainment project. All three of these CEdC's were designed and produced by the White Hutchinson Leisure & Learning Group.
Adult Entertainment Centers
When young adults manage to find a baby-sitter or want to hang out without their children, they can head for an adult entertainment center (AEC). AECs don't include children's elements like birthday party rooms and soft contained play. They offer elements like video games and pinball, virtual reality, billiards, bowling, golf simulators, a restaurant and bar. The best example of an AEC is Dave & Buster's, a publicly traded chain of 23 facilities in the US and internationally, averaging about 50,000 S.F. each with annual sales exceeding an average of $12 million per unit. Other examples are Malibu SpeedZone, an indoor-outdoor concept based on motor sports, with three locations in the United States and Jullian's, an indoor concept similar to Dave & Buster's, which has 21 locations as large as 70,000 SF.
True Family Entertainment Centers
Take some of the CEC elements and mix them up with attractions that appeal to adolescents and grown-ups and you have a true family entertainment center. A true FEC has two characteristics that set it apart from AECs or CECs - multiple anchor attractions combined with impulse items that appeal to a broader age range of family members.
Based on those criteria, the following stand-alone attractions do not qualify as family entertainment centers although they are a part of the family entertainment center industry:
bowling alleys
skating centers
golf driving ranges
arcades/gamerooms
pizza restaurants
laser tag centers
sports facilities
However, when combined with other attractions and elements, they can become the foundation for a true FEC. An example of such a combination is Wol-Ha, a 35,000 S.F. indoor FEC in Cancun, Mexico that the White Hutchinson Leisure & Learning Group designed in 1994 that combined bowling with a CEdC.
True FECs come in two basic types: multi-attraction indoor facilities and outdoor Fun Centers.
Multi-attraction Indoor Centers.

With a few earlier exceptions, such as Enchanted Castle in Chicago, Illinois, indoor FECs began to blossom in the New York-New Jersey region around 1991 and are now found throughout most regions of the United States and other parts of the world.

The indoor FEC blends the traditional arcade with newer developments. This type of center typically contains a SCP unit, redemption games, a few small rides and birthday party facilities for youngsters, and activities such as bumper cars, simulator rides, indoor batting cages, token-operated sports games and laser tag for older kids and adults.

Examples include Enchanted Castle and Sports & Games in East Hanover, New Jersey. These FECs usually occupy between 35,000 S.F. and 65,000 S.F., although at least one successful operation is a 100,000 S.F. FEC that serves as an anchor for a mall. Regal Cinemas has been developing FunScape FECs next to their cinemas. Their FunScape in Wilmington, Delaware has 110,000 S.F. Other cinema chains including Cinemark, Carmike and Cineplex Odeon are also developing FECs.

In many parts of the world, an indoor FEC is considered as an essential component for every indoor mall, often replacing the more tradition cinema anchor found in U.S. malls. Camp Snoppy, although not technically an FEC, but more so an indoor amusement park, serves as an anchor entertainment attraction at the Mall of America.

Even larger mega-FECs are appearing. Sports Plus, a very successful freestanding FEC with 170,000 S.F. of indoor space, opened in Long Island, New York in 1996. Sports Plus is now owned by Family Golf Centers, a publicly traded company. The company is now developing smaller versions of Sports Plus through the US as well as a recently opened mega Sports Plus in the new mall in New Rochelle, New York

Outdoor Fun Centers

This was the earliest form of FEC, with its roots in California. The typical outdoor Fun Center includes go-karts, miniature golf, batting cages and often bumper boats. Typically, there is also a small clubhouse building of 6,000 to 10,000 S.F. that includes a snack stand, games and birthday party areas.

Since the earliest days of Fun Centers, many variations have developed, including larger centers with outdoor children's rides and larger buildings with soft contained play and sometimes restaurant areas with animatronic shows. The Celebration Station chain operates Fun Centers like this throughout the southeast U.S. Huish Fun Centers in the western part of the US has similar compositions.
Pizza and Games
Although these facilities generally are associated with the restaurant industry, they are really a hybrid of restaurant and FEC concepts. All feature a destination pizza restaurant and a large game room. Sometimes the game area is expanded to include rides, more like a traditional indoor FEC. Examples include Peter Piper Pizza and Mr. Gatti's.
Location-Based Entertainment (LBE), Urban Entertainment Centers (UEC) & Retail Entertainment Centers (REC)
These are actually a variation of indoor family entertainment centers, the main difference being that they are located in urban retail/entertainment districts, large malls (RECs) or tourist destinations. This category also covers a wide variety of centers that could not be classified as family entertainment centers since they draw from a regional and/or tourist market. LBE's, UEC's or RECs are typically 40,000 S.F. or larger and target a broad age range. Examples include GameWorks, Disney Quest, Wonder Works and ESPN Zone which is a hybrid of an FEC and a theme restaurant.
The family entertainment center industry continues to evolve and grow on a monthly basis with existing concepts continuing to be perfected and new concepts emerging and being tested. With over a decade of experience and thousands of centers now located worldwide, the industry is well established and legitimatized. With consumers' growing appetite for out-of-home leisure options in their local communities, the industry should continue to be a long-term, successful player in the location-based leisure industry.