LouLou Al Dugong's New Arabian Gulf Leisure Center Features Edutainment, Culture and Ecology.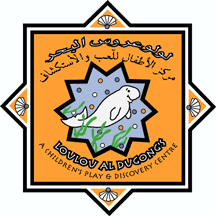 LouLou Al Dugong's, a children's leisure center that features edutainment, culture and ecology, opened May 22, 2000 in Dubai in the United Arab Emirates. The 25,000 square feet center is located on the ground floor of the five story, 450,000 square feet Lamcy Plaza, one of the world's largest department stores. The center was designed and produced by the White Hutchinson Leisure & Learning Group of Kansas City, Missouri, USA.
The center's mascot, LouLou Al Dugong, after which the center is named, is a dugong dugon, an endangered sea mammal in Arabia related to the manatee. Only about 2,600 dugongs are believed to survive in Arabia. LouLou means pearl in Arabic. She is named after the Pearl City of Dubai. Prior to commercial cultivation of pearls in Japan, Dubai was a pearl diving and trading center.
Randy White, CEO of White Hutchinson said: "LouLou's Al Dugong's is an innovative project since it takes the concept of a children's edutainment to a new level. The center's entire concept and operation is values-driven based upon developmentally appropriate practice with children, cultural respect and understanding, environmental learning and parental education."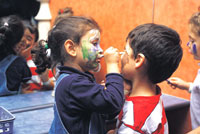 |
View video of LouLou Al Dugong's
Innovations at LouLou's include:
A storyline, theme and events which teach environmental values.
A portion of the center's admissions are donated to The Arabian Leopard Trust, which is working to help save the dugong dugon and other Arabian animals from extinction.
During weekdays, no men are permitted in the center, only women and their children. During those times, the center is operated as a woman's club as much as a children's center. Woman without children are also admitted to use the upscale, full-service café that seats 150, making the center an exclusive place where women can meet and socialize. With no men present, Muslim woman are able to remove their traditional coverings and relax (many of the Arab women in Dubai are fully veiled and covered in the traditional black hijab and abbayah).
Culturally appropriate children's activities, which include pretend henna or mendhi, pretend fishing from a traditional dhow boat of the Arabian Gulf region and children's cooking based upon Arab and Indian cultural traditions.
Unlike earlier type children's edutainment centers that focused solely on children, LouLou Al Dugong's also includes educational components targeted to parents-parental education and learning about other cultures.
Vicki Stoecklin, White Hutchinson's Education and Cultural Director, said, "Although Dubai is a very diverse multi-cultural city, most of cultural groups do not come in direct contact with each other. It is almost as if there are three parallel societies-Arabs, Indians and Western expatriates. Although they shop in the same malls and stores and eat in the same restaurants, these three groups rarely interact. To help bridge that gap, we designed LouLou's programming to offer guests, especially women on women's days, facilitated opportunities to learn about and interact with each other. The center also has signs and written materials to teach parents why play is so important to the development of their children."
LouLou Al Dugong's is the first commercial project in the U.A.E. that is fully accessible to both disabled children and adults. Even the dinosaur dig includes a transfer deck and steps for children in wheelchairs. The computer stations and children's cooking area have motor operated counters that can be raised for a child in a wheelchair.
White Hutchinson performed extensive market, focus group and ethnographic (cultural) research to develop the center's concept, design, theme and programming. Probably the most research and attention to detail was put into the design of the restrooms. Vicki Stoecklin said that in addition to focus groups with Dubai woman, she studied traditional Muslim hygiene practices. Vicki said, "I could not find a single restroom facility in Dubai that truly addressed the needs of both modern and traditional Muslims, and especially Muslim women. In fact, although Dubai is officially a Muslim country, most commercial restrooms were designed from purely a Western perspective. This, unfortunately, is usually the typical situation with design by most Western firms. They fail to take a culturally-respectful approach or consider women's needs in their work."
The restroom complex at LouLou Al Dugong's includes adult and child-sized Western toilets (WCs), Turkish or Indian toilets, facilities for the disabled and specially designed diaper changing rooms that allow babies to be bathed (a Muslim practice). Each WC compartment includes a bidet wand and individual hand washing sinks. Some sinks are designed in height and size for younger children. In addition, in the restroom area there is a private nursing room, an ablution room (washing for prayer) and a women's prayer room.
The storyline and theme of LouLou's is based upon preservation of Arabia sea life including the dugong dugon and sea turtles. Vicki Stoecklin said, "This theme was selected based upon our extensive cultural research, focus group research with women and children and interviews with school administrators and teachers." The center has murals depicting both the storyline and a full size dugong.
The center's physical theming reflects the three areas of the Gulf depicted in the storyline. The center's entrance and lobby represent the city with archetypes of local architecture including a wind tower. Part of the center represents the sea where dugong dugons live. And finally a part depicts an island in the Arabian Gulf where most of the storyline takes place with the other two story characters-Humpy Al Jamel, a camel, and Sharpeyes Al Sagar, a falcon. Traditional architectural concepts and motifs have been incorporated into the center's design. For example, there are Arab zig-zag entrances to assure that no one can see into the center at women only times.
Events in the center were designed to teach children about conserving their environment. The dinosaur dig in the center teachs children how animals become extinct. A cousin of the dugong dugon, the Stellar's Sea Cow, was hunted to extinction by man within 34 years of when they were first discovered in the Arctic in the 1700's.
The center has the Middle East's first jellyfish aquarium, which is 10 feet tall and located in the middle of the café seating area. Many sea turtles are killed each year by eating plastic floating in the sea, which they mistake for jellyfish, one of their natural foods. The aquarium shows children how similar jellyfish and floating plastic appear to the turtles.
Vicki Stoecklin said, "LouLou Al Dugong's will work very closely with both the public and private schools in Dubai. Our company prepared school field trip programs for both preschools and grade schools which have environmental curricula that ties to the theme of the center."
The center's upscale café will feature a full range of kid's foods and casual cuisine for adults. In addition to traditional and gourmet thin crust pizzas, there will be salads, Arab grilled meats, sandwiches, French pastries and Arab specialties. Based upon research with parents on their preferences, no carbonated sodas will be sold (no Coca-Cola or Pepsi products). Instead, a full range of fresh juices are offered. LouLou's also features American franchise Jabooka Jooce™ fruit smoothies.
The official languages of the center are both Arabic and English. Over half the staff is bi-lingual. Many staff also speak French, Thai, Hindi and Urdu. All signs are in both Arabic and English. There are 139 signs including the parental educational information.
The center has a fully integrated guest debit card and management software system. Guest debit cards also serve as membership cards and can be used to purchase anything in the center. There is a women's club, a nannies' club and a club for children call "LouLou's Eco-Rangers."
In addition to designing the center and procuring all equipment and specialty finishes, White Hutchinson prepared job criteria and interviewed and screened staff. This took them literally around the world. Vicki Stoecklin and Randy White traveled with the center's manager to Mumbai (formerly Bombay), India; Bangkok, Thailand and Casablanca, Morocco to interview and hire staff.
Overall, 1,000 applicants were screened for the jobs. The criteria for final selection included education and work experience in early childhood education, customer service experience, bilingual capabilities and personality. In addition to individual interviews with about 200 final candidates, Vicki Stoecklin conducted special group interviews that helped reveal personalities and abilities to work in a team environment. 90% of the staff of 68 are women. And the dream of most American companies, the entire staff is full time with three-year contracts.
Preparing the staff to work at LouLou's Al Dugong's was also a complex task. White Hutchinson assisted management in preparing and conducting a one-month's training program that included:
orienting staff to life in Dubai
hygiene and sanitation
culture/diversity/tolerance
customer service
play leadership (working with children)
ecology
disaster, emergency management
safety, first aid and CPR
management systems
birthday parties and school field trips
In addition, White Hutchinson assisted management with all aspects of start-up including marketing collateral, pricing, membership clubs, café menu development and pricing, policies and procedures and PR.

Click below