International Leisure Project Experience
White Hutchinson has worked on the feasibility, design and production of entertainment, edutainment, eatertainment, leisure and retail projects in 37 countries. Projects include:
St. Kitts, Caribbean
Have started work on feasibility, design and production of an eatertainment and culinary tourism type entertainment center in the island of St. Kitts in the Eastern Caribbean.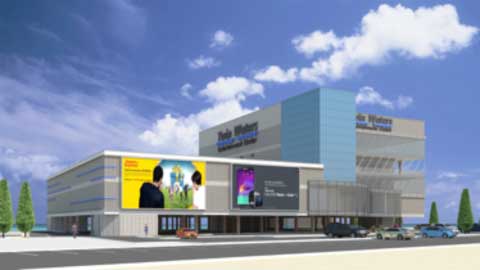 Twin Waters Entertainment Center, Lekki, Lagos, Nigeria
Owner retained us for full interior design; development of the restaurant's menu, and specifications and procurement of all entertainment, furniture and kitchen equipment for this 22,600 square foot (2,100 SM) entertainment center that includes a restaurant, a 130-game gameroom and a VIP bowling suite to be located in the one-story wing of the project. We completed the feasibility study for the center several years earlier. Anticipated opening 2016.
Da Nang City, Vietnam FEC

Handling full design and production of this 157,000 SF (14,600 SM) multi-attraction entertainment and restaurant complex that includes:
This family entertainment center is scheduled to open in early 2014 following Tet.
Beirut, Lebanon mall
Designing a family entertainment center for Achrafieh Mall, Beirut's most upscale mall. The FEC will include attractions never introduced to Beirut and will take advantage of the vertical store space to maximize both entertainment value and entertainment capacity.
Middle East mall
Working with the developer of a new 250,000-square-meter mall in the Arabian Gulf region of the Middle East with how to best integrate and design entertainment into the mall's overall design and the type of entertainment and attractions that should be offered for both families and adults. There will be 10,000 square meters of indoor and 17,000 square meters of outdoor entertainment not including a large cinema.
Club Mais, Luanda, Angola
Full market and financial feasibility and design for a hybrid bowling and family entertainment center in this rapidly growing African Country. The 5,000 square meter indoor family entertainment center will include a restaurant, bowling, a large gameroom with bumper cars and Ballocity, two private VIP bowling suites, and meeting rooms. Outdoor there will be go-kart tracks and an outdoor group/party pavilion that can accommodate up to 300 people.
Lekki, Lagos, Nigeria
Full market and financial feasibility and design for this African country's first adult entertainment center. The two-story 3,900 square meter center will include two restaurants, a bar and lounge, a large gameroom, a VIP bowling suite and meeting rooms, that combined, can accommodate a group of over 300 guests.
Cairo, Egypt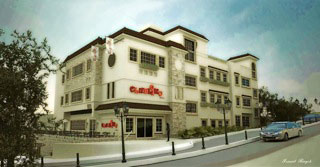 (6th of October) Completed market and financial feasibility study and now completing full architectural and interior design of a 2,300-square-meter ladies club and children's edutainment center that will also include outdoor dining terraces, a roof top terrace and party center and an outdoor children's naturalized adventure playground. Our work includes specifying and procurement assistance for all furniture and equipment and assisting client with start-up management.
India
Market analysis, concept and brand development and design for a chain of family entertainment-edutainment centers to be located in malls throughout India.
Accra, Ghana
Site selection, market feasibility study and concept development for a family entertainment center (FEC).
Nicosia, Cyprus
Feasibility and concept development for a 3.000 square meter family entertainment center adjoining the Mall of Cyprus.
Hanoi, Viet Nam
Working with a real estate developer on concept plans to integrate entertainment, edutainment, retail-tainment and education facilities and venues into a large urban mixed-use project
Kuwait City, Kuwait
Completed market and financial feasibility and concept development and design for a two-story, 7,300-square-meter children's edutainment and enrichment center that includes 25 different play activities for children, an upscale café, a multi-purpose movie and live performance theatre, private birthday party rooms and five children enrichment workshops.
Dubai, U.A.E.
Concept development and design for a 1000-square-meter Children's Academy with 12 children's enrichment workshops for school field trips, scheduled classes and drop-in classes.
Astana, Kazakhstan
Completed market feasibility study and currently developing preliminary design plans, cost estimates and financial feasibility for a 6,000 square meter family buffet-entertainment center (restaurant + family entertainment) to be built on a site in the rapidly growing modern capital city of Astana, Kazakhstan in this ex-Soviet territory.
Uralsk (Oral), Kazakhstan
Developing design plans, cost estimates and financial projections for renovation of 24,000-square-meters of industrial buildings in the northwest Kazakhstan city of Uralsk (also known as Oral or Ural'sk) as a mixed-use adult and family entertainment and restaurant anchored retail trade (shopping) center.
Ukraine, Eastern Europe
Assisted with the retail store design of a 9,300-square-meter (100,000-square-foot) children's store with experiential entertainment and destination edutainment play design components targeting families with children.
Lagos, Nigeria
Completed preliminary plans, cost estimate and financial projections for a 4,190- square-meter (45,000 square foot) indoor-outdoor children's play and discovery (edutainment) and enrichment center that will also includes a learn-to-swim pool and an outdoor discovery playground.
Hong Kong, SAR China
Assisted client in Hong Kong SAR, China, with initial feasibility, site evaluation and concept development of a family lifestyle club that will cater predominately to mothers and children of expat families. The concept incorporates a café, women's salon and children's edutainment and play and children's enrichment workshops.
Manama, Bahrain
Feasibility and design for a 3.700 square meter children's edutainment, entertainment and enrichment (play & discovery) center that will include a discovery play garden and rooftop zero-depth spray grounds (spraypads) in the Seef District.
Amman, Jordan
Concept development and site selection for a mixed-use family-oriented center that will include retail shops, restaurants, family entertainment center, birthday party center and cinemas, in both an enclosed mall and outside landscaped garden settings
Jeddah, Kingdom of Saudi Arabia
Assisting the Al Hokair Group with design, operations consulting and curriculum development for Smart Kids in Jarir Mall. Smart Kids is a new concept that includes walk-in children's enrichment workshops, a children's play and discovery (edutainment) pretend village, games, a toy store and a coffee shop.
Doha, Qatar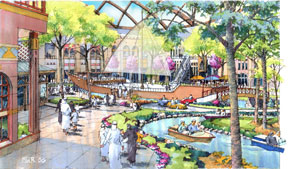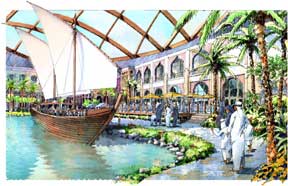 Completed a market and economic feasibility study, master plan and design concepts for development of an 80,000 square meter family leisure project targeted to Qataris and Gulf Arabs that includes retail, restaurants, cinemas and theater, family entertainment, children's edutainment, offices, ladies club and spa, teenage girls club and a children's enrichment center.
Sana'a, Yemen; Yemen Trade Center

The owners of the Sana'a Trade Center, the only modern mixed-use retail, office and apartment project in Sana'a, Yemen, retained WHLLG to conduct a feasibility study and develop plans for a three-story, 45,000 sf addition to the Trade Center which will include a family entertainment center and a celebration/hospitality hall. Click here to learn about our CEO's travel in Yemen
China & Singapore,
Working the ACOR International on development of a chain of children's edutainment centers.
Querétaro, Mexico, Children's Discovery Play Center(sm)
Working with a group on market feasibility for the development of an indoor/outdoor children's discovery play centersm.
Managua, Nicaragua, Children's Edutainment Center
Working on the development of a children's edutainment center.
Beirut, Lebanon, CIC NGO
Assisted the Children's Interactive Community (CIC) NGO with development of their strategic plan, mission and planning for their new headquarters facility.
Regina, Canada
Completed preliminary market feasibility evaluation and site selection for an indoor/outdoor children's edutainment center.
Abu Dhabi, United Arab Emirates
Completed preliminary designs for renovation and expansion of the Space City family entertainment center.
Niagara Falls, Canada
HOCO Limited retained WHLLG to evaluate feasibility and design plans for a new 65,000 square foot indoor FEC which will be located in the popular Clifton Hill tourist area of Niagara Falls, Canada.
LouLou Al Dugong's, Dubai, U.A.E.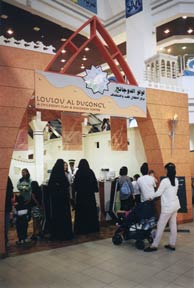 WHLLG designed and produced this 25,000 sf, $3.1 million children's edutainment center that opened May 2000 in Lamcy Plaza, one of the world's largest department stores. WHLLG developed a culturally-based theme for the center that embraces the multi-ethnic composition of the population, the area's heritage as both an Arab culture and an international trading port and local children's environmental values. The center's storyline is about a mascot character named "LouLou al DugongT" (Pearl of the Sea Cows) after the endangered Persian Gulf dugongs (related to manatees) and the city's pearl diving heritage. WHLLG's work included all aspects of design, production and management, including screening and training staff. Click here for more information.
Badajoz, Spain Family Leisure and Discovery Park
WHLLG recently completed feasibility and preliminary design for a 23 acre project called "Parque de Attraciones de Badajoz" which will be combination 'dry' family entertainment center and a water park targeted to families with children toddlers to teenagers. Due to the parks location one kilometer from the Spain/Portugal border, an important cultural consideration will be a design that appeals to both Spaniards and Portuguese, traditional rivals. This and other cultural considerations will be addressed through both a values-based storyline and design theme and the food and beverage selections at a destination restaurant. The mix and theme of the park will also incorporate a strong educational and cultural component.
Qatar, Children's Leisure, Learning & Cultural Center
WHLLG completed a market and financial feasibility study, cultural studies and concept plans for this Gulf state's first children's leisure, learning and cultural center. Unlike conventional Western family or children's entertainment centers, the center is planned to include more than just entertainment. Learning through play, scheduled workshops and discovery experiences, traditional artisans, artists and cultural events, and a model day care facility are planned as an integral part of the center's mix.

Dinotropolis™, Caracas, Venezuela
WHLLG was the development consultant, producer and collaborative designer for this new 60,000 s.f. children's entertainment center that opened July 1996 in Caracas, Venezuela. The center was designed as a Play Palace on the planet of Gemini, inhabited by a civilization of dinosaurs. WHLLG developed the center's storyline, name, characters and theme; oversaw the center's entire design and selection, sourcing and coordination of the installation of all entertainment events and is continuing to assist with operations and management consulting. The center features the world's first roller coaster that goes through the middle of a soft contained play unit. It also includes a children's maze, interactive water play, a hands-on/discovery area for preschoolers and six birthday party catering suites. Dinotropolis won the 1996 Newsmaker Award for the Best New International FEC.
XPlosion Family Leisure & Learning Center, Puerto Rico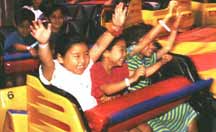 WHLLG has been selected to assist with the design of this new 280,000 square foot indoor/14 acre outdoor FEC type center. The center will include upgrading and expansion of an existing waterpark, ice and roller rinks, bowling, an indoor FEC with multiple anchors, a children's edutainment center, a children's learning center, an adult entertainment center, iWERKS theater, baseball training center and outdoor attractions. WHLLG has completed market and financial feasibility studies and concept plans.
Wol-Ha FEC, Cancun, Mexico
This $7 million, 35,000 s.f. enclosed family entertainment center opened December 1994 to serve the residents of Cancun. WHLLG served as development consultant and designer. The center includes 20 lanes of bowling, a McDonald's and second restaurant, a large children's pay-for-play facility, a game room and party facilities. Wol-Ha translates to The Island in Mayan. Wol-Ha won the 1994 Newsmaker Award for Best International FEC. The owners have since retained WHLLG for on-going operations, evaluations and consulting and to assist them with development of additional Latin American FECs.
Adult Entertainment Center, Caracas, Venezuela
The owners of Dinotropolis retained WHLLG to develop concept plans and development recommendations for a 55,000 square foot adult entertainment center to be developed in an existing shopping mall.
Nassau, Bahamas
WHLLG has been selected to conduct feasibility studies and design an outdoor family entertainment center to be called Promiseland.
Rabat-Sal®, Morocco, North Africa
WHLLG conducted the market feasibility study and prepared a concept plan and cost estimate for new children's leisure & discovery center in Rabat-Sal®, Morocco. It will be that country's first family entertainment center. The project will target children between 2 and 9 accompanied by their parents.
Panama City, Panama
The owners of an existing shopping center retained WHLLG to evaluate the feasibility and develop concepts for development of a family entertainment center to serve as an additional anchor for the center.
San Jose, Costa Rico
WHLLG conducted market feasibility and developed concept plans for the development of an entertainment/retail mall.
Lima, Peru
Assisted with site selection, feasibility and concept development for a children's edutainment center.
Warsaw, Poland
Assisted the developers of the new Kids Play chain of children's entertainment centers with concept and mix development.
Rome, Italy
White Hutchinson has been selected to be the designer and producer for a new children's entertainment center called KidScape to be developed in Rome. We are currently assisting the owners with site evaluations.