Vol. IV, No. 11, November 2004
---
---
Old MacDonald Had a Booming Agritainment Business (e-i-e-i-o)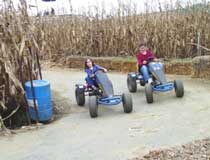 The next big wave of competition for the family entertainment dollar might just be wearing overalls. Buffeted by economic hard times, gobsmacked by rising gas prices, and overlooked by those who hand out federal subsidies, small farmers have realized that they must do something different to survive. Luckily for them, they have something that people want, something that nobody else can offer, and it's right in their own backyard.
It's not a bushel of soybeans, it's an experience. Back in the 1930s, farmers represented 21 percent of the American workforce. Today, it's only 2 percent. However, the nostalgia for farm life still has a powerful hold on people who may be generations removed from plowing, milking, and fixing that dang tractor one more time. These agricultural entrepreneurs are kind of like Ray Kinsella in the movie "Field of Dreams," who plowed under his corn crop to build a baseball diamond and ended up drawing the yearning multitudes. Our folks, though, aren't plowing under their corn crop, they're turning it into mazes (next door to the petting barn and pumpkin patch and U-pick field and...).
As farmers make the quantum leap up the ladder of economic value, from selling commodities to selling experiences, they pose significant competition to family entertainment destinations. This trend is such a big deal that it's even earned two acronyms: agritainment and agri-tourism.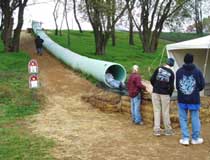 Small farmers get few federal subsidies (roughly 10 percent of farms receive 90 percent of subsidies) and the cost of their crop - say, the corn in cornflakes - represents a small fraction of the cost of the final product. As many farms are no longer profitable wholesaling corn, milk or apples, farmers have found ways to turn their animals, crops and corn into experiences, and many have a high dose of fun thrown in.
It probably all started with farmer's markets. Farmers figured out if they sold their crops at retail to the public, it was far more profitable than selling them wholesale.
Then a few dairy farmers figured if they turned their milking operations into entertainment and the milk into one of American's favorite foods - ice cream - they made an even better profit margin. Way back (way, way back) when I was a kid, on weekends my parents would drive me and my sisters out to Cloverland Dairy Farm in the Dulaney Valley area of northern Baltimore, Maryland. We'd all watch the cows get milked and then we'd walk over to their dairy store to buy ice cream cones. I do believe I was there at the beginning of agritainment, an industry in which our company now works.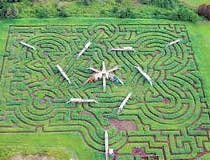 In terms of the ladder of economic value, farmers moved from producing commodities (milk, produce and vegetables) to selling products (produce and vegetables at retail, and ice cream). Heck, Cloverland Dairy Farm even threw in some entertainment and education that perhaps we could call cow milking edutainment.
Then other farmers began to understand the value of experiences and started U-pick, also called pick-your-own farms, where the customers supply the labor to pick their own produce and vegetables. You'd grab a big basket and go out there and scratch the heck outta yourself picking blueberries or apples or cherries, but you could feel like you'd participated somehow in the food chain, and you'd even saved some money. Next thing you knew, the U-pick-it farms opened farm market stores, which quickly expanded to offer jellies and jams made from the produce and products like fresh-made ice cream.
The best thing that ever happened to agritainment, beyond cow milking and U-picking, was that most glorious of holidays: Halloween. Perhaps we should call it the power of the pumpkin. (There's gold in them thar' gourds!) The U-pick-it operations expanded to offer pumpkins, but the public wanted more. Out there on the farm on a beautiful clear, crisp fall day, people were in no hurry to leave. And farmers, not being dummies, figured out ways to use the season and the holiday and the power of per caps to build revenue. They offered mazes, petting zoos, hayrides and haunted trails, some of which are free and some of which come with a per person charge.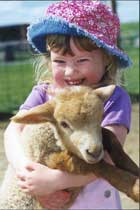 I'm sure many farmers have their doubts about the sanity of people who'll shell out up to $10 a head to get lost in a cornfield. But, bless 'em, the public loves it.
The first maize maze in the U.S. was created in 1993 in Annville, Pennsylvania. Students and staff from Lebanon Valley College wanted a way to help flood victims in the Midwest. They had heard about European mazes, usually made with hedges. Why not carve a maze out of a cornfield? They cut a maze in the shape of a dinosaur in a 3-acre field of growing corn. Admission was $5. It was a big success.
The demand for mazes has only grown since then, and has spawned a half-dozen companies that design and cut the things. They come in the usual shapes, like witches and such, to the really bizarre, like the "Kerry vs. Bush" maze and the maze honoring the Detroit Pistons basketball team. From the inside, of course, it's just corn and more corn.
Get lost long enough, and when you come out you sure are famished. Farmers quickly figured out that their next logical step was to sell food, like hamburgers and hot dogs cooked on the bar-b-cue and roasted corn and homemade apple fritters. It all tasted better out on the farm, in the cool fall air.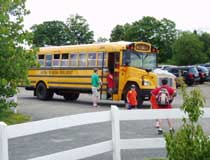 But there are four seasons, aren't there? And what the heck, the farm is sitting out there year-round. Not satisfied with crowds just in the fall, farmers did their research. They figured out that the public would pay for hayrides throughout the year. Some even figured out that if they made their U-pick-it fields far enough away and didn't let customers drive there, they could sell hayrides to the fields.
Then one day a big yellow school bus drove by one farmer and the light bulb lit up. School field trips! Get those poor city kids outta the classroom and show them what farm life is like! Let 'em pick apples or strawberries and go on a fun bumpy hayride! Heck, this is getting even better. Now some farmers have thousands of kids, yes thousands, arriving in a string of big yellow school buses every day. At $6 or so a pop, this is a big business.
And, big surprise, farmers saw that those same kids went wild over farm critters. So they built a whole enterprise around letting kids and their parents (they're the ones with the antibacterial wipes and scrunched-up noses) pet farm animals - beats turning them into drumsticks and hotdogs any day of the week. They threw in some playground equipment, pony rides, maybe a hayride, and thus was born the Children's Discovery Play Farm(sm) that can operate from spring through fall. Some actually generate more revenue than many family entertainment centers.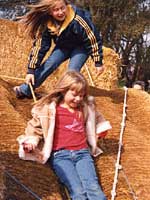 They didn't stop there, either. Farmers have discovered the lucrative birthday party business as well as how much loot parents will pay to get their children out of the house during the summer to attend summer camps on the farm.
As fast as the entertainment industry comes up with new-fangled technology to entertain the public, farmers figure out a low-tech alternative. Motorized go-karts? Ha! We'll do people-powered peddle-karts through the corn. Gerbil climbing tubes and slides at McDonald's and Chuck E. Cheese's? We'll have climbing and crawling contraptions made out of straw bales or giant slides down the hill. Shooting video games? No problem. We'll do pumpkin super sling-shots and corn cannons.
The number of North American farms offering U-pick, corn mazes and other entertainment destination offerings is now in the thousands and continues to grow. Normally, when we talk to family entertainment business owners, we tell them to stop looking at the past for clues as to what to offer today. We can't say the same to these farmers, who are tapping into a deep desire for a past way of life that has faded from most of our lives.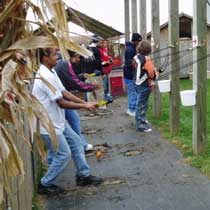 America's growth was originally due to its farms, and farmers are just as entrepreneurial today as in years gone by. Factory farms and foreign producers aren't going to kill farmers' desire to be their own bosses and preserve land that has been in their families for generations. They understand the timeless power of their farm brand and its nostalgic appeal. Farmers are fighting back and winning with the power of corn, hay, pumpkins and the timeless desire of the public to have some fun down on the farm. In the process, they've offered a powerful lesson to the family entertainment industry.
Children's Discovery Play Farm(sm) is a service mark of the White Hutchinson Leisure & Learning Group, Inc.
Vol. IV, No. 11, November 2004
---
---