Vol. XXIII, No. 5, May 2023
---
---
Americans continuing a home-based lifestyle and less in person socializing
In the post-pandemic era, with lockdowns and safety restrictions lifted, nearly half of Americans are still socializing less than in pre-pandemic times.
According to a survey of 2,000 eligible voters in the U.S. conducted for Newsweekin January, 42% said they are "less sociable" than they were in 2019, while 37% said their friends are less sociable now.
According to Robert Putnam, author of Bowling Alone: The Collapse and Revival of American Community, socialization has been on the decline since 1970 - over 50 years.
Socializing at your local neighborhood bar is also "becoming a thing of the past," Putnam wrote. He said the frequency with which Americans (both married and single) went out to bars, nightclubs, and the like dropped by around 40 to 50% over the last decade or two.
A factor contributing to the decline of in-person socialization is that people despite the opening up of out-of-home life continue to adopt a more home-based lifestyle they acquired during the earlier days of the pandemic. The pandemic brought significant changes to consumer behavior, with people spending more time at home and relying on digital solutions for almost everything. Even as economies reopened, those habits are still sticking, and consumers are still embracing a home-based lifestyle.
People are not only continuing to rely on digital solutions they acquired during the pandemic for many things they did in-person before the pandemic, their use of digital time is continuing to increase.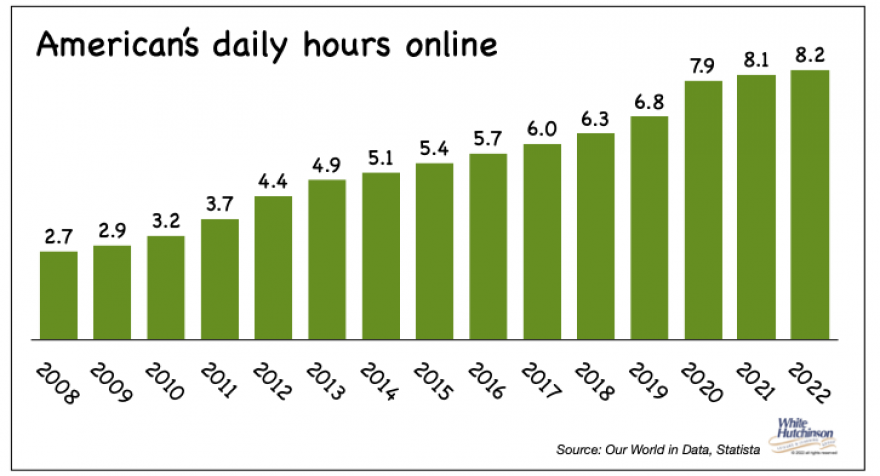 A continuation of the home-based lifestyle the pandemic brought on is collaborated by the National Restaurant Association, which found that three years removed from Covid's onset, 16% fewer people are dining on-premises than before.
April polling by WFH Research found that for the first time since the pandemic, just over half of American working adults aged 20-64 who earned over $10,000 have entirely returned to pre-Covid activities. 9% still plan "no return to pre-Covid activities." That leaves four-in-ten people only partially returned to pre-Covid activities. Although the survey was for workers, it's a likely indication that nearly half of Americans still intend to continue some form of reduction in their pre-Covid activities.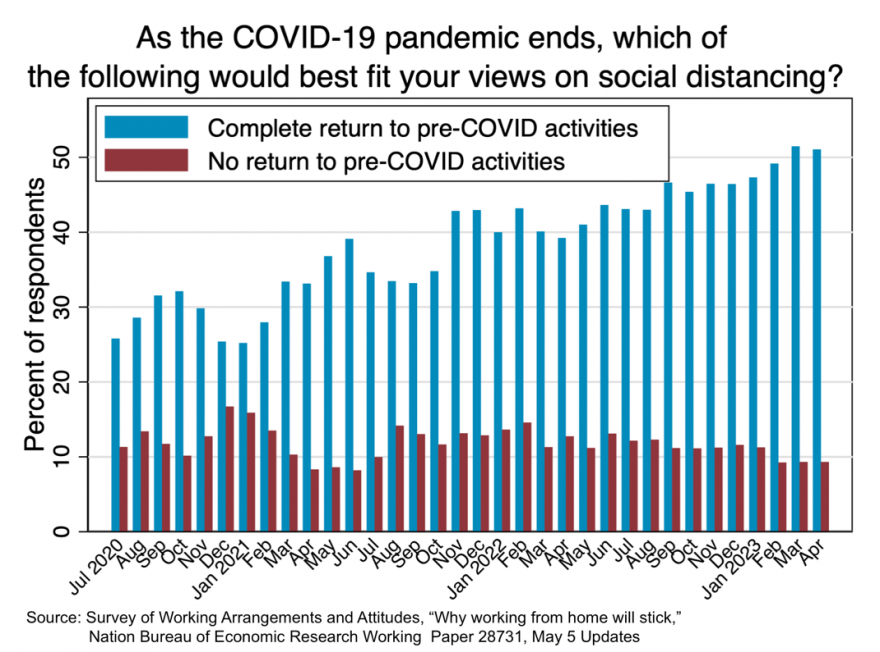 According to a poll last week on May 9 by YouGov, three in ten Americans (31%) say the pandemic is not yet over. The fear of infection is likely still influencing the activities of many people. Surprisingly, younger adults, the primary target market for most location-based entertainment venues, show the highest percentage of saying we're still in the pandemic.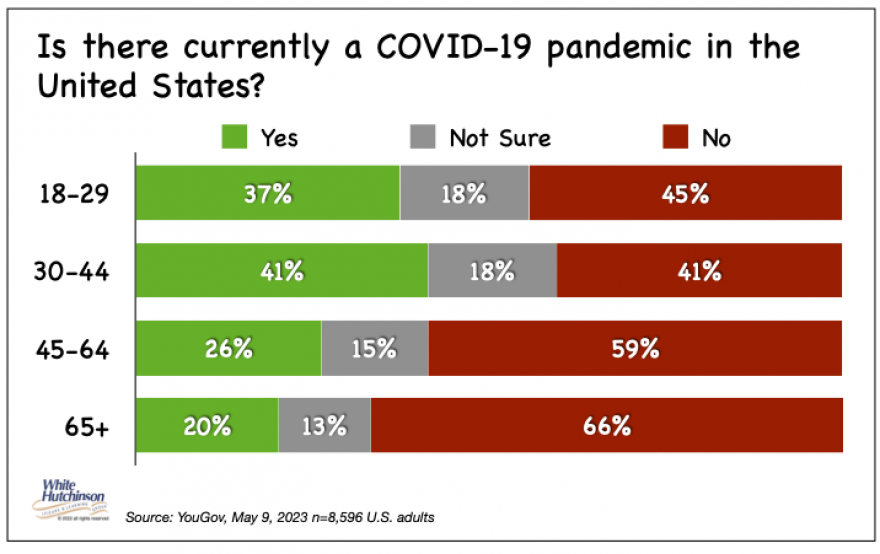 Another poll last week on May 7, 2023, by Morning Consult confirms that many Americans are still uncomfortable attending many out-of-home activities. Almost one-quarter (23%) still are not comfortable going out to eat, nearly four in ten (38%) are not yet comfortable attending a sporting event, one-third are still not comfortable going to the movies, and four in ten (40% are still not comfortable going to a concert.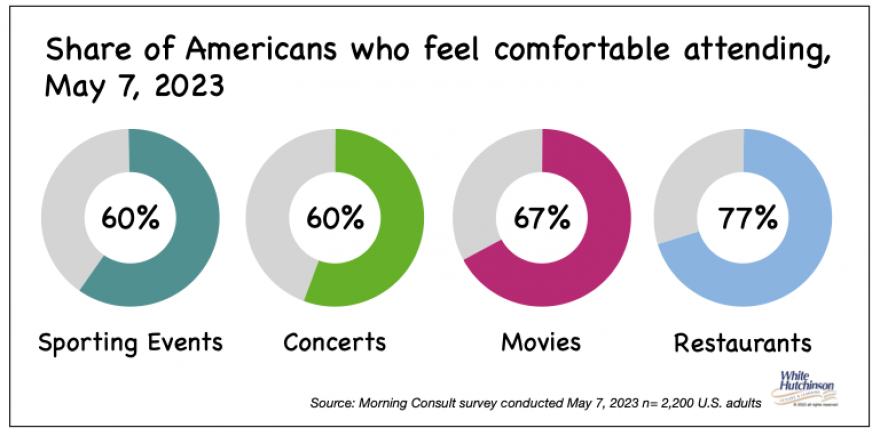 Data from the National Restaurant Association confirms many people's discomfort with dining at a restaurant. One sixth (16%) fewer people are dining on-premises than before the pandemic. Of all orders placed at U.S. fast-food restaurants in 2022, 85% were taken to go, according to market research firm NPD Group. That is up from roughly 76% in the years leading up to the pandemic. Among full-service restaurants, 33% of orders were to go, nearly double prepandemic rates. Meanwhile, overall restaurant sales are up as a greater percentage of restaurant meals are being consumed off-premises with delivery, carry-out, and drive-thru.
The pandemic changed people's behavior in many ways, including a significant share of the population settling into more homebound routines for meals, leisure, entertainment, and work. It looks like it is here to stay even as worries about infection with Covid or other diseases have subsided, but not entirely for everyone.
A more home-based lifestyle has resulted in a reduction in in-person socialization. According to a January 2023 survey of Americans conducted by CivicScience, less than half (43%) socialize with friends in person daily or weekly. Nearly a fifth said they do so less than monthly (19%) or rarely/never (16%).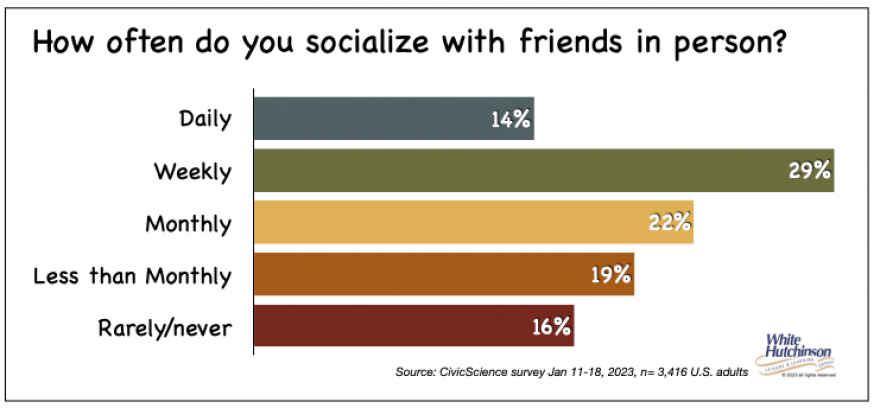 The decline in in-person socialization due to the pandemic is confirmed by a year-ago survey by the Pew Research Center that analyzed how Americans' priorities have shifted since the coronavirus outbreak. They asked almost 1,500 adults to describe in their own words what rose and fell in importance to them during the pandemic. Their results found that for many Americans, the pandemic has brought a new sense of trade-offs between protecting one's health and participating in social activities as part of daily life.
One-fifth of respondents (21%) said they have a renewed appreciation for social events. Most said participating in large gatherings and in-person visits with family and friends were more important to them now than before the outbreak. One person described their shift in appreciation this way: "Quality time with the people I love, attending large events whenever the opportunity presents itself."
Conversely, over a third (35%) said socializing and going out had decreased in priority for them. As a result, there is a net difference between social events being more important and less important, with 14% more people saying it is less important than more important.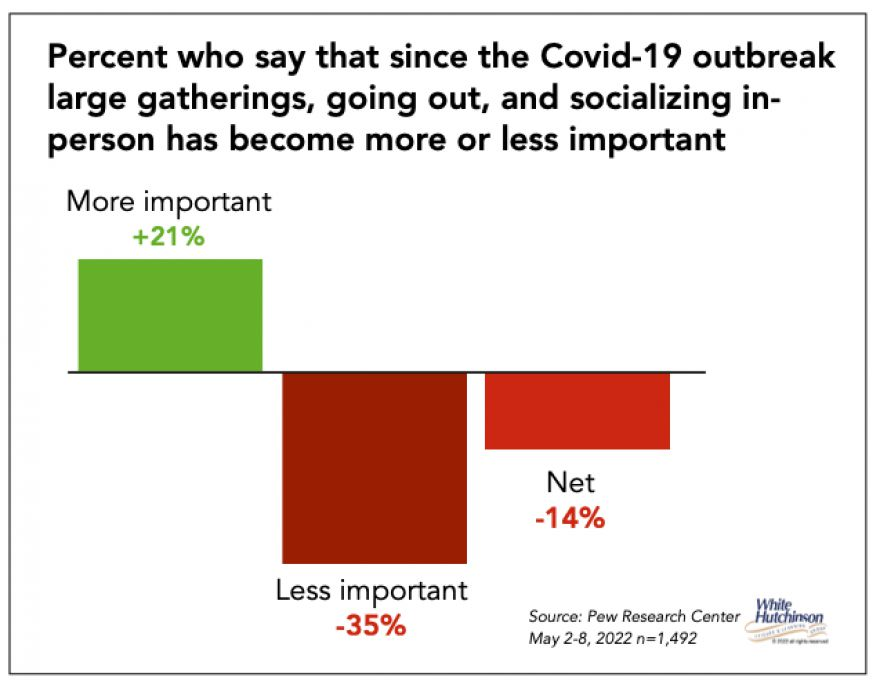 Being flakey is now socially acceptable. Covid made it easy for people to become less reliable since it was the norm not to be social and/or not show up during the pandemic. According to life coach Sam Whittaker, for some people, it was easy to use Covid as an excuse not to go out. He said the pandemic led to self-discoveries whether a new hobby or realizing that being a "social butterfly" is not as important anymore.
Takeaway
When we look at the research on the reasons people visit entertainment, leisure, and cultural venues, the primary reason the majority of people visit is for the socialization that the activity, often along with the food and beverage, facilitates. The home-bound trend raises the bar to get people out of their homes to visit those venues. To get them to visit, the venue's experience needs to be great in all aspects, offering a high-quality social experience. That explains the success of the many expanding social participatory eatertainment concepts, also known as competitive socializing.
Additional reading:
Subscribe to monthly Leisure eNewsletter
Vol. XXIII, No. 5, May 2023
---
---