Vol. XXIII, No. 5, May 2023
---
---
Large LBE player under most people's radar
The big players in community location-based entertainment venues (LBEs), such as Dave & Buster's, Top Golf, and Chuck E. Cheese's, get a lot of attention. However, there is one LBE company that doesn't get that much attention but is becoming a significant big player and highly profitable. They are the world's largest owner and operator of bowling centers, already owning over 10% of all bowling centers in the U.S., and are rapidly expanding - Bowlero. Their family of brands includes AMF, Bowlmor Lanes, and Bowlero.

As of early February 2023, Bowlero owned 325 centers, 41 of which were acquired since June 28, 2021, the start of fiscal year 2022. Here's a list of 21 of their center acquisitions we've identified.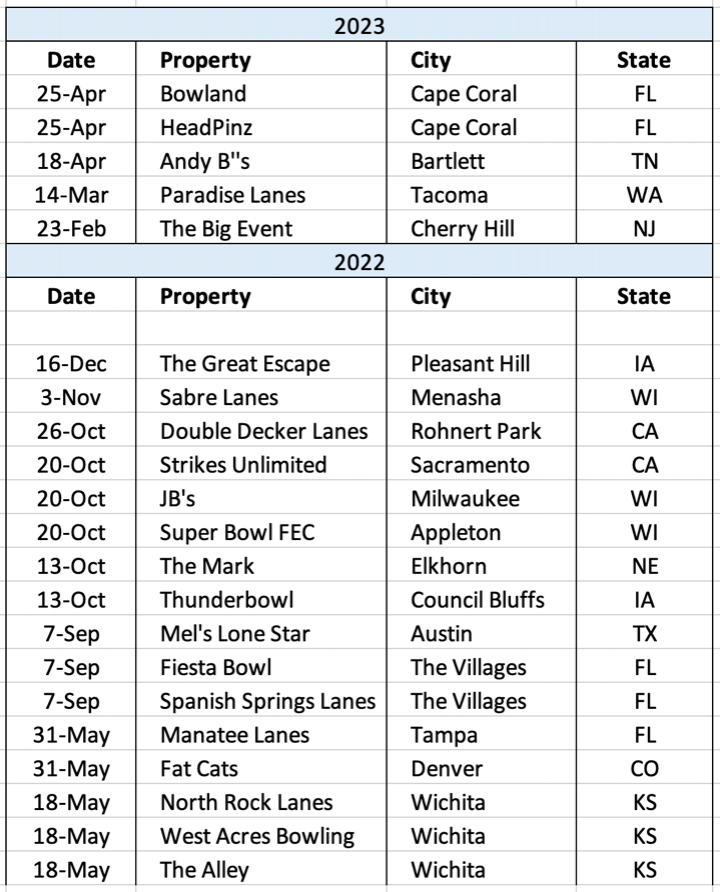 Bowlero became a public company listed on the New York Stock Exchange (BOWL) when it combined with Isos Acquisition Corporation (NYSE: ISOS), a special purpose acquisition company on December 15, 2021. That combination infused over $200 million into Bowlero.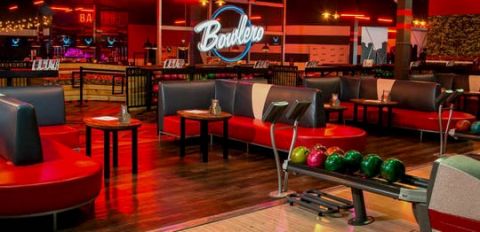 During the 13 weeks ending January 1, 2023 (Q2 2023), same-store sales were 30% higher than the pre-pandemic quarter ending December 29, 2019, and reflects a significant increase even if inflationary price increases are accounted for. That far exceeds the only 14% increase in same-store sales versus pre-pandemic that Dave & Buster's recently reported.
Bowlero's adjusted EBITDA has also increased from 28.6% pre-pandemic to 35.5% in Q2 2023. Bowlero generated $106 million in cash in Q2 2023, funding their aggressive acquisition and renovation of centers. Once they acquire and renovate a center, they double its profitability. Part of that is attributable to the center's full-blown conversion to a Bowlero or significant upgrade renovations. Bowlero also attributes improved profitability to their proprietary algorithmically-powered Quantitative Management Solutions (QMS system), their operating system. It utilizes data aggregation and analysis to identify areas of opportunity to drive performance improvements across the P&L. They also equip new centers with Gems, their group event management system.
Here's a recap of their current revenue centers and categories for Q2 2023 compared to Q2 2019.
In addition to acquiring existing bowling centers, Bowlero is building new ones. The newbuilds achieve an average revenue of more than twice the average per unit revenue in the rest of their centers. Newbuilds earn annual revenues of $7-plus million, up to more than $10 million at the Tysons Corner, Virginia location they opened in November 2021.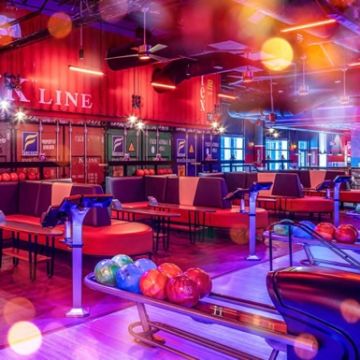 Bowlero is also rolling out MoneyBowl a proprietary, skill-based gamification app designed to increase customer engagement and increase length-of-stay and frequency of guest visits. MoneyBowl enables guests to participate in challenges to win cash or other prizes depending on the location. MoneyBowl uses proprietary algorithms to determine the availability and money payout levels on certain challenges commensurate with the guest's skill level, which range in difficulty from as easy as breaking 100 to as difficult as bowling four strikes in a row. MoneyBowl is available in 37 centers. Bowlero is developing a free-to-play version for younger bowlers and other bowlers who are not open to engaging with the actual money product or for areas where money gambling is not permitted. They expect to have that version in all centers by the end of the year.
Subscribe to monthly Leisure eNewsletter
Vol. XXIII, No. 5, May 2023
---
---