Vol. XXIII, No. 5, May 2023
---
---
The growth of splurging and revenge experiences
CivicScience reports, "Americans are splurging at unprecedented levels. Inflation be damned." In 2020, 35% of people said they never splurged; now it has fallen to 31%. People are splurging the most on experiences. In 2020, 35% splurged on experiences; it has grown to 39%.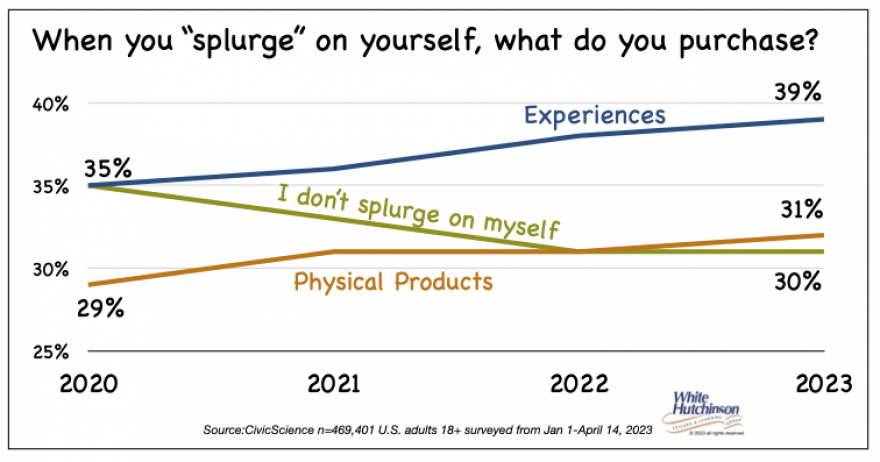 CivicScience believes that splurging is all the rage right now since "When the world around you feels like a raging dumpster fire you can't control [inflation, societal, environmental and other stressors], you take matters into your own hands. [You] treat yourself."
Deloitte reports that 80% of consumers in the U.S. recently splurged, although only around half of them say they can afford to spend on something that brings joy to them. Deloitte attributes the surge in splurging to "As many consumers economize and make trade-offs to navigate inflation, they also spend to treat themselves."
Gen Z and Millennials show the highest percentage of splurging. Splurging on food and beverage, which includes restaurants, is the top category. Consumers are four times more likely to say their most recent splurge purchase was food and beverage than personal care.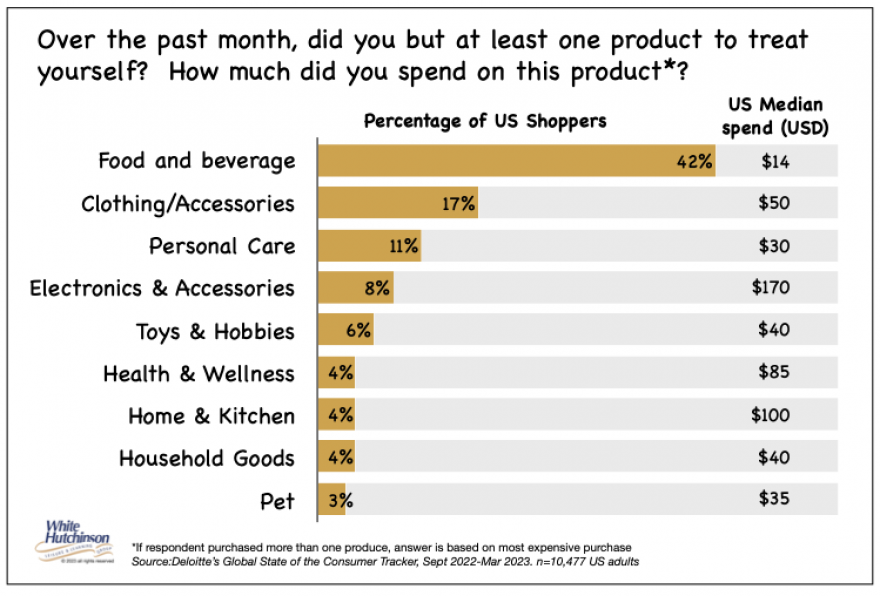 Deloitte suggested this picture of splurging: A millennial treating themselves to a nice dinner out to relax-which also solves a practical problem like hunger-or stocking up on premium spirits to purchase an accessible luxury.
In their most recent U.S. Consumer Pulse Survey, McKinsey found that 40% of consumers plan to splurge in 2023.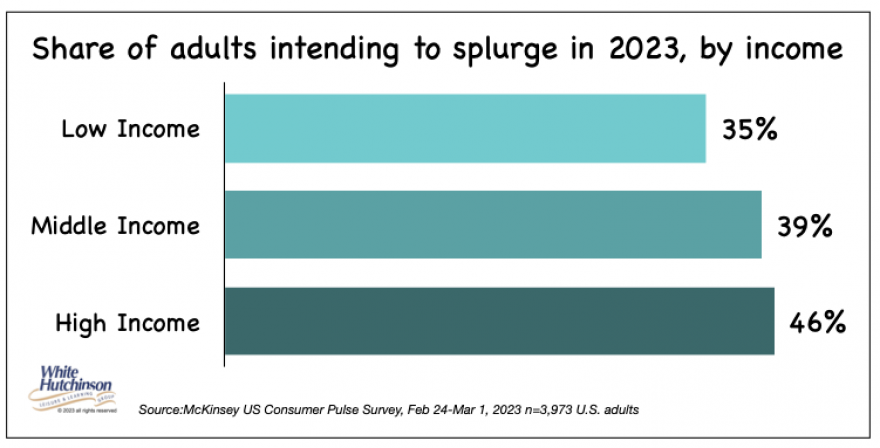 There are wide variations by generation and income. Like Deloitte's research, McKinsey found that Gen Z and Millennials show the highest rate of splurging. High income (>$100,000) Gen Z and Millennials show the highest rate of splurging at 66% and 72%, respectively.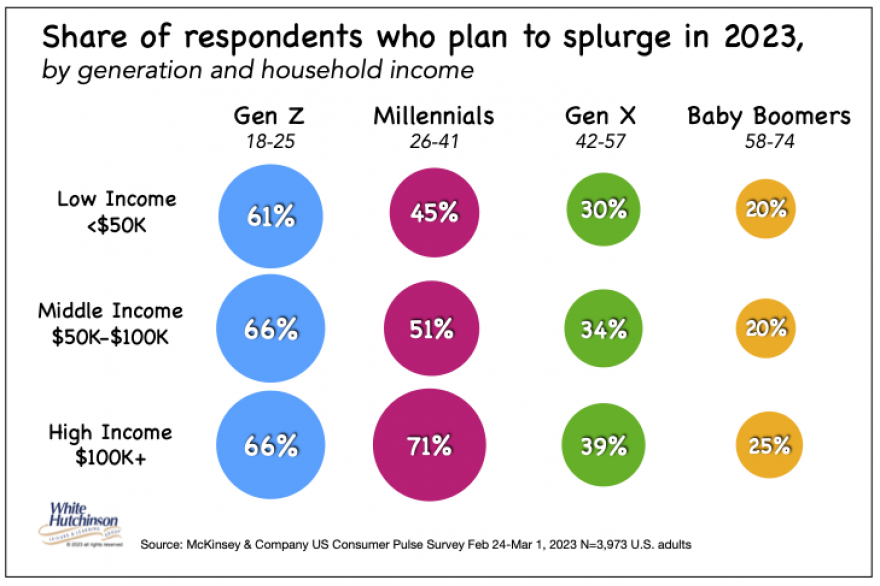 McKinsey found that twice as many adults plan to splurge at restaurants than at out-of-home entertainment venues.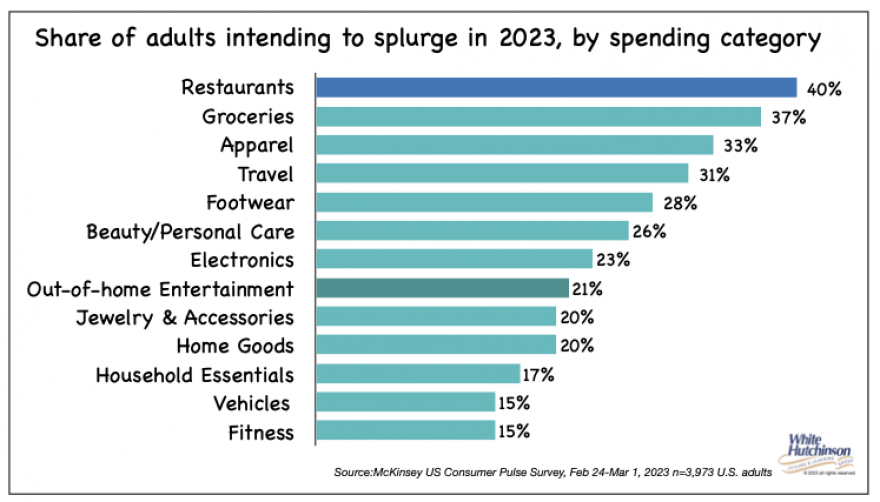 In turbulent and stressful times, the need for escapism ramps up. Resentful of the time we've lost to Covid and driven by the inflationary cost of living, along with other societal, economic, and environmental stressors, people are thirsty for experiences that transport them from the daily grind, help them reconnect with their sense of awe, and make them feel alive again. So along with splurging, we're seeing a surge in revenge experiences, a desire for escapism and emotional release, and a thirst for the unusual, authentic experiences, and newness. The soon-to-be-released Wunderman Thompson Intelligence trend report found that 61% of people in the U.S. and U.K. agree that "life feels less exciting than it used to," and 73% say they "just want to feel something, to feel alive." Wunderman Thompson says people are also tapping into a cultural yearning for experiences that awaken a sense of wonder and enchantment.
The splurging and revenge experience trends are driven by the most powerful lesson the pandemic taught us - YOLO - you only live once. Live your best life today, for no one knows what tomorrow might bring.
There's been a decrease in Americans' overall happiness since 2018. A March 2023 NORC poll found the number of people reporting being very happy has declined since 2018 by 20 percentage points to only 11%, and the number saying they are not too happy has increased by 17 percentage points to 30%.
A recent Harris Poll found that six in ten Americans (61%) say, "My concept of a happy life has changed since the pandemic," with 61% agreeing, "I now try harder to live in the moment." As such, Americans now spend more purposefully on seeking joy, spending on experiences over things, and (75%) seeking to spend on occasions they can do with friends and family.
Trends in the concert and festival industries support the splurging and revenge experience trends. According to Live Nation, the parent company of Ticketmaster, concert attendance was up 24% in 2022 compared to 2019, and they project 2023 will outpace 2022. According to a May 2023 poll by CivicScience, more than two in five U.S. adults (44%) intend to see at least one live concert or performance this summer, up from 41% in May 2022.
Similar to concerts, overall festival intent is also rising. CivicScience data show that 27% plan on attending or have attended at least one music or cultural festival this year, up from 20% in 2022. Last May, 44% of adults said they intended to attend smaller festivals (excluding the larger ones, such as New Orleans Mardi Gras, Coachella, South by Southwest, and Pitchfork Music Festival). This May, that's up to 57%.
Takeaway
For location-based entertainment venues (LBEs), these two trends indicate that the same old offerings have lost much of their appeal. People are looking for new and unusual experiences. LBEs can tap into the splurging and revenge experience trends with LTOs (limited-time offerings) with different themed events and unique food and drink offerings.
Subscribe to monthly Leisure eNewsletter
Vol. XXIII, No. 5, May 2023
---
---