---
Pickleball's popularity and hospitality venues growing
With its quirky name, pickleball was invented in 1965 on Bainbridge Island, a small, wealthy community west of Seattle. It has long been popular in retirement communities.
It only went mainstream in the past few years. This year, during the growing frenzy for the game, it became Washington State's official sport. The dinking sound of gameplay can now be heard across the United States, from playgrounds to private country clubs to hospitality venues. The most devoted fans are having pickleball-themed weddings.
Aided by a pandemic boom with its high approachability for new players and being predominately an outdoor activity, there were 4.8 million players last year according to the Sports & Fitness Industry Association. However, many in the industry suspect the actual number is much higher based on equipment sales and online activity. The SFIA reports that the sport has grown at an average rate of 11.5% per year over the last five years. Last year's numbers were a 14.8% growth over 2020.
Pickleball is a low-impact sport that doesn't require as much running back and forth as tennis due to its much smaller court. It can be played indoors or out, and players claim it's an easy sport to learn with an uncomplicated scoring system. If the pickleball craze hasn't swept you up, picture a hybrid of tennis, badminton, and ping-pong with a flat-surfaced paddle slightly bigger than the one used for ping-pong and a hollow, plastic, whiffle-like ball lighter than a tennis ball.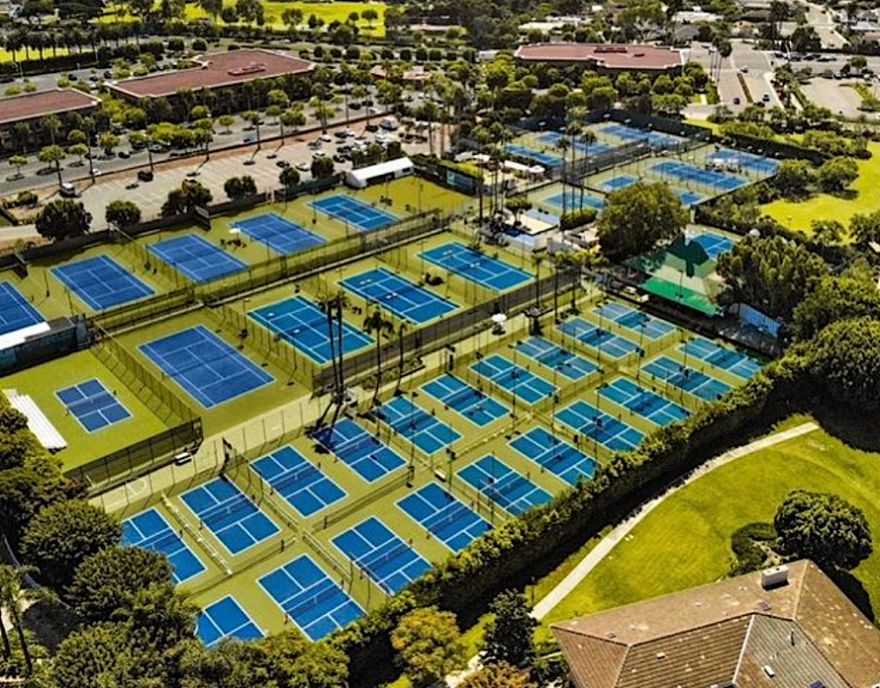 Newport Beach Pickleball Club
An average of three new pickleball venues are opening daily in the U.S., many replacing tennis courts.
Another sign that pickleball's growing popularity during the pandemic is continuing to increase is the amount of money being poured into pickleball clubs, bars, and professionalization which is reaching NFT-esque proportions. LeBron James, his business partner, and several other NBA stars purchased a Major League Pickleball (MLP) team. They joined other MLP backers, including Gary Vee, NFL QB Drew Brees, entrepreneur Gary Vaynerchuk, and Milwaukee Bucks owner Marc Lasry.
Major League Pickleball is the first-of-its-kind professional pickleball league in the United States.More high-profile names are also signing on to the MLP that was only founded last year. MLP will expand from 12 to 16 teams in 2023, playing in six cities nationwide.
Pickleball participants skew heavily toward white and higher income, spanning all age groups. Data from the Sports & Fitness Industry Association shows the generational breadth of pickleball's popularity. Approximately 21% of the sport's more than 4.8 million participants in 2021 were between 6 and 17 years old. Close to 30% were between 18 and 34, with another 20% between 35 and 54, and another 30% ages 55 and up.
Developers are inevitably eager to monetize pickleball passion, adding food, cocktails, and social lawn games to pickleball venues to make them eatertainment destinations for the general public, even people who don't play pickleball.
In our July issue this year, we reported how the Chicken N Pickle chain, with six units and several in development, is launching a new "farmstead" version of their socialized gaming venues.
Now Robert Thompson, best known as the founder of Punch Bowl Social, is preparing to launch a chain of dining-and-games venues focused on the surging pickleball trend. His Camp Pickle will feature a nostalgic "1940s national park/summer camp" motif, with a food and beverage menu designed to match. The indoor/outdoor locations are expected to measure 55,000-75,000 square feet, with 10-14 pickleball courts, plus other "old school" games such as duckpin bowling and darts.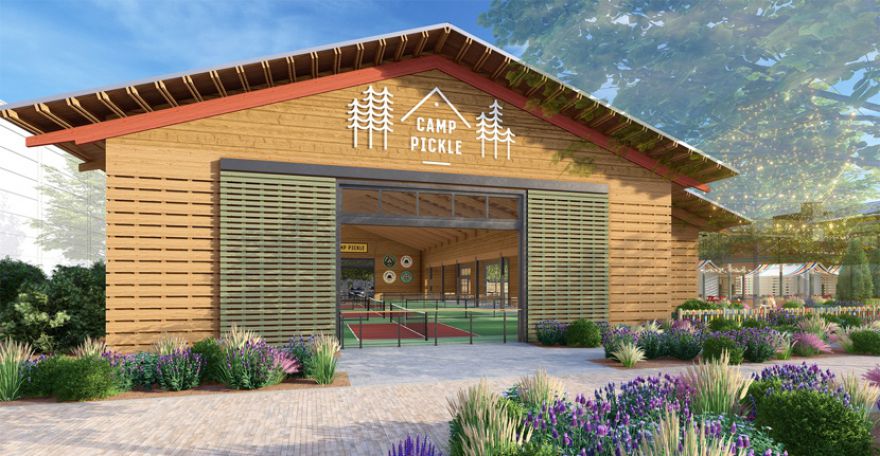 The first Camp Pickle location is scheduled to open in Huntsville, Alabama in early 2024, followed by one in Denver later that year. There are plans for ten company-owned locations by the second quarter of 2026 in markets such as Atlanta, Dallas, Minneapolis, and others across the country.
"Our approach is to create these food- and beverage-centric social gaming activation concepts in large environments, catering to both a la carte folks off the streets and large enough for big corporate event opportunities as well," said Thompson. He anticipates that corporate events will drive 35-40% of sales.
He projects that Camp Pickle will generate about 80% of its sales from food and beverages. In tune with the campground theme, the menu will feature wood-fired cooking, with some Mexican influence, Thompson said.
Beverages will include large-format cocktails inside old Coleman coolers - "kind of a 'wink-wink' at camping culture, perhaps," he said.
In our July issue, we reported on another socialized gaming concept Thompson has been working on, Jaguar Bolera, which will also feature duckpin bowling and other social activities and is on track to open in Raleigh, N.C., late next year.
---