Vol. XXII, No. 7, July 2022
---
---
Pickleball grows in popularity and launches a new LBE chain
After decades as a niche, obscure game, pickleball is on the rise. NPR dubbed the mashup of badminton, ping pong, tennis, and Whiffle ball as "America's fastest-growing sport." 4.8 million people play annually, with much of the growth coming in the last five years. Brands like Skechers are even signing pro pickleballers to ambassador deals.
A recent survey by CivicScience found there's still plenty of growth potential. Twelve percent of Americans familiar with pickleball have played it and like it - and another 21% haven't played it yet but plan to. That means there is a potential for one-third of Americans to become players. Although the short-term growth prospects look promising, three-in-five Americans familiar with pickleball aren't interested.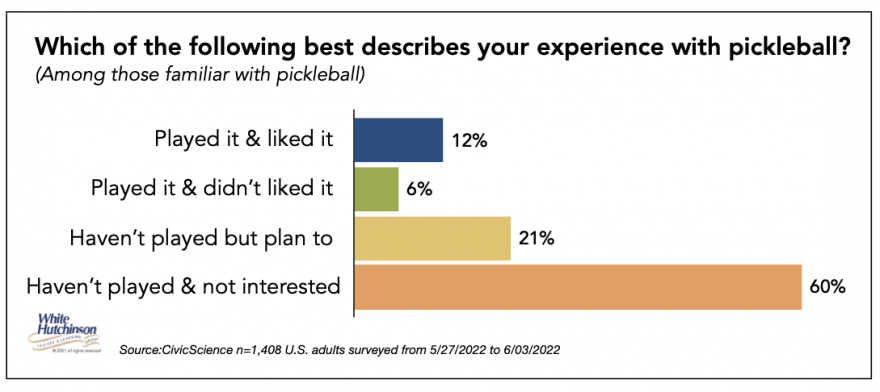 Although USA Pickleball claims the oldest age bracket plays the most frequently, young players are overwhelmingly outpacing the general population. More than one-in-five Americans between 18 and 24 familiar with pickleball have played and like the sport - and nearly one-half of age 18-24 familiar with it plan to give it a try (total 48% potential). The 25-34 age group isn't far behind the youngest adults, with 42% having played or intending to play it.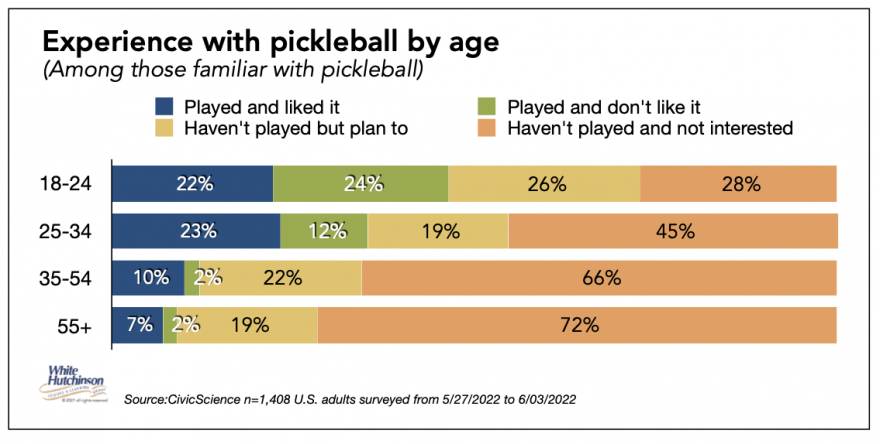 The popularity of pickleball with the 18-34 age group bodes well for Chicken N Pickle. This chain features both indoor and outdoor pickleball courts, a chicken-focused fast-casual menu, a sports bar, and various adult-oriented yard games such as corn hole and Connect.
Chicken N Pickle started in Kansas City in 2016 and now has six units in Kansas, Missouri, Oklahoma, and Texas.
Their number of pickleball courts varies with the market. There's usually anywhere from four to six indoors and four to six outdoors.
They are rolling out a new "farmstead" design based on their farm-to-table nature menu. The new design will debut at locations in Glendale, AZ and St. Charles, MO later this year.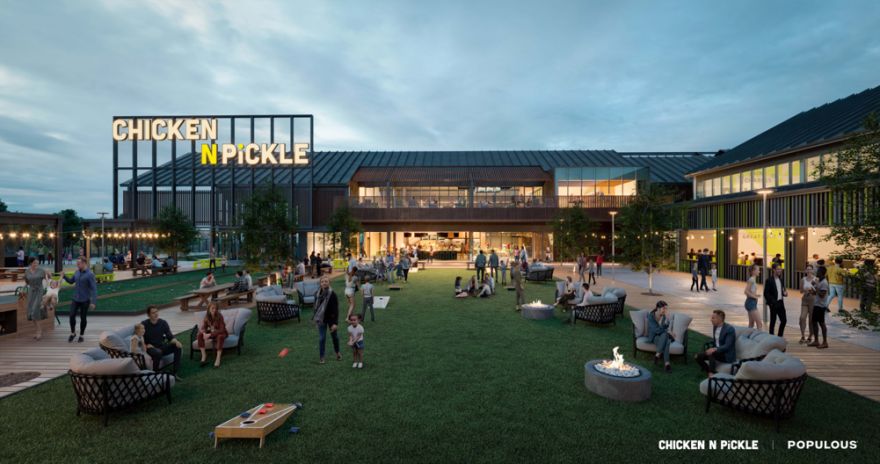 Chicken N Pickle's new farmstead design
Chicken N Pickle's menu features rotisserie quarter chickens for $9 and half chickens for $13 with seasoning and sauce options. The chicken is brined for 24 hours. The menu also includes barbecued pork for $12, sandwiches from $12.50 to $13.50, and salads for $10 to $14.95. There are also munchies starting at $8.25. Desserts for two to three people range from churro waffles to coconut cream pie cups and are $8.50.
Chicken N Pickle's website.
Vol. XXII, No. 7, July 2022
---
---