Vol. XXII, No. 7, July 2022
---
---
How video game socialization is competition to location-based entertainment

The pandemic acted as a catalyst, speeding up consumers' digital adoption and new digital habits at a rate few could have predicted. The pandemic forced Americans in a matter of just months to collectively swap the physical for the digital world, creating an accelerated migration of many facets of life from the real to the digital world. Rapid new digital technology options facilitated the shift. The increased digital engagement included increased digital use by digital natives as well as by digital immigrants who had previously not been digitally engaged or were only minimally so. According to a McKinsey study, over the course of eight weeks, people adopted as many new forms of digital communication as we'd expect to see in seven years.
Now, more than two years after Covid first arrived and people are once again venturing out for leisure activities, many of the digital habits they developed early in the pandemic continue and are impacting their participation in real-world activities. Adults' video game play is one area having a lasting impact.
The Entertainment Software Association Essential Facts 2022 report finds that in 2022 more adults play video games than kids. Three-quarters of all players are age 18+ (76%). Two-thirds of American adults, 140 million, currently play video games. It is almost evenly split between males (52%) and females (48%).

In 2022, adult video game players who spend at least one hour a week playing video games play an average of 13 hours a week.

That's up 7% from 12 hours per week in 2021and up more than half (+57%) the 8.3 hours spent playing games in pre-pandemic 2019.
Video game play is especially up among young adults. Half say that they are playing more now than pre-pandemic.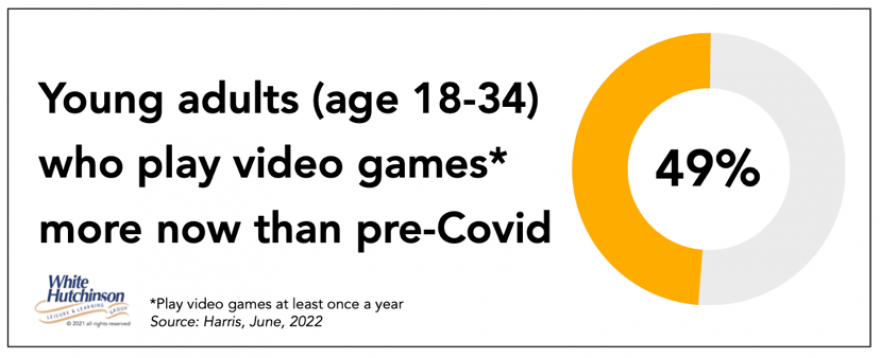 The high levels of video game engagement that began during the pandemic are holding, with nine in 10 adult players (92%) saying this February they spend as much or more time playing now as they did at the pandemic's peak. Six in 10 (61%) plan to maintain their playing habits in the coming year, and two in 10 (19%) plan to spend more time.
It's not just the increased amount of time enjoying the fun and entertainment that video games offer that is now impacting choices and visitation at alternative out-of-home leisure options, including location-based entertainment venues (LBEs). It's a more powerful appeal. It's the socialization opportunities video games offer, something that not all the long-ago people could only find in the real world.
One of the many myths in the LBE industry is that when a group of people visits most LBEs, they come primarily for the entertainment. In fact, they are really coming for the total experience, of which socialization is the primary driver. The entertainment and the food and beverage offer them a way to socialize together. It facilitates socialization. Research by the National Endowment for the Arts has found that socialization is the primary reason people visit dance performances, music concerts, plays, and arts and craft shows. It's not for the entertainment. That is a secondary reason they attend. As humans, we are hard-wired to seek out social interactions and connections. As evolutionary anthropologists will tell you, it was living in a family and tribe with all the social relationships that bonded people that enabled our species to survive in its earliest days. That desire for socialization is hard-wired into our genetics and our brains' programming, far stronger than the desire to have fun. If you have any doubt, just look at the popularity of Facebook.
Over the past few years, the socialization opportunities that video games offer, and the ability for people to build community through their play, have greatly improved. Most adult video game players play with others, including friends, family, and partners. Currently, more than eight in ten adult video game players play with others at least weekly.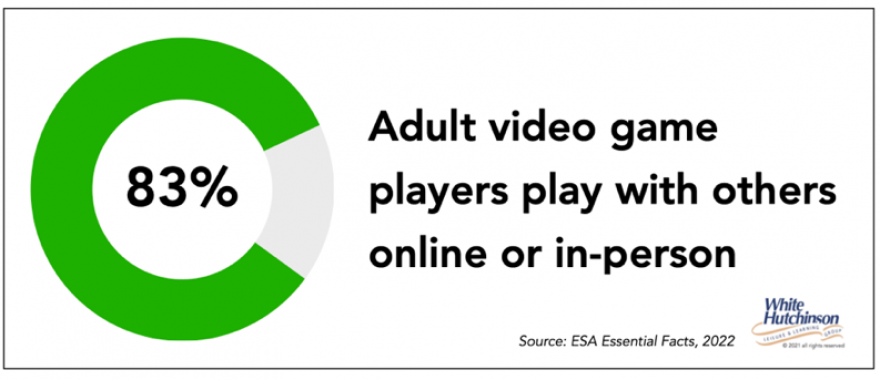 Young adults age 18 to 34, a primary target market for most LBEs, are the most social gamers, with 92% playing with others online or in-person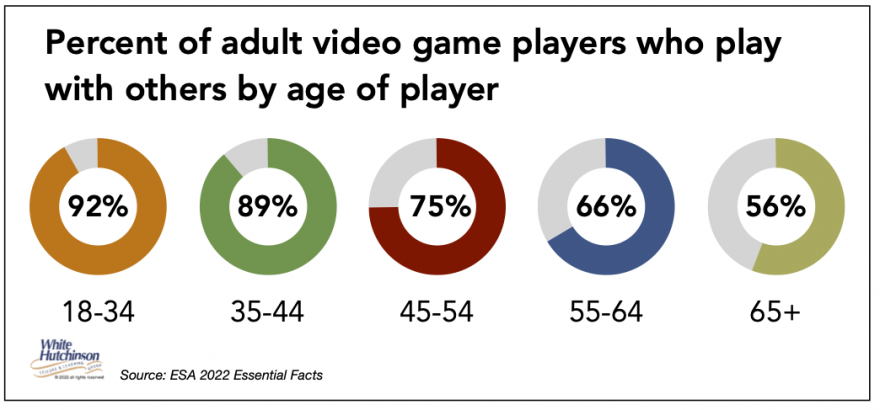 The percentage of adult video gamers who play with others online or in-person has increased by one-third since pre-pandemic 2019.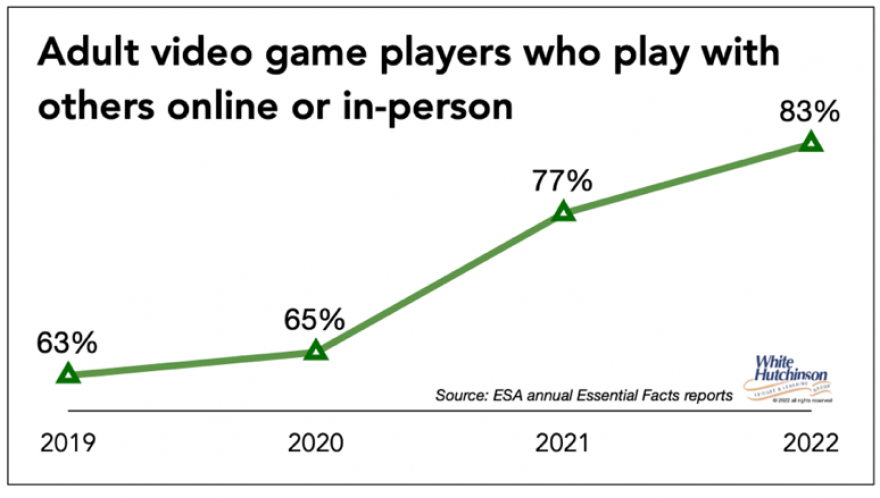 The most significant increase in playing with others has been online. Last year, adult video gamers played 2.7 more hours per week online with other people than they did pre-pandemic.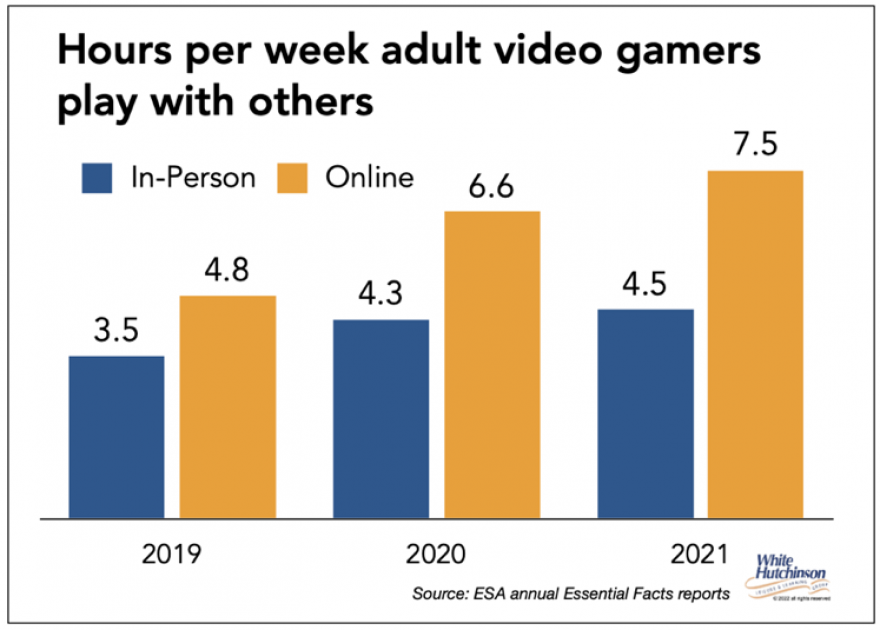 More than three-quarters of adult video game players agree that online gaming plays a huge part in making new friendships and relationships. They report meeting new people in the game or becoming better friends with the people they hang out with every day. 83% of adult gamers say video games create a feeling of community. They also say: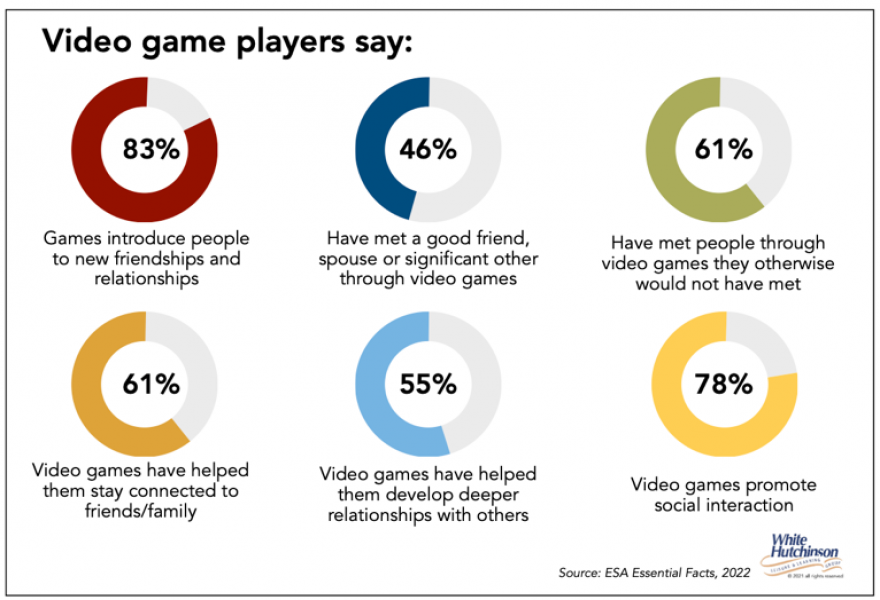 Adult video game players report playing with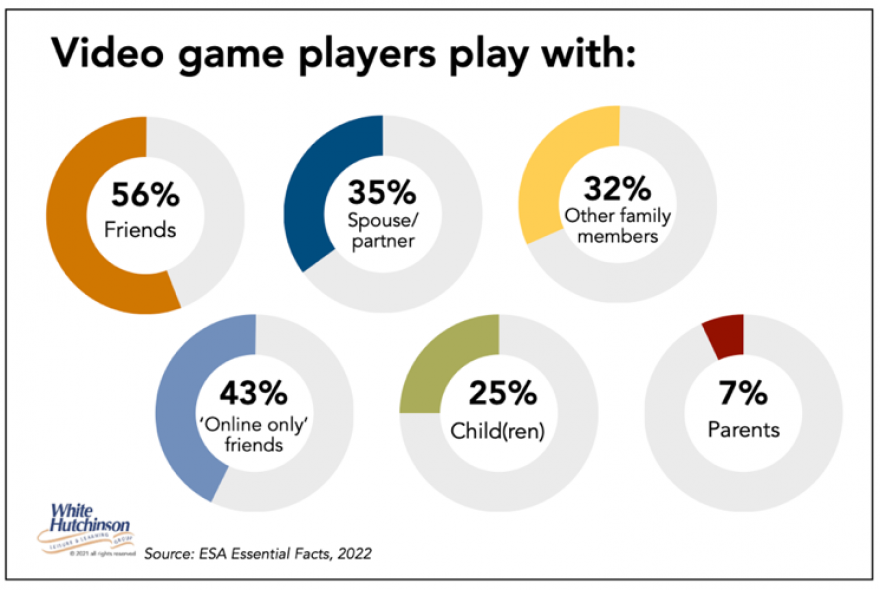 In December 2021, OnePoll surveyed 2,000 adult video game players. They found that the average player has made five new online friendships through playing video games over the previous 18 months, and 43% had dated someone they met through online gaming.
Razorfish conducted research early this year on Gen Z video gamers. Their study found that Gen Z spends nearly twice as much time playing video games as they do hanging out with their friends in person. Gen Z is between the ages of 10 and 25 - half are children and half are adults.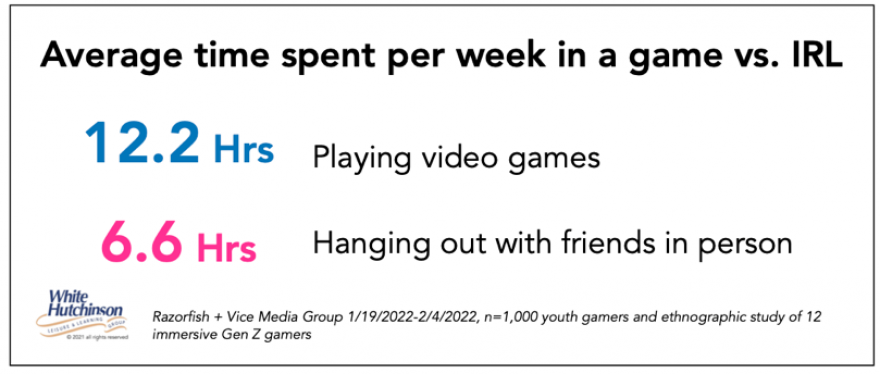 Gen Z reported these positive relationship statements about their gaming: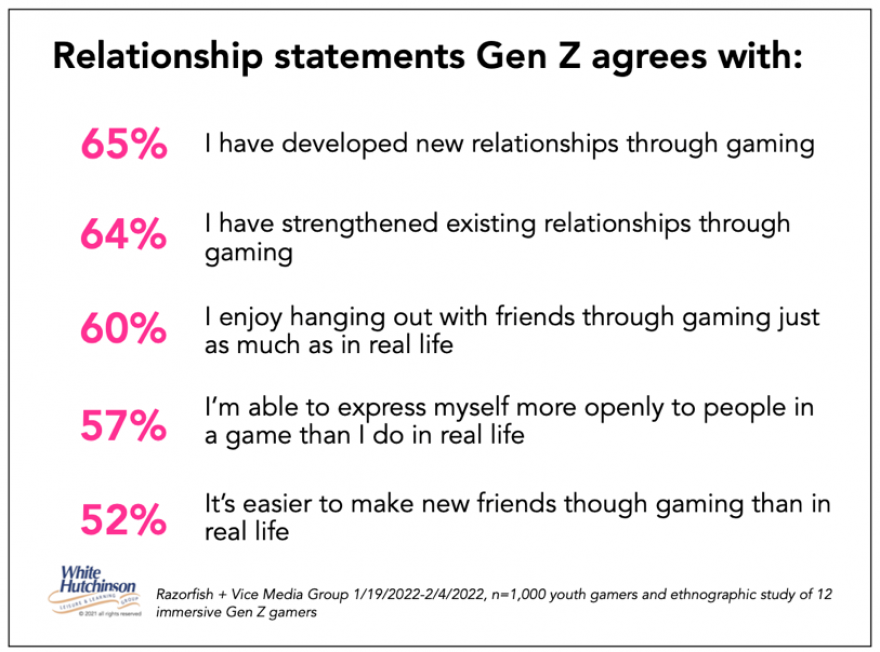 Two-thirds of Gen Z report that their social interactions in a video game are just as meaningful as those in real life. One-fifth say the gaming social interactions are more meaningful than in real life. That means three-quarters of Gen Z rate video game interactions at least as meaningful as in real life.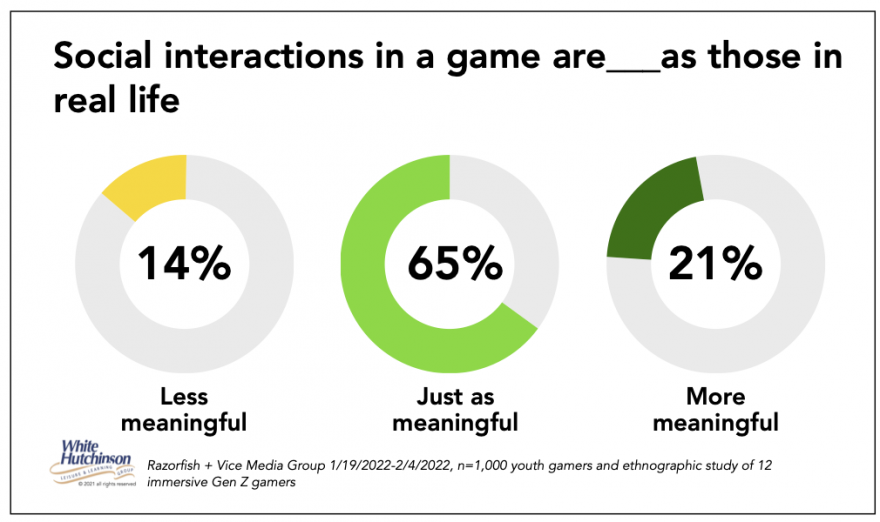 Academic research on video game players has found that group players gain social benefits, as they obtain higher social status and social capital than with solo play.
The increased time adults spend playing with others, and the social engagement it results in can easily replace the need for socialization at out-of-home leisure venues. In 2019, adults age 20+ only spent an average of 6 minutes a day attending entertainment and cultural venues. If social video game play results in just one less minute on average attending those out-of-home venues, that would reduce the market potential by one-fifth
To be competitive with the appeal entertainment and social experiences video games now offer players, location-based entertainment centers (LBEs) need to raise the fidelity of the out-of-home experiences they offer. That is precisely what many of the newer competitive socializing LBEs are doing, offering a high fidelity social experience - competitive social games combined with the highly social sharing of quality food and drinks while playing.
*The ESA's 2022 consumer survey was conducted using an online methodology. A 15-minute questionnaire was completed by a representative sample of 4,011 U.S. consumers ages 18 and older in February 2022 (margin of error +/- 2%).
Additional reading:
Vol. XXII, No. 7, July 2022
---
---