Vol. XXII, No. 7, July 2022
---
---
Pleasure revenge arrives
After two years of pandemic restrictions and fears of public places, many people are making the most of their freedoms and venturing out into the world to make up for lost time at location-based leisure and entertainment venues. It's a phenomenon that futurist Faith Popcorn dubs 'Pleasure Revenge.'
Although surveys from Morning Consult and other research firms find that only anywhere from six in 10 to three-quarters of adults currently feel comfortable visiting entertainment and cultural venues, especially indoor ones, and only three-quarters are comfortable dining at a restaurant, evidence from Dave & Buster's indicates that the people who are venturing out are partying hard and frequently.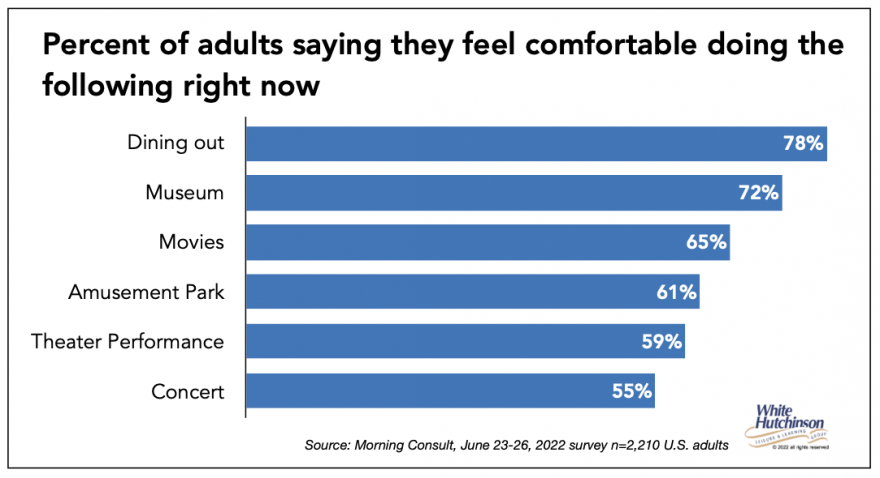 Dave & Buster's has reported their results for the first quarter of 2022. Their Q1 2022 sales for comparable stores (stores also open during the previous comparison period) were up 71.2% over Q1 2021. But most impressive is that comparable Q1 2022 sales were up 10.9% over pre-pandemic Q1 2019. Comparable walk-in sales were up 14.7%, while social group events sales were down by one-third (-34.6%) compared to Q1 2019.
On their sales mix, amusements had a positive comp of 23.8% and were 66% of overall sales compared to 59% in 2019. Food and beverage comparable sales were down 8.1% compared to 2019.
We also see reports from other entertainment venues of better performance than in 2019. However, operators and start-up entrepreneurs need to be cautious not to interpret this as a long-term trend. Pleasure revenge will only last so long, and people will eventually return to more normalized behaviors. It is also important to keep in mind that screen-based digital entertainment and just staying home became stronger competition for out-of-home entertainment during the pandemic. There is also a redistribution of demand occurring among location-based leisure. And for the foreseeable future, we see high inflation cutting into many households' discretionary spending for things like out-of-home entertainment.
Vol. XXII, No. 7, July 2022
---
---