Vol. XXII, No. 7, July 2022
---
---
Does indoor mini-golf and cocktails have legs?
We're seeing what appears to be the beginning of an explosion of indoor mini-golf and cocktail venues targeting adults in the U.S. Three of the new puttainment concepts are being imported from where people speak with a British accent, the U.K. and Australia, where a lot of innovation of indoor leisure venues has been taking place. Another is a U.S. imitator. Although these concepts have proved successful in their native countries, will they have legs in the U.S.?
Here's the current line-up of the four leading chains: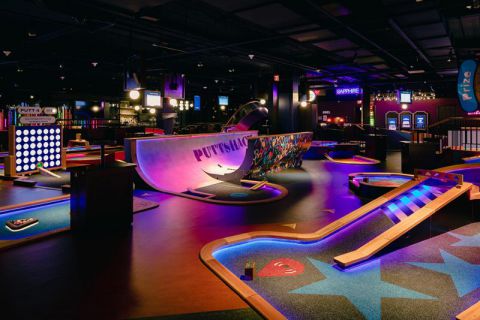 Puttshack
The company opened its first location in London in 2018, where it now has three. Its first U.S. location opened in Atlanta in April, and a second with 25,000 square feet will open in Oak Brook, IL in November. The company plans to open additional locations in Miami, Boston, Houston, and Scottsdale, AZ in 2022, followed by Nashville and one additional unit in 2023.
The format includes a "globally-inspired" dining menu and bar with an upscale nightclub vibe.
Puttery
Puttery is owned by Drive Shack, a Top Golf imitator. There are currently locations in Washington, D.C., Dallas, TX, and Charlotte, NC, with more on the way in D.C., Miami, Chicago, Kansas City, New York, Philadelphia, Pittsburgh, and Houston.
Puttery has an upscale nightclub vibe and features three or four tech-driven mini-golf courses. The format includes an elevated menu with globally-inspired sharable eats and multiple bars with craft cocktails throughout the space. Each course has a unique cocktail menu that offers exclusive themed beverages for guests to enjoy only while they're playing on that specific course.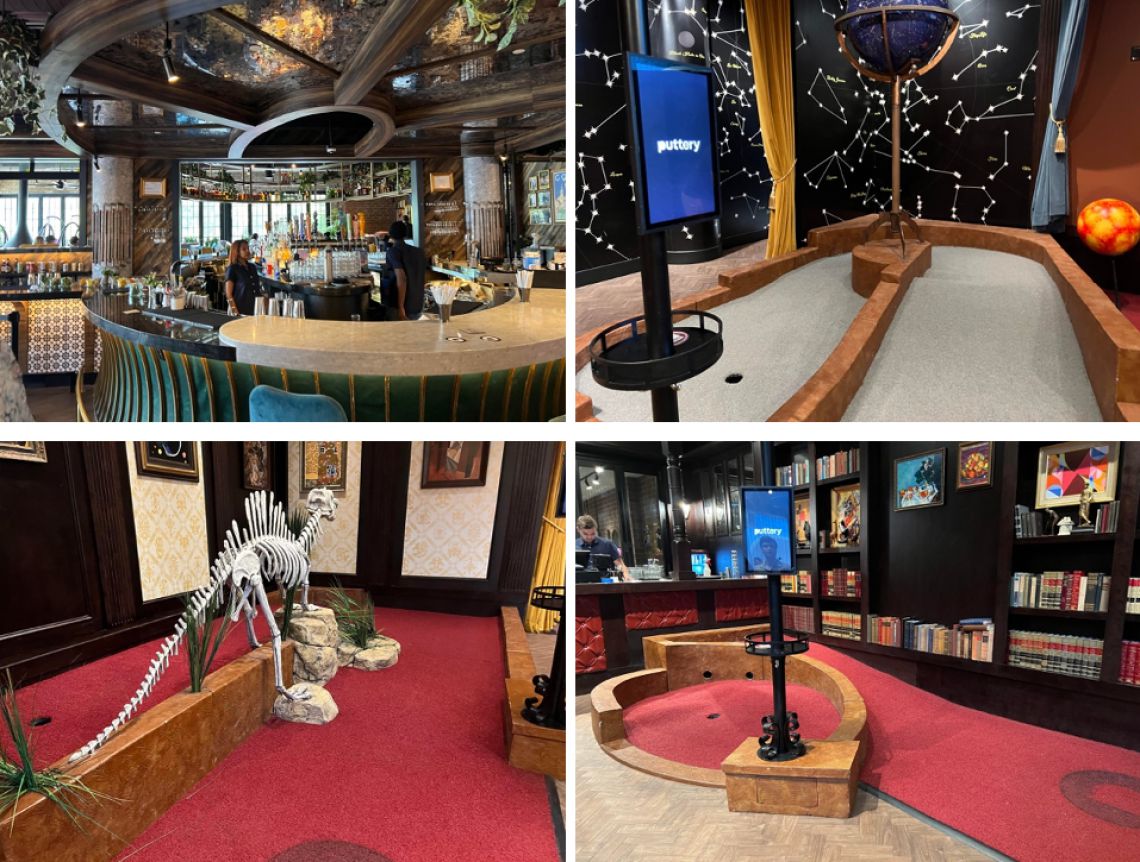 The 19,000-square-foot D.C. unit features three 9-hole courses, each with its own distinct theme and drinks menu. The "Art Museum" course is covered in colorful pop art prints and Andy Warhol's oversized Campbell's soup cans; the lush "Conservatory" course is filled with giant redwood replicas, prickly cacti, and cherry blossoms; and a trippy "Illusion" course is surrounded with bendy, black-and-white graphics that'll make drinking while golfing even more challenging.
Swingers
This mini-golf club straight from London, where it has two locations, just opened its second U.S. location in New York City. It offers three nine-hole courses in its 22,000-square-foot venue. In addition to its street food and craft cocktails, premium spirits, beer, and wine, Swingers also hosts a live DJ to set the mood for guests. Its first location in Washington, D.C., is 21,000 square feet. The D.C. mini-golf prices are $24 per person for peak time and $19 off-peak.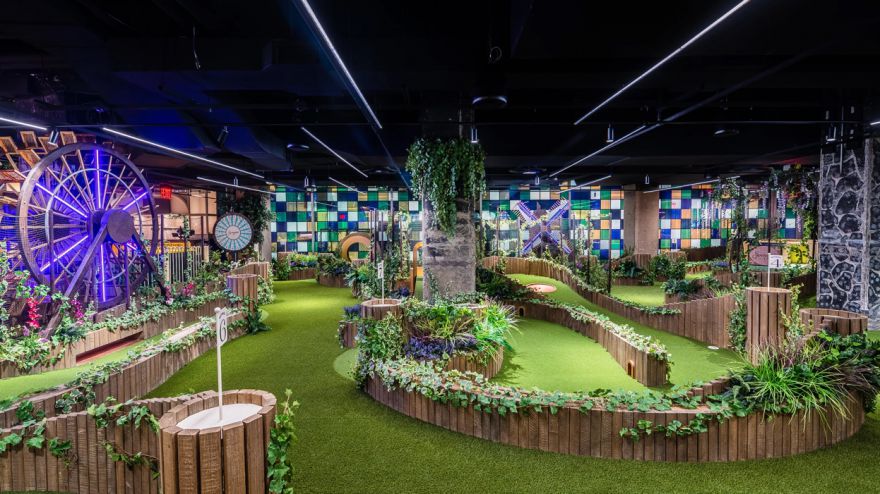 Swingers
Holey Moley Golf Club
Last month, we wrote about this Australian chain bringing its Holey Moley concept to the U.S.
Holey Moley Golf Club is an indoor venue centered around highly themed golf holes. It differs from some of the other new indoor mini-golf concepts, such as Puttshack, as it doesn't rely on technology to make the gaming aspect of mini-golf entertaining. A Holey Moley venue consists of 18 to 27 mini-golf holes, each with a different theme influenced by pop culture and nostalgia. Holey Moley currently has 206 uniquely themed mini-golf holes that it rotates to keep its venues fresh.

In all four of these mini-golf and cocktail concepts, the entertainment attraction is miniature golf. The question of the concept's longevity is at what frequency will people visit, and do they have long-term repeat appeal? Although they all feature cocktails and other alcoholic drinks and food, they really don't qualify as competitive socializing, which many newer adult-oriented venues offer. These mini-golf concepts do have one characteristic of competitive socializing, a competitive game experience where one person plays while the others watch, comment on, and review that person's performance. However, they lack the simultaneous food and drink experience while playing that intensifies the social and bonding experience that competitive socializing venues offer. In these mini-golf venues, the food and drink experience predominately occurs before or after the play, so they don't have as high an appeal as competitive socializing such as Top Golf and many with bowling, darts, and even ax throwing as their entertainment attraction along with the simultaneous food and drink. And there is the question of how often people will want to play mini-golf? So, will mini-golf and cocktails have legs? Only time will tell
Vol. XXII, No. 7, July 2022
---
---