---
Waterpark resorts rapidly expanding
In North America, at least, the credit for the idea of combining an indoor waterpark and a hotel goes to Judy Zehnder, who decided to add a swimming pool complex to the lower level of the Frankenmuth Bavarian Inn & Lodge in 1986. All of a sudden, the seasonality of her hotel changed from drawing crowds only during the summer season to being heavily booked, especially on winter weekends, even though it was a two-hour drive from Detroit with its miserable weather. Since then, what has become know as the waterpark resort industry has taken off.
Most experts define a waterpark resort as a hotel connected to an indoor waterpark with a minimum of 10,000 square feet of indoor waterpark space, inclusive of such features as slides and tubes. Most waterpark resorts are found in the northern climates. The number has grown to about 80, and there are another 80 in planning stages.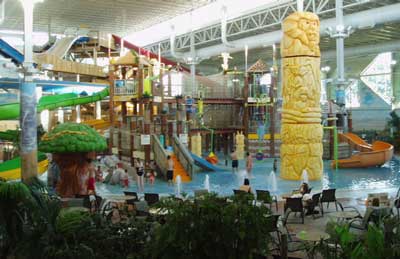 The epicenter for waterpark resorts is the Wisconsin Dells, with three of the largest five resorts and six of the largest 25. That includes the two largest indoor waterparks: Wilderness Hotel & Golf Resort with a 161,000-square-foot waterpark (that's almost four acres) and Kalahari Resort & Convention Center with 125,000 square feet.
The newer generations of waterpark resorts are growing in size. For example, Great Wolf Lodge's first waterpark opened in 2001 at 33,000 square feet. In 2003, it opened two new resorts that were each 38,000 square feet. Now, it is planning three resorts that will average 57,000 square feet.
Waterpark resorts typically offer more than wet play. Most have gamerooms, and many are adding more extensive dry entertainment, including interactive foam ball play.
Not only are the wet and dry play areas getting larger, but also the hotel rooms. Waterpark resorts attract the entire family, and sometimes that means the extended family. Two-, three- and four-bedroom suites are becoming commonplace, and some resorts are even selling condominiums that are rented when not being used by their owners.
Why add an indoor waterpark to a hotel? It boils down to economics. The addition of an indoor waterpark (and dry attractions, as well):
Extends the season from 100 days to 365 days
Fills the resort 100% on weekends and school breaks year round
Increases hotel occupancy
Increases average room rates
Increases overall room revenues
Hotels in the Wisconsin Dells are a prime example of how the economics play out. Hotels with indoor waterparks achieve 66% occupancy and average room rates of $120, while those without had only 43% occupancy with $61 room rates. That translates to 300% more annual revenue per room with an indoor waterpark than without. That difference will pay for a lot of poles and slides and still leave extra profit.
The other thing that indoor waterparks do is keep guests in the hotel longer, usually all day and into the evening if the little ones don't exhaust themselves. That results in higher food and beverage sales per room.
Indoor waterpark resorts are appearing not just in vacation destinations like Wisconsin Dells, but in just about every major northern and Midwest market, such as Sheboygan, Wisconsin; Milwaukee, Wisconsin; Traverse City, Michigan; Indianapolis, Indiana; and Kansas City, Kansas. As such, indoor waterpark resorts are cutting in on the local family leisure market, becoming a new competitor to family entertainment centers for a share of families' leisure time.

---