---
Fast-feeders raise the bar on coffee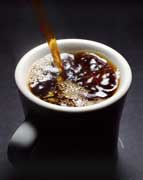 The quality and sophistication of restaurant offerings is growing at a rapid pace. Fast-casual restaurants such as Panera Bread, Wolfgang Puck Express and Einstein Bros. Café, as well as casual restaurants, continue to elevate their offerings and raise the bar (the coffee bar, that is). Therefore, fast food restaurants at the bottom rung of the dining ladder are finding they must improve their offerings to stay relevant to contemporary diners.
Recent evidence of fast-feeder coffee product upgrades includes the announcement that McDonald's has been testing a new premium roast coffee in some 535 restaurants throughout Michigan. They plan to further test the coffee in the Los Angeles market before a national launch later this year. McDonald's said consumer demand for a "richer, more flavorful cup of coffee" prompted the test. The coffee comes in three sizes and is priced from $1.09 to $2.34.
McDonald's isn't the only fast-feeder upgrading to a premium coffee. Last year Carl's Jr. tapped Channel Island Roasting Co. to provide its Arabic bean roast and hiked prices 20¢ a cup. And the king of fast-feeders' breakfast, Burger King, is testing its own premium blend under the name BK Joe.
The move by even the fast food restaurants up the ladder of food quality doesn't bode well for location-based entertainment facilities that continue to operate concession stands and snack bars with dated generic offerings. Such facilities are sure to be perceived as having less and less quality and relevance by guests as the restaurant industry leaves these LBEs in the dust.

---