---
Editor's Corner
I guess you say life is good when you're busy. This past month or so our company and I have been very busy with both projects and travel.
I've been traveling extensively for our projects, as well as education. In May I attended Birthday University in New Rochelle, New York, and the National Restaurant Association Restaurant Hotel-Motel Show in Chicago, Illinois. In early June I was in Berlin, Germany, on a study tour of children's playgrounds, youth farms and adventure playgrounds (more about that next month). When you are reading this, I will be in the Middle East working on a new children's project there (I have never figured out why our Middle Eastern clients wait until the daytime temperatures are in the 100s before having me visit). That doesn't include trips during the past month to Milwaukee, Wisconsin; Atlanta, Georgia; and northwest Indiana.
And then there are all the projects we are currently working on (see Current projects).
The more I follow the new concepts and trends in the restaurant industry, the more I am astonished at the dismal state-of-affairs with food and beverage offerings in most location-based entertainment (LBE) facilities. Let me be polite by saying most LBEs are becoming more and more irrelevant to modern consumers. As we have preached in this eNewsletter, success today in the LBE industry requires quality food and beverage offerings that are a match for what consumers are being offered in the restaurant industry. Dining drives frequency, far more than entertainment. And not having quality dining options for LBE guests only drives them elsewhere when hunger sets in. In fact, the most successful concepts out there are actually eatertainment (restaurant-entertainment) concepts, rather than entertainment concepts with food. Howard Bushnell, the creator of the highly successful Chuck E. Cheese's eatertainment chain, understands this. Later this year he is launching his latest eatertainment chain, uWink Media Bistro, which is targeted at young adults and covered in this issue.
If you offer birthday parties, or plan to at your new facility, you have scratched only the surface of possibilities unless you have attended Birthday University. The birthday party market is becoming increasingly competitive with dedicated birthday party centers, such as Pump it Up. Putting on quality birthday parties is much more complex than it appears on the surface. In three intensive days, Frank Price covers the A to Z of birthday parties. I attended BU as a refresher, and although we work with clients all the time on birthday parties, I was surprised how much new information I learned.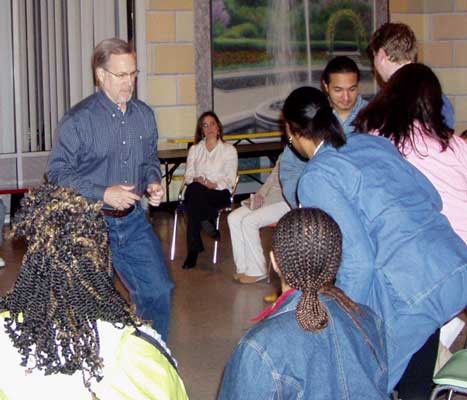 You may think I am totally straight-laced, but I do have a playful side, as you can see from this photo where I participated in one of the many games Frank Price teaches at Birthday University.
And speaking of industry education, July 19-21 is your last chance this year to attend Foundations Entertainment University (see story below).
This month, in addition to the story on uWink, we offer a wide selection of topics ranging from coverage of the National Restaurant Association show to a story about selection-bias to several stories about Chuck E. Cheese's, plus coverage of the hotel-waterpark phenomena. Finally, if you have had difficulty hiring teenage workers lately, we explain why.
We hope you will find our news, commentary and opinions useful. Don't hesitate to let us know what you think.
Randy White
Editor
e-mail

---