---
National Restaurant Association Show draws 70,000+
The 2005 National Restaurant Association Restaurant Hotel-Motel Show was held May 21-24 in Chicago, Illinois, at the McCormick Place Convention Center. There were over 70,000 attendees, making it more than twice the size of the IAAPA (International Association of Amusement Parks & Attractions) annual convention. Some people described it as an extravaganza of everything restaurant. Attendees also experienced it as an enormous smorgasbord of sampling.
Anything related to restaurants was there, from kitchen equipment to cleaning supplies to every imaginable food product to tablecloths to countless gadgets. And there were cooking demonstrations galore, as well as excellent seminars.
One of the most impressive aspects of the show was the incredible variety and selection of prepackaged and prepared foods that are available, with many having outstanding quality. It is no longer necessary for establishments other than high-end restaurants to have the chef who creates recipes, preps raw products and cooks, especially for things like soups, cookies and breads. They are all readily available prepared, with only heating or baking required.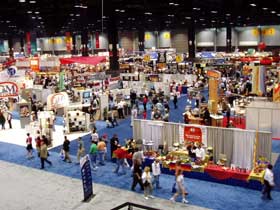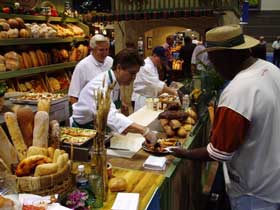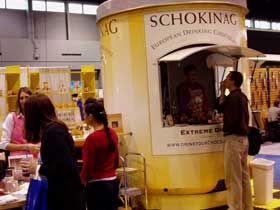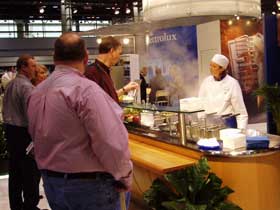 Scenes from the 2005 National Restaurant Association Restaurant Hotel-Motel Show
Many restaurateurs came to the show to source such products. This, of course, meant a lot of sampling. There were at least a dozen companies offering prepackaged soups. They all had hot samples of every variety they offered. And then there were the cookie companies, with all their samples. And there was chicken, and seafood, and smoothies -- you name it. There was never a need to buy lunch or a meal.
The show was so large that it takes a least three full days to walk the floor and examine the offerings. Looking for pepper grinders? One company specializing in them offered maybe 100 varieties. Looking for ice cream scoops? Again, there was an ice cream scoop specialty supplier offering hundreds of selections.
With a show that large, it was hard to discern any new trends. But several things stood out as perhaps emerging trends:
Chocolate fondue fountains
Gelato, with even some suppliers from Italy
High-end coffees
Premium teas
European sipping chocolate (premium hot chocolate)
And the find of the show, at least for us? Carbonated fresh-cut fruit. Yes, you read it correctly. Carbonated no-sugar-added fruit designed to appeal to kids. The fruit is pressurized with CO2 and canned to keep the carbonation. The result is a great tingling sensation every time you take a bite.
The Fizzy Fruit company will begin distribution in the fall with five varieties: strawberry, grape, pineapple, orange and apple.
The National Restaurant Association Show is something everyone in the location-based entertainment industry should attend. Food is a critical part of the success formula for any location-based entertainment facility. The show demonstrates that there are so many high quality and easy to prepare options out there besides pizza, nachos and cheese and hot dogs that can be served at your LBE.

---