Vol. XXII, No. 6, June 2022
---
---
Competitive socializing venue on steroids opening
As discussed earlier in this eNewsletter, adult competitive socializing venues are a fast-growing category of location-based entertainment, perhaps more accurately described as social eatertainment. They combine different forms of social games with high-quality food and drink available where the games are played. A new competitive socializing venue, Your 3rd Spot, has opened in Atlanta. It aims to be peoples' go-to third spot away from homes and offices. The venue includes bowling, curling, air hockey, darts, ping pong, shuffleboard, billiards, Cards Against Humanity, and table and lawn games. The 27,000-square-foot venue will include a restaurant, bar, beer garden, mezzanine, and patio.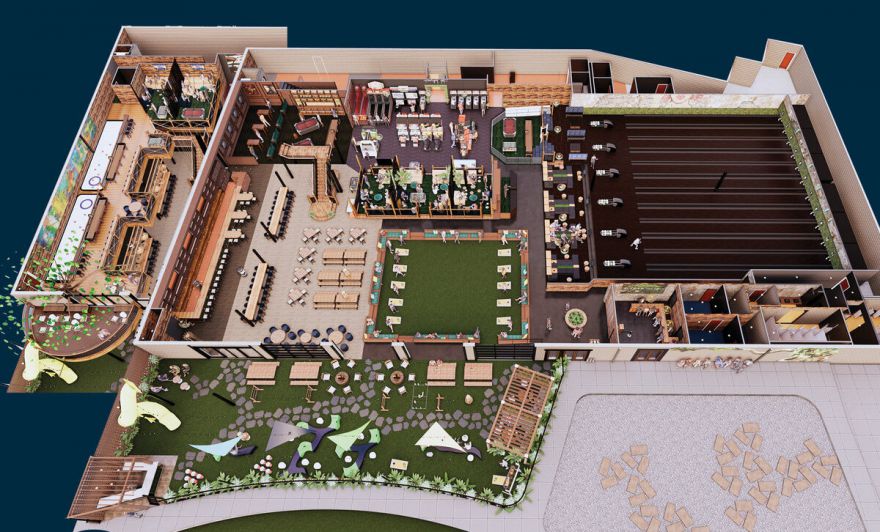 Your 3rd Spot floor plan
The restaurant will primarily serve small plates like cucumber sushi, bacon-wrapped dates, waffle fry poutine, sweet corn fritters, fried Manchego cheese, and Brazilian cheese bread (see menu). Drinks and desserts will be on-trend, with selections such as iced cube matcha lattes and warm mochi donuts (see drink selections). There won't be any dedicated dining rooms. Instead, dishes will be served directly to guests wherever they are in the facility. And, of course, there will be a wide selection of beer, wine, build-your-own cocktails, and creative spirit-free drinks.

Co-founder Joshua Rossmeisl said, "We look for games people play while holding a beer, games that bring people together. We have analog experiences-nothing high-tech here. People are staring at computer screens all week and want to unplug."
* We also have stories about competitive socializing Holey Moley Golf Club and Social, social, is it the future of LBEs? in this issue.
Vol. XXII, No. 6, June 2022
---
---