Vol. XXII, No. 6, June 2022
---
---
The growing appeal of new school mini-golf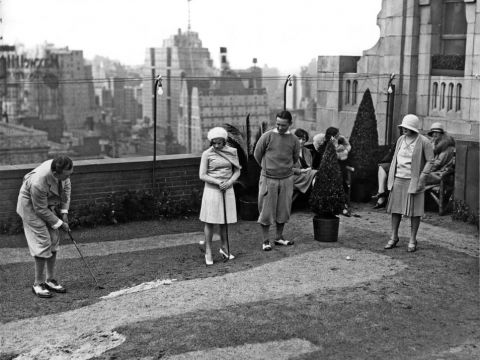 Skyscraper mini-golf
Miniature golf took off a century ago in 1922 when Thomas McCullough Fairbairn, considered the inventor of modern miniature golf, invented artificial green carpets and artificial bunkers, curves, and water hazards. This led to the miniature golf boom in the 1920s. In 1926, a few innovative designers created miniature golf courses on the roof of a New York City skyscraper. Other buildings soon followed suit - around 150 rooftop courses were in existence by the end of the decade in New York City alone and tens of thousands across the United States. In 1930, the U.S. Commerce Department estimated there were 25,000 mini-golf courses across the United States, But then, in just a few years, the Great Depression resulted in all the mini-golf courses closing.
Mini-golf took off again in 1936 when Joseph and Robert Taylor started building and operating their own miniature golf courses. They differed from those in the late 20s and early 30s as they had landscaping and obstacles such as windmills, castles, and wishing wells.
One of the most well-known mini-golf chains was Putt-Putt golf, founded in 1954. Its heyday was in the 60s and 70s when it grew to more than 300 locations. Then in the 80s and 90s interest in miniature golf declined and many locations closed.
Although miniature golf remains popular at many vacation locations, the traditional outdoor model has lost appeal in community settings. Instead, we're seeing both its indoor and outdoor reinvention (see other articles in this issue about indoor mini-golf).
Artainment mini-golf
Essentially artainment is a fusion of art and entertainment, with art presented in new ways, often as part of an immersive digital experience or a physically interactive one. It's an expanding category of out-of-home leisure. Many cultural institutions are incorporating entertainment into their experiences to introduce more people to their cultural offerings and to drive attendance and revenues. We first wrote about art museums developing art-themed miniature golf courses in 2019 when Linda Beckring on our staff wrote about her experience playing art-inspired miniature golf at the Nelson Atkins art museum in Kansas City (click here for article).
This year, the Cranbrook Art Museum in Bloomfield Hills, Michigan, offers an art-inspired miniature golf course called Cranbrook on the Green. Each of the nine holes is inspired by unique elements of Cranbrook's history and the landmarks and art installations around the museum.
The course features a hole based on the ceramic works of former Cranbrook Academy of Art pottery instructor Maija Grotell; the sonambient sculptures by Cranbrook alum Harry Bertoia; the "Tulip Chair" created by Cranbrook alum, teacher, and architect Eero Saarinen; and more works by influential people associated with the school. It also takes players through Cranbrook landmarks such as the flower gardens and the Orpheus Fountain. And there's an extra 10th bonus hole around the gates of Cranbrook Schools' Quadrangle Fountain.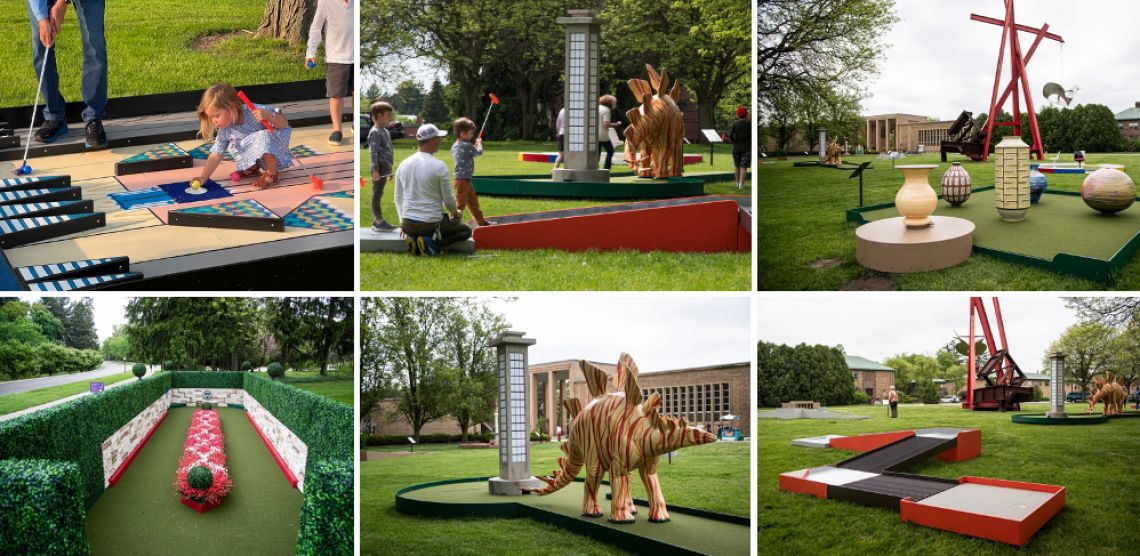 Some of the course's holes have interactive elements. One plays musical notes, and one is Skee-Ball inspired, while another, arranged like a life-sized foosball table, encourages competitors to move pieces around and attempt to block golfers' shots.
The course will be open through September 25th and costs $8 to play.
PopStroke
Tiger Woods is reinventing outdoor miniature golf with his co-ownership of PopStroke, which first opened in 2020 in Fort Meyers, Florida. Additional locations have opened in Sarasota and Port Saint Lucie, Florida, and are under development in Houston, Texas; Scottsdale and Glendale, Arizona; Orlando, Tampa, and Delray Beach, Florida.
PopStroke is a technology-infused golf-entertainment concept featuring professionally designed putting courses and exceptional food and beverage. Each location features two 18-hole putting courses designed by Tiger and his TGR Design Team.
The two 18-hole putting courses are synthetic turf, incorporating fairways, bunkers, and roughs as found on traditional golf courses. The Tiger Course challenges experienced putters with strong contouring and tricky hole locations. The Cub Course's softened contours and less bunkering is an ideal course for kids, families, and anyone new to golf.
There are also outdoor games such as corn hole, foosball, and ping pong, plus a playground for children.
PopStroke plans to release an electronic scorekeeping golf ball, the 'iPutt.' The ball transmits scores electronically to the PopStroke app, allowing players to compete against each while earning 'PopBucks' through the company's loyalty rewards app program.
The facilities also include indoor dining with a full menu, a variety of craft beer and other alcoholic beverages, and 24 flavors of ice cream.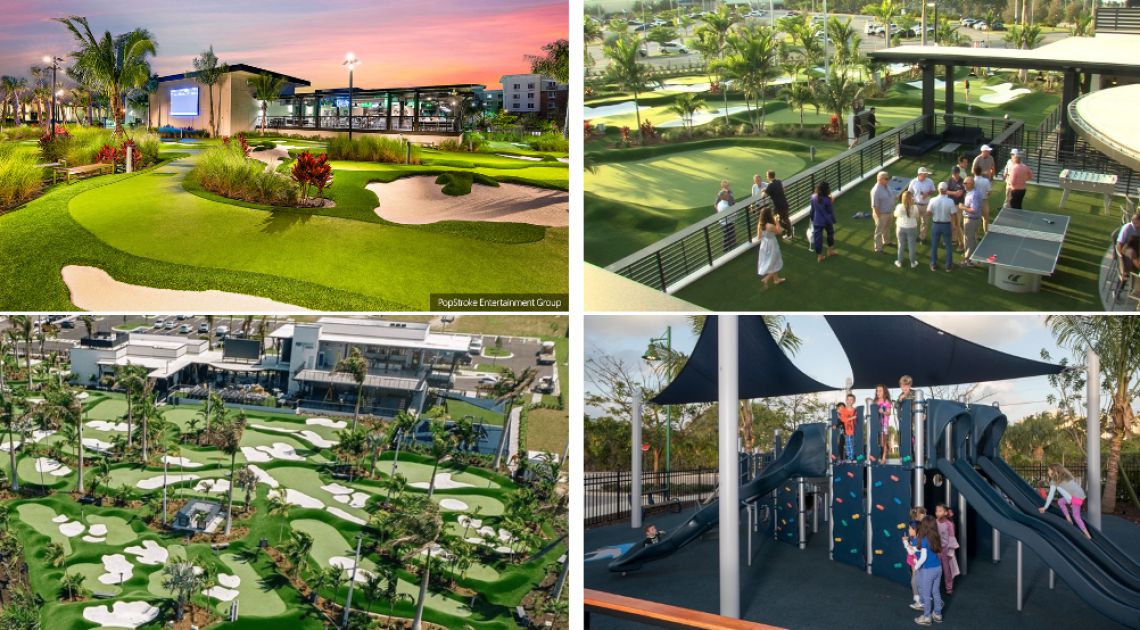 Vol. XXII, No. 6, June 2022
---
---