Vol. XXII, No. 6, June 2022
---
---
How fast is location-based entertainment spending recovering?
The U.S. Federal Government does an excellent job of tracking consumer spending. The U.S. Bureau of Labor Statistics conducts the Consumer Expenditure Survey. It tracks calendar year spending based on data collected directly from consumers. The U.S. Department of Commerce's Bureau of Economic Analysis (BEA) collects data from businesses on their revenues every quarter. The BEA has released data for the first quarter of 2022.
One category the BEA tracks is location-based entertainment, campgrounds, and related recreational services. The category includes location-based entertainment (LBE) such as amusement parks and family entertainment centers, but excludes spending at motion picture theaters, live entertainment venues, and spectator sports.
The BEA data shows that spending is recovering from pre-pandemic levels for LBEs, campgrounds, and related recreation, but still has a way to go. First-quarter 2022 average household spending was still over one-third lower (-38%) than in the 1st quarter of 2019.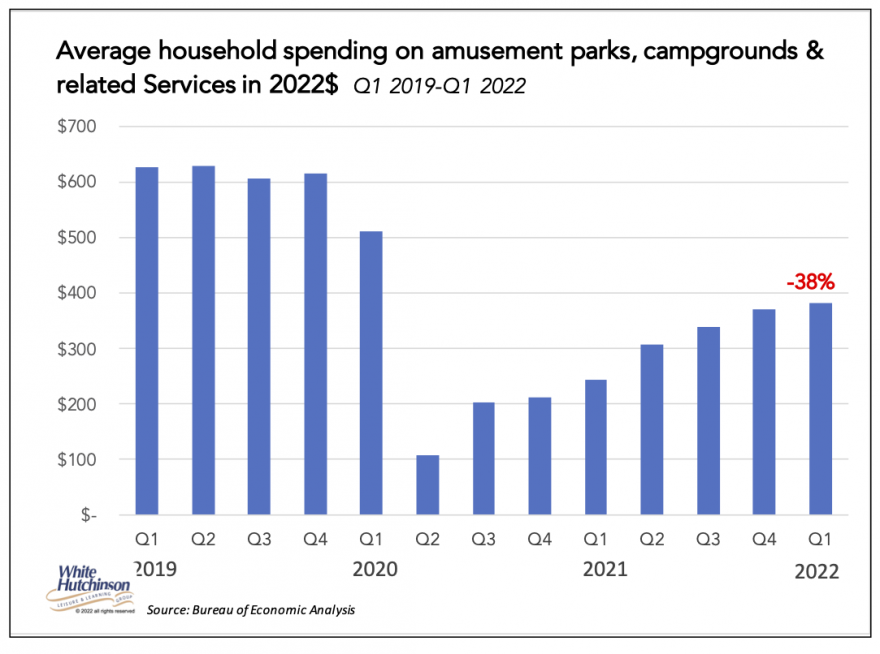 Here's the spending trend over the past decade.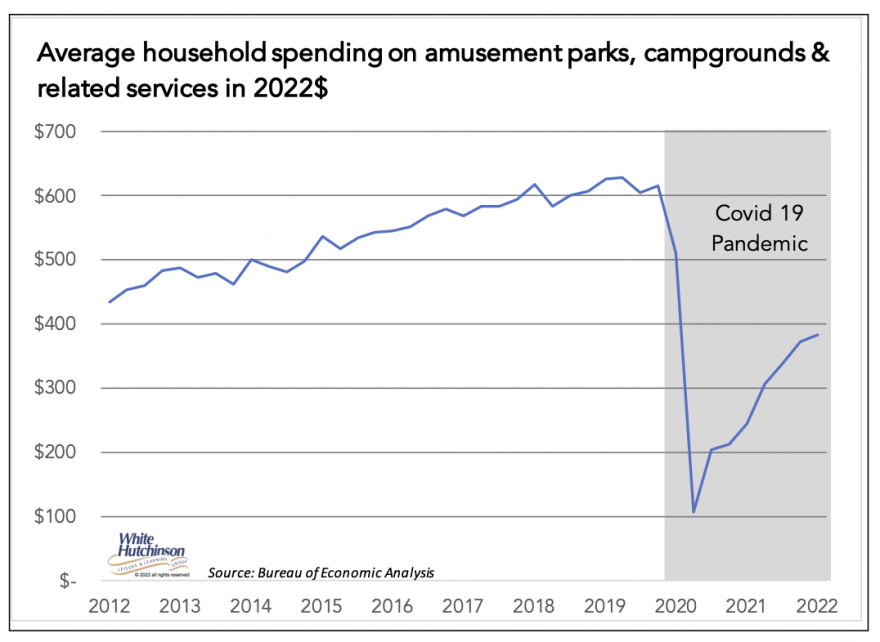 We'll report on 2nd quarter 2022 spending as soon as BEA releases it. It's unlikely spending will recover in that quarter. Morning Consult's poll of American adults for the week ending May 29th found that only 57% of U.S. adults said they feel comfortable going to an amusement park, down from a pandemic high of 59% two weeks earlier. And, of course, inflation isn't helping. A Civil Science poll for the week ending May 26th found that these Americans have reduced spending or anticipate cutting spending due to general rising prices - 51% for dining out and 46% for out-of-home entertainment and attending sporting events.
Vol. XXII, No. 6, June 2022
---
---