Vol. XXII, No. 6, June 2022
---
---
Death by the experience gap
It's easy for owners of location-based entertainment (LBE), including family entertainment centers (FEC), to become complacent with the experiences they offer their guests. However, the LBE industry is constantly improving, with new LBEs continually coming into the market, offering fresh, more appealing, and higher quality experiences. Today the rate of innovation and improvement is happening much faster than even one decade ago. LBE guests are also having experiences at other high-quality and innovative out-of-home leisure businesses, including vacation attractions and restaurants. As a result, people have rising expectations of the experiences any location-based leisure business should be offering them. For those LBEs and FECs that don't recognize how consumers and their tastes, expectations, and values have changed, there is an "experience gap" between what they offer versus what people expect. An experience gap will cause existing guests to defect to the competition where they find more appealing experiences.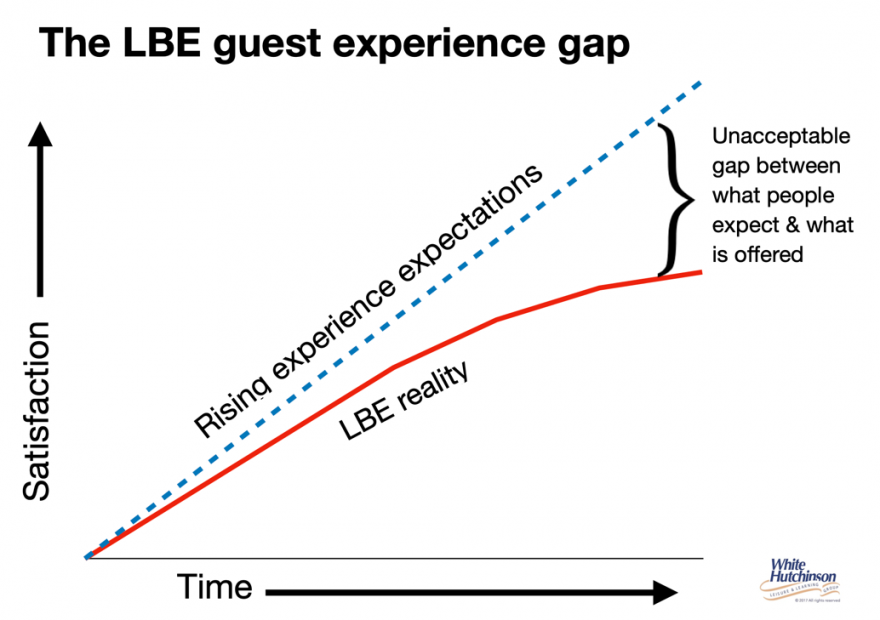 The problem is that most of the LBE industry has been evolving by iteration, improving on the way they do things today with the same old business models, rather than also evolving by innovation, doing new things and in new ways. Iteration is based on improving yesterday's version of normal, not the new normal of how consumers and their aspirations have changed. When you genuinely innovate based on where the world and consumers are today and where they are headed in the future, you create disruption, doing new things that make the old things, the old models obsolete, as once consumers experience these new options, it becomes their new expectation.
One area where expectations are rising is with food and beverage experiences. The Hartman Group's latest "Shifting Food Habits & Routines" report found that consumers are willing to pay for delicious flavor experiences. They continue to trade up and see the value in paying more for food and beverage that offers enhanced and/or new unique flavor profiles. This is especially true among Millennials, parents, and those with higher incomes. In addition, functional benefits that address physical needs, such as energy, and emotional needs like relaxation, are playing a more important role as consumers increasingly expect more out of their food and beverage choices. Products that can cater to these needs appeal to consumers' pent-up demand for upgraded and unique experiences with food and beverage.
Many newer LBEs offer enhanced food and beverage, many with unique flavor profiles. In April, we reported on Downtown Flavortown Pigeon Forge, developed in partnership with famed chef and Emmy Award-winning TV personality Guy Fieri. The venue's menu showcases Fieri's award-winning dishes, craft beers, and cocktails. In this issue, we have an article on Your 3rd Spot in Atlanta, GA, and the innovative and unique flavor profile foods it offers. Anyone on vacation visiting Flavortown in Pigeon Forge, TN, who visits Your 3rd Spot, or the growing number of LBEs offering food and beverages with delicious and new flavor profiles will come home with higher expectations for the food and beverage that their local LBE or FEC should be offering.
Many LBEs now also have an experience gap brought on by the pandemic. Rather than merely memorable experiences, people are currently looking for highly meaningful ones, as that is what they have missed. This includes highly social, face-to-face ones after periods of social isolation and restriction, such as the enhanced social experiences that competitive socialization venues offer (see article this issue).
People's equations for value and their expectations are changing. If the LBE they have been visiting doesn't meet that new standard, there will be an experience gap, they will not return, and the business can suffer a slow death by experience gap.
Vol. XXII, No. 6, June 2022
---
---