Vol. XIX, No. 4, April 2019
---
---
Satisfying Americans' diverse diets
Americans have very diverse diets including gluten-free, vegetarian, vegan, allergen-free, organic, etc. And they bring those dietary requirements with them when they eat out.
We've heard from many entertainment venue operators, including those with classic FECs, say that they don't think they need to offer meals that meet any of guests' special dietary preferences or needs as those people are a minor segment of the population. Unfortunately for those operators, they are hurting their business.
The percentage of the population on all of the diets mentioned above is quite large. However, for purposes of illustration we'll just use the 5-8% of the population who are strict vegetarians and leave out the much larger percentage who are flexitarian, preferring vegetarian for many of their meals. For purposes of illustration, we'll use the lower 5% figure.
So, let's assume two couples decide they want to visit a venue where they can participate in some entertainment and have a meal, what is called eatertainment, and one of the four is a vegetarian. What that person will do first before the decision is made where to go is go on-line and checkout the venue's menus. That person holds the power to veto any place that doesn't have vegetarian menu selections they feel will please them, and that is exactly what they will do. No good vegetarian options other than maybe a salad? Let's not go there. So suddenly, 5% of the population is determining where 20% of the population will visit. And if it were a group of six people, that 5% determines where 30% will go.
In today's highly competitive out-of-home entertainment market, it is not wise to build any handicap or veto power into what the venue offers for its targeted market. In fact, it is wise to advertise that, in fact, you can meet various dietary preferences.
That is exactly what Seasons 52, a nationwide chain of 45 restaurants, did in one of their recent emails. That was very smart. Stand out from the crowd and let people know you are a place that meets their dietary preferences. Become top-of-mind with them. The below is from that Seasons 52 email.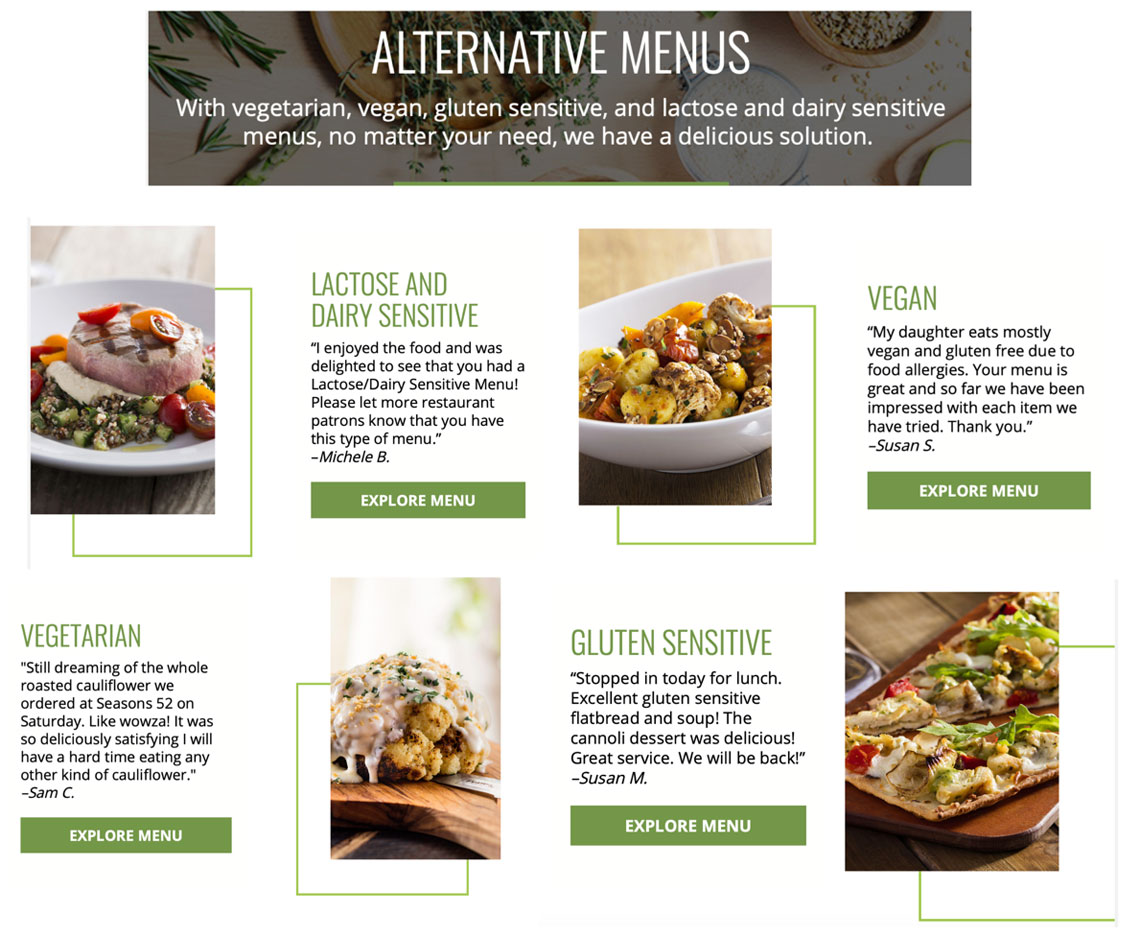 Additional reading:
Vol. XIX, No. 4, April 2019
---
---