Vol. XIX, No. 4, April 2019
---
---
Promptly responding to negative social media pays
The last thing someone wants when they're upset or angry is to be ignored. They posted something on social media because they want to be heard and they want a reaction.
Responding to negative messages as soon as possible shows that you care about what they have to say. By addressing their concerns directly, you have the opportunity to change their mind about your company.
Also, by responding, you are showing other followers that you acknowledge these issues and care about them. It shows them that you're there to make things right if they have issues. Ignoring them conveys the opposite!
It's a classic Twitter conversation: Someone complains about a bad experience with a company, then the business responds, promising to make things better. But is that actually an effective use of the company's time?
According to a new study conducted by Twitter in collaboration with Applied Marketing Science, it is. Specifically, Twitter says that when a customer tweets at a business and receives a response, they are, on average, willing to spend 3% to 20% more on something from that company. Those customers are also 44% more likely to share their experience and 30% more likely to recommend the brand.
Twitter says that brands see the best results when they respond more quickly, and that businesses shouldn't be scared off by negative tweets - 69% of people who tweeted negatively said they felt more positive after the business responded.
In a company blog post, Twitter's Wayne Huang writes: "Businesses have known for years that great customer service engenders brand loyalty; this research shows a wide range of additional benefits to businesses. And these benefits come at a lower cost compared to other channels: according to McKinsey & Company, support interactions on social cost 1/6th of those in a call center. Combined with the revenue potential, favorability, satisfaction, and recommendation impact of these interactions, businesses can benefit significantly from investing in helping their customers on Twitter."
That study, which was conducted across multiple industries, echoes the results of an airline-focused study by Twitter. The study examined 400,000 service-related tweets and surveyed 3,139 people who send complaints about poor customer service. Among the customers that had tweeted to airlines, those that got a response said they would pay, on average, almost $9 more for a future flight. As this graph shows, the faster the airlines responded, the higher the amount customers were willing to spend.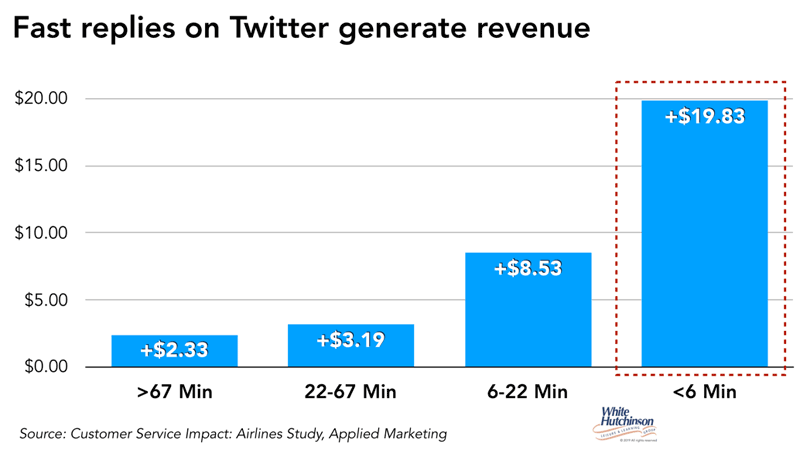 A large number of airlines are quick to respond to unhappy customers whose flights get delayed or cancelled. Even if there isn't much you can do, actively addressing their concerns can ease the tension even a little bit.
There are a number of good sources on the web that offer advice on how to respond to negative social media comments. Here's a couple.
Vol. XIX, No. 4, April 2019
---
---