Vol. XIX, No. 4, April 2019
---
---
The changing culture of young adulthood
The culture of young adults (here predominately defined as ages 18-34) has changed significantly over the past few decades and is changing the nature of and their participation in OOH entertainment.
Singledom
Demographically, we are seeing an increase in the percentage of young adults age 18 to 34 who are single, increasing from 61% in 2000 to 75% in 2017. The increase is solely attributable to singles who don't have a child. The number of young adults who are married has actually decreased by 6.0 million since 2000 while the number who are single has increased by 16.0 million.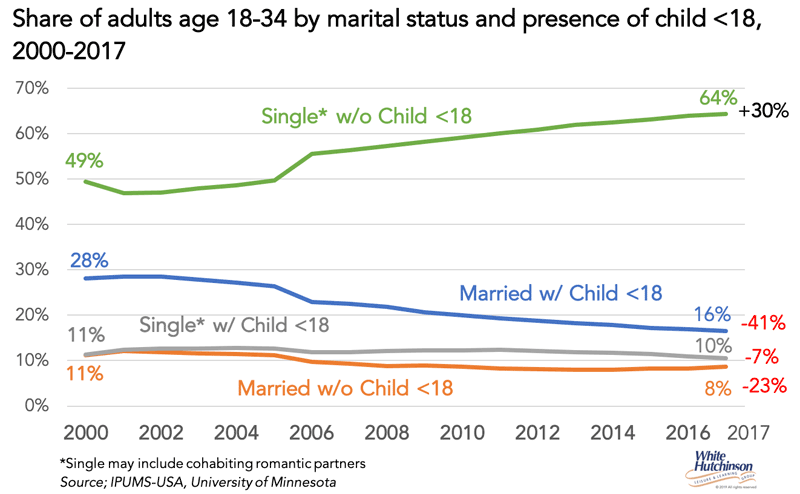 Lack a committed romantic relationship
More than one-half of 18- to 34-year-olds lack a committed romantic relationship. The 2018 51% figure is up significantly from 33% in 2004.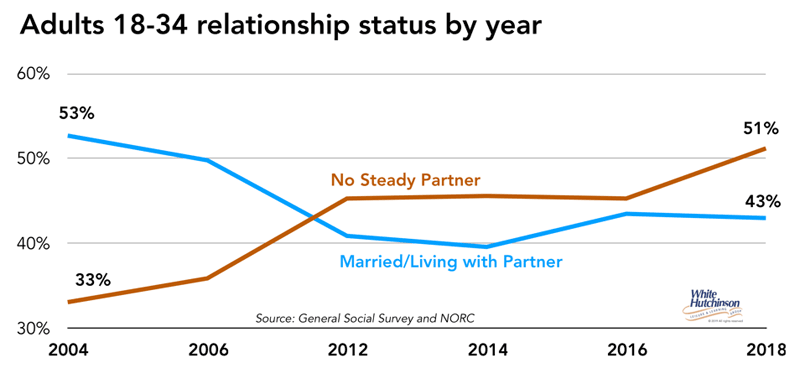 Research by PEW found an even higher percentage (61%) of adults age 35 or younger didn't have a spouse or partner present in 2017.
Lack of a committed romantic relationship, as well as the distraction, sometimes addiction, of digital social and other media probably explains why young adults are having less sex. That percentage has more than doubled since the beginning of the 21st Century
Parenthood
And for those young adults who are married or cohabitating, they are having far fewer children than in the past. The percent of age 18-34-year-olds who have children has dropped by over 5.0 million from 39% in 2000 to 27% in 2017. Meanwhile, the number of young adults without any children has increased by over 15.0 million since 2000. This is due to a number of factors including a continuing decline in the birth rate and a shift to marrying later in life - in 2018, the median age of first marriage for women was 27.8, up from 25.1 in 2000, and 29.8 for men, up from 26.8 in 2000.
Pet owners
Although young adults are less likely to be parents than their predecessors, they do lead in one category, pets. Three-fourths of Americans in their thirties have a dog (74%) and one-half have cats (49%). That compares to 50% of the overall population with dogs and 35% with cats.
"Pets are becoming a replacement for children," said Jean Twenge, a psychology professor at San Diego State University and author of "Generation Me." "They're less expensive. You can get one even if you're not ready to live with someone or get married, and they can still provide companionship."
A January 2019 survey found that one in three adult dog owners bring their dogs on dates to make sure their dog and potential partner get alone (41%), say their dog is a good judge of character (30%) or say their dog makes them feel comfortable (29%).
Food culture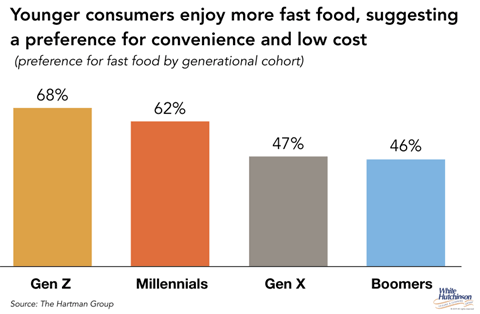 Younger adults have changed our food and eating culture. Our food culture is now underpinned by the health and convenience that young adults want. They want convenience. They are willing to pay for fresh and healthy food and are willing to go to great lengths to find it, thus the growth of fast casual restaurants offering higher quality food than fast food restaurants.
They want adventure and discovery with their food, explaining the rise of food trucks and now food halls. And they are also more aligned with the "food movement" and love things like clean food, locally and responsibility sourced food, organic farms, small batch jams and artisanal cheese. This shift can change the market place forever (don't forget - they will be teaching their children to eat this way too) as power is shifted from large mass market companies and chains to "the little guy" selling online or at the local corner restaurant, or even the local entertainment center.
Young adults also have a strong interest in food as currency. It's a social topic for them just like sports and music. Thus, the importance of food being Instagrammable.
Drinking culture
Along with driving changes in our food culture, young adults are also driving changes in our drinking.
Alcohol-free and low-alcohol beer, wine and spirits are growing rapidly driven by their and other consumers desire for a more positive and healthier lifestyles and avoiding the risk of negative social media that can result from excessive alcohol drinking. 34% of North American consumers state they plan to cut down on alcohol consumption for health reasons, with younger consumers (aged 18-34) the most likely to intend to cut down on alcohol for health reasons.
Low- and no-alcohol beers are seeing compound annual growth rates almost twice that of standard alcohol content beers.
Social & environmental responsibility
Young adults are very socially and environmentally conscientious. Many make the decision of what business to frequent based on the business' social and environmental behaviors. This means that good citizen businesses will attract their business. They will even pay a premium for sustainable products and services (this includes experiences). They will stay away from ones that exhibit bad social and environmental behaviors based on their standards.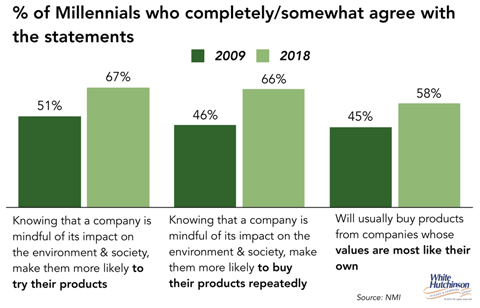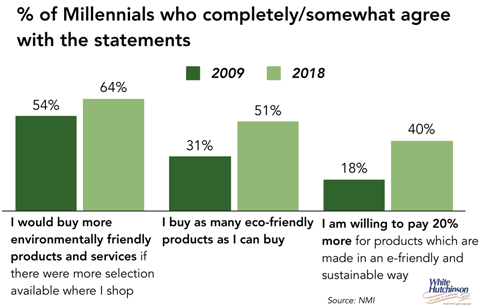 Out-of-home entertainment
Spending on out-of-home (OOH) entertainment by an average household headed by a 25 to 34-year-old has declined since 2000, by 9% (inflation-adjusted). The largest declines have been on spending at community-based entertainment and art venues, down by 11%, while entertainment on trips is down by only two percent. Part of this is attributable to the decreasing household size, more singles and less children.
Meanwhile, the number of age 25-34 households has grown since 2000, so as a result, the total OOH entertainment spending by all households that age has increased by three percent, not much of a change over the 17 years.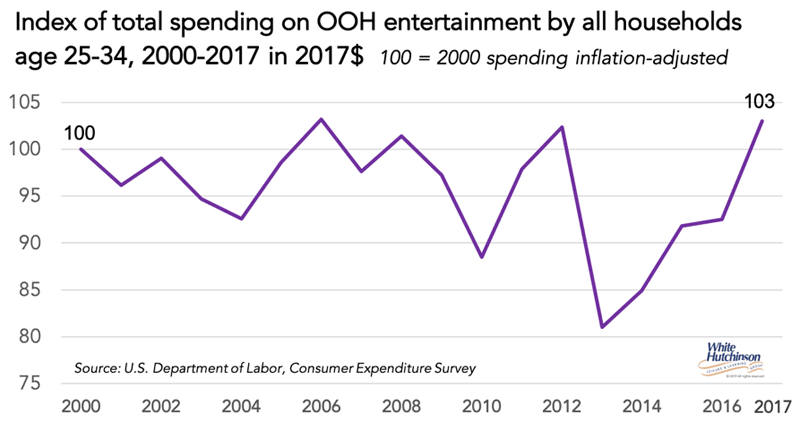 Along with a decrease in individual OOH entertainment spending by age 25-34 households, the participation rate of adults age 25-34 attending entertainment and art venues declined by 31% between 2006 and 2017 along with a 31% decline in the average amount of time they spent attending.
Since their dollar spending declined by less than their time spent did, that indicates those attending are spending at a higher rate per hour when attending than in the past, an indication of the premiumization of OOH experiences.
Things to consider for CLVs
Young adults are a major target market for community leisure venues (CLVs), including FECs, so making sure a CLV is attractive for them to visit is important.
We're fortunately seeing a shift in culture to accommodate singles. The Friendsgiving alternate to the traditional family home Thanksgiving meal is just one new cultural tradition the demographic trend of more singles is driving. Rather than romantic partners or children, for the vast majority of young adults, the most important people in their lives are their friends.
One consideration for any leisure or entertainment destination is that with so many young adults being single and lacking a steady romantic partner, they won't be attending as a couple. Society, and many businesses, are organized around couples - they get breaks on many things with two-for-one and other type offers. This doesn't work for singles, and in fact, promoting a business for couples can alienate them.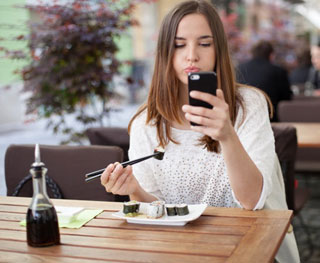 When it comes to dining alone, there is a certain amount of social pressure not to go to a restaurant or eatertainment venue if you're by yourself. Dining destinations are often geared towards couples, families and groups, with solo diners regularly becoming an afterthought in the design or layout of establishments, including the seating. Seating a solo diner at a large table can make them feel out of place. It's better to have tables or booths for two alone a wall so single will feel more comfortable sitting at them rather than out in the center. Singles can also feel more comfortable sitting at a counter or bar, as when a restaurant is busy, they won't get the feeling they are using more seats than necessary. Bars should offer the full menu.
Many reservation booking systems only offer seating for parties of two or more. That immediately sends the message to solo diners that they aren't welcome.
Many single diners are into adventure and discovery with their dining, so they want to try a variety of different flavor items. That means that the menu should offer small plates with small portions that will work for just one person rather than being sized as a sharable for a number of people.
Single people have more friends than married people, so they will often come to restaurants and entertainment venues as a larger group, what is often called a "gathering." This has an impact on many things, including how seating is designed. Restaurant or casual dining seating areas designed for just couples or for four people does not work for a group of eight.
Reservation systems need to accommodate large gatherings. The POS system should be designed so each person can get an individual check. Many entertainment venues offer special packages for groups of eight or more to attract gatherings.
With so many young adults owning dogs and almost treating them as their children, and even bringing them on dates, it is important to offer singles the opportunity to bring their companion dogs with them. Depending on health department regulations, there can be a dog-welcoming indoor area of the restaurant, and at a minimum, an outdoor patio dog-friendly area. Offering a dog menu will send the strong message the business is dog-friendly. (we're amazed at how dog friendly many parts of Europe are. In Berlin, dog can go just about anywhere with their owners.)
The way restaurant employees react to a solo diner matters immensely; a friendly server can make or break the experience. Sam Lipp, Director of Operations of Union Square Cafe and Daily Provisions, says the crucial element in making solo diners (or any guest) feel welcome is to listen to their verbal and non-verbal cues. "Some solo guests come with a book and headphones - a sign that says, 'please give me what I order and allow me to have my Zen moment to myself.' Some come with their phone and lots of eye contact. They are asking for engagement and want to learn about what we do, and why, and even how," says Lipp. USC, open since 1985, has a reputation for celebrating solo diners and includes that as part of their teaching philosophy for all new hires. "These guests decided to join us, despite their lack of a companion. That tells us something about who they are and how they view us. That's a gift we embrace wholeheartedly."
Vol. XIX, No. 4, April 2019
---
---