Vol. XVI, No. 7, August/September 2016
---
---
Trampoline park injuries on the increase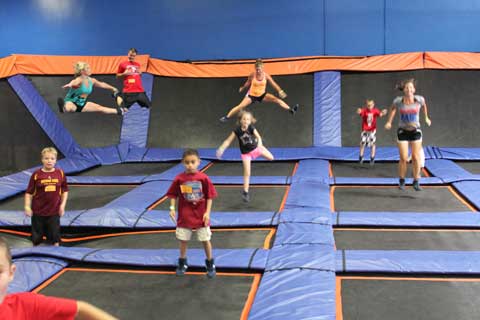 A study published in the September 2016 issue of Pediatrics found that injuries at trampoline parks increase from 581 in 2010 to 6,932 in 2014, with the number of trampoline parks increasing from 25 to 280 during those same years. That would mean the average number of injuries has remained constant at around 24 per park per year, or two each month.
The study said it probably underestimated the number of trampoline park injuries as the data source they used did not always identify the type of recreational facility where the injury occurred and not all injuries resulted in a visit to an emergency department.
The study went on to say, "The trend in trampoline parks is alarming; particularly concerning was the occurrence of severe and debilitating injuries such as spinal cord injuries." It went on to say that in addition to the two cases of spinal cord injuries at trampoline parks found in their data, "multiple cases of spinal cord injuries have been reported in the media, as well as traumatic brain injury and 2 deaths at trampoline parks."
Kathryn E. Kasmire, MD, the study's lead author, said, "There could be some things trampoline parks can improve upon to decrease injury risk, including finding ways to minimize contact between jumpers, minimizing injuries from landing on trampoline frames or between trampolines, and restricting flips and other risky tricks."
Unfortunately, it appears the industry has not be able to follow Dr. Kasmire's advance as the statistics indicate injury rates have remained constant over the five year period.
Vol. XVI, No. 7, August/September 2016
---
---