Vol. XVI, No. 7, August/September 2016
---
---
Expanding community leisure competition
The number of options people have for out-of-home leisure and entertainment activities in their local communities continues to expand, increasing the competitive landscape for community leisure venues (CLV) of all types, including family entertainment centers and hybrid bowling.
Competition is all about the zero-sum game with people on average having only a little over five hours of leisure time a day, to be exact, 5 hours - 12 minutes a day in 2015. Of that leisure time, only 1.5%, five minutes on average - yes only 5 minutes a day - was used to attend any type of arts or entertainment venue.*. * That's not a very large pie to try to get a slice of.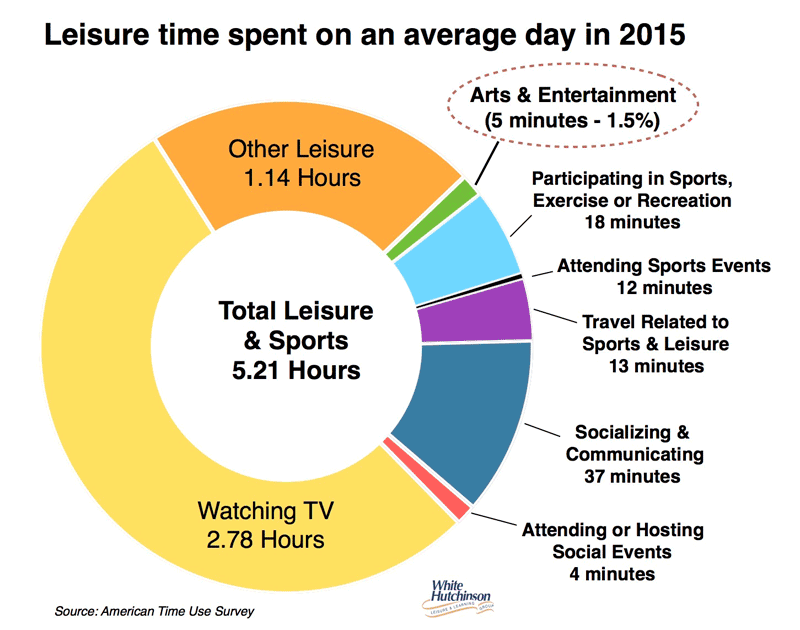 Throughout all of 2015, people on average only spent a total of 29 hours attending all types of out-of-home leisure venues (that's only 2 hours, 25 minutes a month), which includes not only community leisure venues such as family entertainment centers and bowling- and laser tag-based centers, but also theme parks, zoos, museums and performing arts performances.
Since 2004, there has been a significant decrease in the amount of time spent attending arts and entertainment activities due to the disruptive shift of time spent on digital devices for both entertainment and socialization. Digital screen entertainment and socialization has become a major form of competition for CLVs.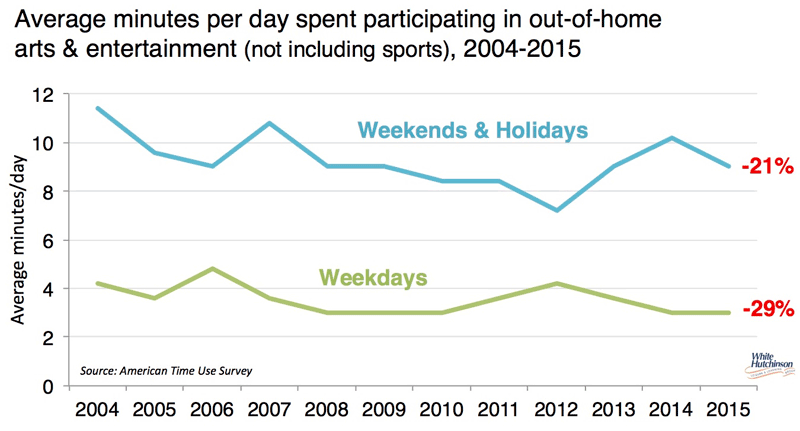 In addition to all the digital competition, here are some of the more recent new type location-based community leisure venues that are competing for a slice of peoples' leisure time and discretionary spending.
Anger rooms
The concept of recreation destruction probably got its start amid the recession in 2008 with the opening of Sarah's Smash Shack in San Diego. Anger rooms, sometimes called rage rooms, are popping up throughout the country and the world. Basically, these are rooms where you can go in and smash the daylight out of things to release tension and anger, paying based on some time increment. Typical prices are in the range of $50 for 15 minutes to wreak as much havoc as you can upon many breakable things in the room, while you wear protective gear.
Fowling
Chris Hutt in Michigan has invented a fusing of two American pastimes - bowling and football - that he named "fowling." Two teams set up bowling pins across from each other and take turns trying to knock each other's pins down by throwing a football. The first team to knock down all the opposing team's pins wins. Hutt owns the Fowling Warehouse in Hamtramck, Michigan. The experience is more than about just knocking down pins. There are ample bars and it's a great location for large corporate parties and groups.
Be careful if you plan to open a fowling venue. As Chris has trademarked fowling as well as the term footbowl and has copyrighted the rules. He's already had his lawyers go after other operators who were using the word fowling.


Fowling Warehouse in Hamtramck, Michigan
One of the latest venues under development is the conversion of the long-vacant Big Buck Brewery in Auburn Hills, Michigan to be named The Hub. Its developer is calling it football-bowling, as he doesn't want to tangle with Chris' lawyers. In addition to 16 lanes, it will house two bars, an open-exhibition kitchen and dining space and two private banquet rooms.
Board game cafes & bars
They've been around for several years. The phenomenon has already swept Europe and Asia and has recently made its way to America. These are social locations where you can play up to 600 different board games while you down a few drinks or have something to eat. Board games have come back into fashion as a chance to unplug from digital technology and actually talk to the person in front of you.


a) Knight Moves Board Game Café in Boston, b) Snakes and Latters, Toronto
The games that people tend to play at a board game café are so-called European-style games that can be played quickly and involve strategy and, for many games, cooperation. In Pandemic, one of the more popular cooperative games, players work together to stop the spread of four diseases; in Castle Panic, players unite to defend their castle against an invading monster horde. Players of strategic games can try their hand at competitive farming (Agricola), building railroads to connect cities (Ticket to Ride) and developing a medieval French town (Carcassonne)
In addition to just playing games, board game cafes and bars also hold tournaments, offer specialty drink-based games (whiteboard, Jenga, battle shots, checkers), speed dating, RPG Nights and Dungeon Master workshops, trivia nights and other special events.
No Other Pub
No Other Pub by Sporting KC* is a 21,000 square-foot sports bar, game parlor and social lounge opened by the The Cordish Company in their Power & Light Entertainment District in Kansas City, MO. Designed as an entertainment playground for Millennials, the venue showcases:
No Other Pub offers a full food and drink menu in addition to a fast-casual taco stand.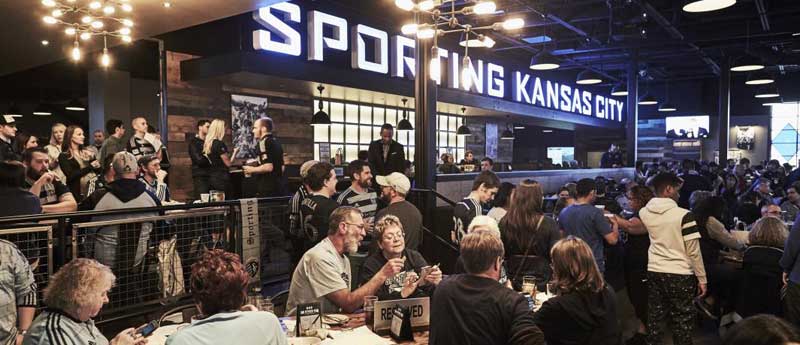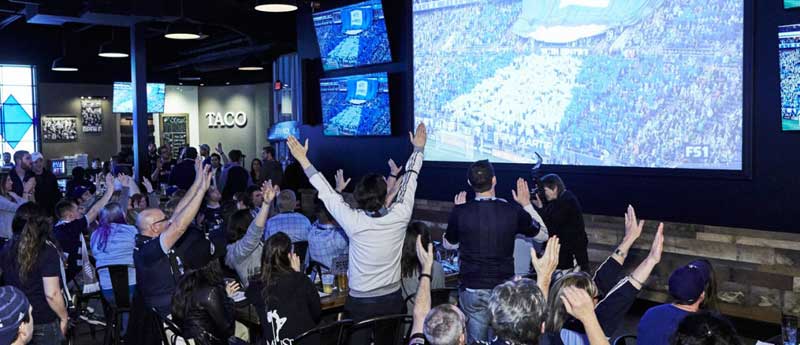 No Other Pub is just one of an emerging variety of new school nightlife venues that target Millennials by combining bars, food and social games in a highly social environment, where the entertainment is only a small portion of the overall revenue. The Punch Bowl Social chain falls into this same category.
For more about other social game venues, check out our article, Move over bowling, here come the other social games.
* Sporting Kansas City is an American professional soccer club based in Kansas City. The club competes in the Western Conference of Major League Soccer.
The entire community
No, the entire community is not the name of some commercial entertainment venue. But the entire community has now become an entirely new category of popular entertainment venue with the first mainstream application of augmented or mixed reality with Pokémon Go.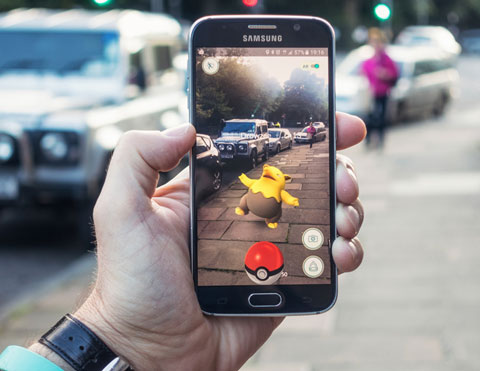 The telephone took 75 years to be used by 1.0 million people, Facebook took 3.5 years, Flappy Bird took 35 days and Pokémon Go had 7.5 million downloads in 5 days. Pokémon Go marks the mainstream emergence of a completely new hybrid leisure experience that has changed the relationship between people, technology and the outside world.
Entertainment is no longer limited to the lounge chair at home or paying to attend or participate at some entertainment venue. The entire world is now the entertainment venue, and at a very low cost compared to the commercial bricks-and-mortar option. Pokémon Go has demonstrated that even with its very rudimentary form of technology, how engaging the future of mixed reality will be as a competitive leisure time option.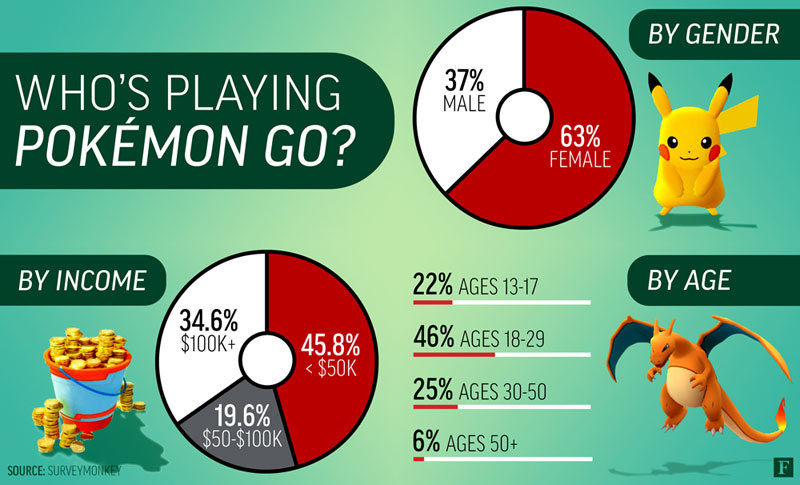 Pokémon Go is not some children's game. As you can see from the above player statistics, three out of four of players are adults (77%). Furthermore, over a third of players come from households with $100K and higher incomes (35%). $100K+ households are one-fifth of all households, yet they account for one-third of all participation (34%) and almost one-half of all entertainment spending at community non-live entertainment venues. It is highly likely their participation in Pokémon Go is displacing some of the time they previously spent visiting entertainment venues.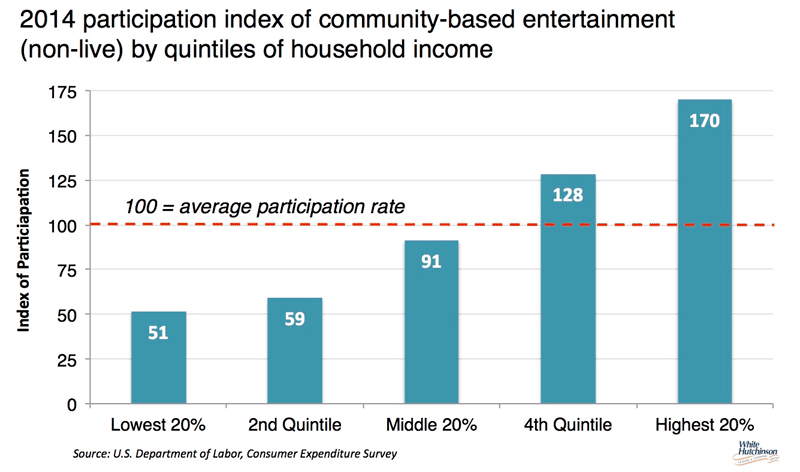 Pokémon Go is the harbinger of a major disruptive game changer to the entertainment competitive landscape.
Our CEO, Randy White, first wrote about Pokémon Go back in July on his blog: Pokémon Go introduces a new disruptive entertainment technology.
He followed that with an article on Medium:
Pokémon Go, a watershed moment for technology and entertainment disruption.
Both are well worth a read to learn about this completely new form of competition for location-based entertainment (LBE) and community leisure venues (CLV).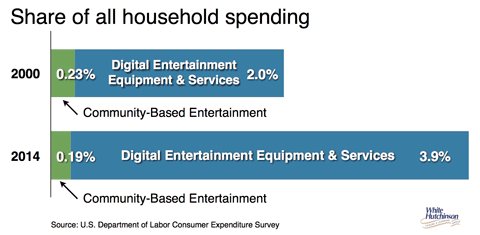 The location-based entertainment industry has been playing a losing game against the accelerating advancements in consumer screen-based digital technology, such as Pokémon Go, as well as all the at-home digital options. We've seen average household spending on consumer digital devices, services and content almost double from 2.0% of all household spending in 2000 to 3.8% in 2014, while spending on community-based entertainment has declined from 0.23% to 0.19% over those same 14 years. Household digital spending is now twenty times greater than all entertainment spending at community venues.
And as this article points out, there are more and more location-based options competing for a share of that reduced spending on community-based entertainment.
What all this means is very simple. To successfully compete today, and even more so in the near future as consumer technology options continue to improve and expand and as we see more and more community-based bricks-and-mortar entertainment and leisure options, any venue has to offer an extremely compelling premium offering, what is known as a High Fidelity experience, and one that is not only sharable, but repeatable. Average and mediocre will not longer win. You either have to be over the top, or die from all the converging disruptive forces. High Fidelity is the only way to successfully capture a piece of the shrinking tiny slice of leisure time and spending that consumers devote to community-based venues.
* The source of the data on leisure time is from our analysis of data from the American Time Use Survey. The ATUS data includes information collected from over 170,000 interviews from 2003 to 2015.
Vol. XVI, No. 7, August/September 2016
---
---