Vol. XVI, No. 7, August/September 2016
---
---
No waiting required; the next BIG THING has arrived!
Most location-based entertainment projects, especially FECs, are always looking for the next BIG THING to keep their attendance up. The problem for centers that base their business model on attractions with short lives is that once you add the next BIG THING, a few years later, you're chasing after it again.
Well, there's no waiting required as the next BIG THING is already here. The problem is that most operators haven't discovered it, as it isn't categorized as an entertainment attraction. In fact, the next BIG THING has been around as long as homo sapiens (that's us). That's what is truly a long-term attraction with no NEXT required.
The next BIG THING, or should we say, the ALWAYS BIG THING, is food and drink. And in the 21st Century it has gotten even bigger, even more of an attraction then in the past. In fact, now food and beverage has become the anchor attraction for the majority of the most successful community leisure venues that include entertainment as F&B generates 50% and more of revenues.
For Americans, in fact throughout the world, food has gotten to be a really big deal. It used to be it wasn't so much so as things didn't change that much. We were happy with the same basic fare from year to year.
No more! Consumers no longer consider food merely as eating. Rather they see it as an occasion that connects them both externally to how food is made and prepared and internally to how it affects their bodies and sense of well being.
Today it's a foodie world where people are seeking out top notch food discovery, adventure and knowledge.
A foodie is a person who has an ardent or refined interest in food and alcoholic beverages. A foodie seeks new food experiences as a hobby rather than simply eating out of convenience or hunger. - Wikipedia
Here's just a few statistics on American's preoccupation with food and drink:
And when it comes to foodies, we aren't just talking about millennials. It cuts across all generations. Here's just on example how all the generations are seeking culinary adventure.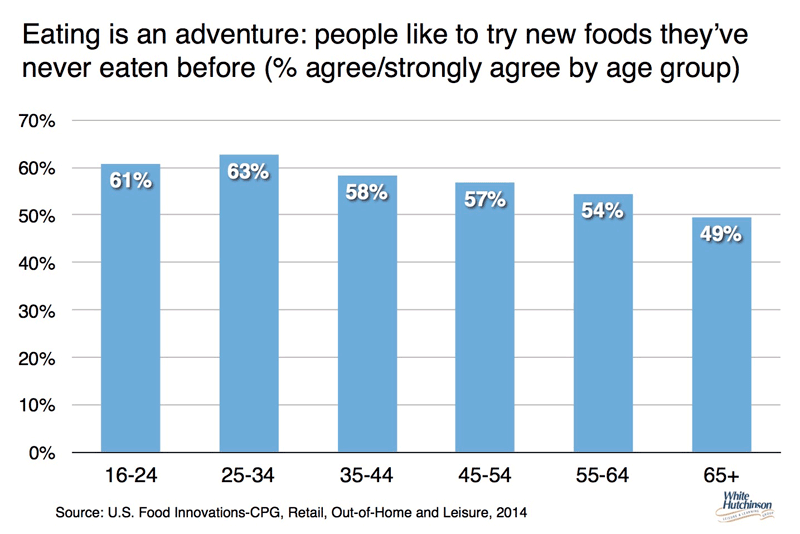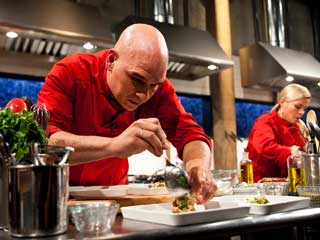 It's no wonder even our children have become foodies. When we counted, we found 800 cooking shows on TV and the internet in America, and that doesn't include all the food blogs. In the U.K., The BBC TV channels alone feature 443 hours of food shows a week.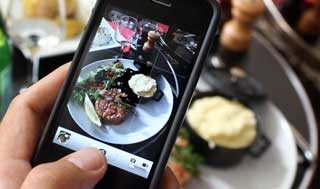 We're not only obsessed with our food and drink, we want to share those experiences (assuming they rate) with our friends and social media followers with our food porn photos on Instagram and other social media. In fact, if it isn't Instagramable, it's probably not worth eating. We no longer broadcast our identity with logoed cloths and accessories (other than maybe with Apple tech), but rather with the photos of the food and drinks we experience. And as the food imagery proliferates on social media, more consumers are "eating with their eyes" than ever before, raising their expectations to match.
The new food culture brings with it major trends and new values. Consumers are increasingly demanding transparency. They want to know:
73% of all consumers and 86% of 18 to 34-year-old women with children say they would be willing to pay more for a product that offers complete transparency. 94% say they are likely to be loyal to a brand that offers complete transparency.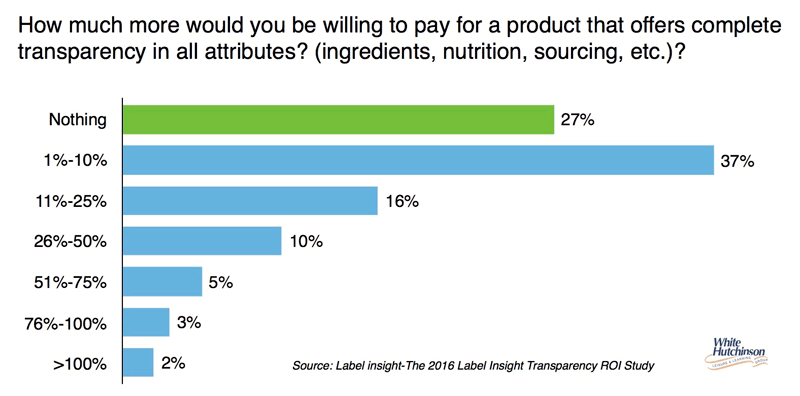 Nearly 2/3rds of consumers want companies to communicate what ingredients are in a food or beverage (64%) and four out of 10 want to know where companies source the ingredients to make them.
There is now a consumer-driven major movement by producers and food establishments to produce so called "free-from" or clean food that does not include antibiotics, hormones, genetically modified or artificial ingredients, with an increasing focus on health and wellness.
Sustainability has become a major part of the equation of deciding what foods and beverages to buy and eat. This year's Shelton Group's Eco Pulse study found that the percentage of American's who say buying/using eco-friendly products is an important part of their personal image has almost doubled since last year from 26% to 45%. J. Walter Thompson's Sonar survey found that 3/4s of US and UK millennials say they would adopt new dietary habits in order to reduce their impact on the planet (74%). The Hartman Group found that 2/3rds of consumers say looking for foods and beverages that are locally grown or produced describes "me well or somewhat well" (67%).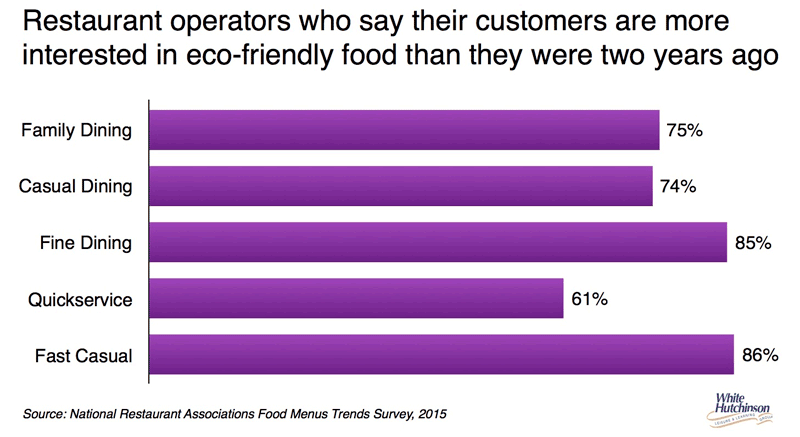 If you have any doubt about food and drink not only being the next big thing, but also an anchor attraction that drives attendance, just look at two of the chains that have been around for over 30 years - Dave & Buster's and Chuck E. Cheese's. Both generate half of their revenues from food and beverage (Actually CEC fell off the wagon by not keeping their food up to contemporary expectations and its sales fell below 50% the past few years. But they are making an attempt to improve its appeal).
And take a look what is happening with cinemas. They're adding full menus and bars. And the retail industry that is getting seriously disrupted by Amazon and ecommerce is using dining to drive people to their stores. Tommy Bahama discovered this success formula years ago. Today we have Bass Pro Shops, Urban Outfitters, Nordstrom and many other department stores, Ralph Lauren and even Barnes & Noble following suit with their new sit down in-store restaurant.
Here's why what our company calls destination dining can super charge what was previously an entertainment-oriented community venue. The most popular form of out-of-home entertainment is the movies. 58% of U.S. adults attended the movies in 2015 and North Americans attended an average of 3.8 times that year. 85% of U.S. households visit restaurants on average 238 times a year. That's 44 times as often as people go to the movies.
Here's how restaurant and bar spending compares to spending at all types of community-based entertainment venues, including zoos, aquariums, theme parks and museums. The top two quintiles of income households (top 40%), who account for 71% of all community-based entertainment spending, spend more on alcohol at local bars and restaurants than they do on community entertainment and 20 times as much at restaurants.
You only have to get a small slice of restaurant and bar visits and/or a small slice of food and alcohol spending to significantly increase attendance and/or per capital expenditures, resulting in greatly increased revenues and profits. The community venues that have destination dining generate 3 to 4 times the sales per square foot as the predominately entertainment ones.
Not only does destination dining increase frequency of visits and per capita expenditures, but it also can expand a venue's trade area. Trade areas are generally determined by drivetimes. The greater the length-of-stay, the longer people are willing to drive to visit a venue. When you combine destination dining with entertainment, you increase the length-of-stay and thus expand the trade area from which you can draw guests.
So much for all the research and nerdy stuff. It's all something our company has been researching and analyzing for years. A number of years ago we came to the realization that just designing and producing entertainment centers for our clients was no longer the successful formula. The centers needed to become major top quality food and beverage destinations as well if they were to succeed not only today, but also into the future.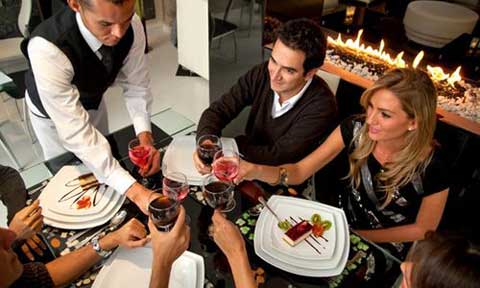 So we regrouped and added restaurant and bar expertise to our production team, not only to design and start-up the F&B operations, but also to operate them. Unless you have expensive experience managing restaurants and bars, you don't want to start at the bottom of the learning curve, especially in today's dining culture with its high expectations. You will never make it up the learning curve before going broke.
Every project our company is now developing for our clients includes destination dining and drinking. Our social hub project opening next year in the South Puget Sound will even raise the bar in the restaurant industry with its LEED certified building and sustainable operations and its culinary experiences and events. We're even introducing destination dining to our clients where we have long-term on-going relationships, such as Davis MegaMaze you can read about in this issue.
Yes, the next BIG THING has arrived. Food and drink has been elevated to new levels. Consumers' expectations are exceedingly high and rising every day. In fact the next BIG THING, destination food and drink, is so BIG now that without it, with rare exception, a location-based entertainment venue is not economically sustainable.
Vol. XVI, No. 7, August/September 2016
---
---