Vol. XVI, No. 9, November 2016
---
---
The Great Pumpkin brings egg-citement to agritainment
Halloween has become a major seasonal event. Since it also occurs during the fall harvest time, a number of years ago farmers figured out how to join the experience economy by turning their commodities into experiences they could charge for. Yes, we're referring to u-pick apples, pumpkin patches and of course corn mazes, all part of an industry called agritainment. Since America's first corn maze back in 1993, the agritainment industry in America has grown to over 800 corn mazes and agritainment attractions plus many farm-based haunts. In a few short weeks many of these farms generate more attendance and revenues than many FECs. Farmers now own October as THE out-of-home family destination.
Most agritainment farms only operate during the months of September and October, some for only six weeks. But they really pack in the attendance during that short time frame.
Perhaps the largest and highest attendance agritainment destination is Vala's Pumpkin Patch located in the Omaha, NE metro area. As one of our clients, we can't disclose their results, but the local newspaper reported they attract between 200,000 and 300,000 visitors in six short weeks and hire over 800 seasonal plus a handful of full-time employees to run the operation.
You might call them the Disney World of agritainment. They have 25 different food locations, 56 attractions, and 7 live shows all free with admissions plus 7 more attractions for an additional charge and 8 retail locations (check out their map that lists everything they offer). It's an all-day family experience for a weekend admission of $17.99.
This year they outdid themselves with a new attraction called Egg Scramble Barn. It's an interactive Ballocity experience (foam ball, multi-level shooting structure) located in a three-story barn.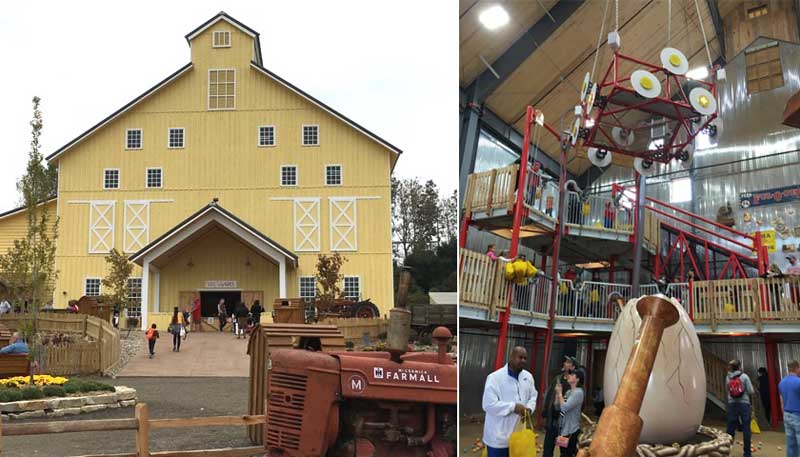 clicking here.
FECs BEWARE; the farmers have now taken over the market for out-of-home family entertainment in October.
In next month's issue, we'll be reporting on our annual national agritainment participation survey.
Vol. XVI, No. 9, November 2016
---
---