Vol. XVI, No. 9, November 2016
---
---
Gamerooms are stuck in a time warp
Last November, RePlay magazine published an article by our CEO Randy White, In Search of the New Gameroom. The article discussed how digital disruption is negatively affecting the location-based entertainment industry and how game changing New School community leisure venue (CLV) business models are focused on offering a destination where friends and family can come together to have a great social experience compared to the traditional FEC business models that are focused primarily on entertainment. As a result most of the New School CLVs are not incorporating gamerooms, mainly since there are so few arcade games designed for group socialization. Instead these CLVs are offering classic old school, physically-interactive social games such as bowling, bocce ball, shuffleboard, billiards, even social golf driving ranges (TopGolf) where a group of people can have a great social experience while playing together and enjoying great food and drink.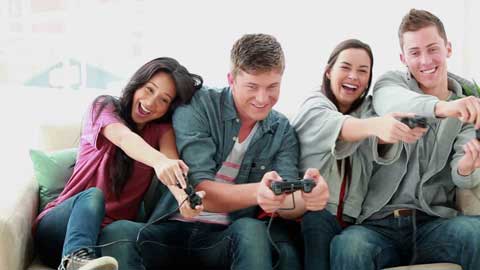 A new national survey of 1,000 video gamers by Sequence, an agency that designs and develops connected experiences, has confirmed that entertainment consumers today are looking for social experiences. Their survey found that the majority of home video gamers appreciate and seek out games that connect them to others in a meaningful way; two-thirds (66%) of players wish their favorite games were designed for social interactions between friends and family, in-person and not just on screens. That desire is even higher among millennials at 81%.
The survey found that a lot of gameplay already occurs within group experiences, with nearly half of gamers (46%) playing digital games with friends and family as a part of an in-person, social gathering. The 2016 survey by the Entertainment Software Association also found that frequent gamers value the social aspect of digital games, with 54% playing with other gamers.
Sequence CEO JoJo Roy explained it this way, "People are hungering for more, and it's not just going deeper into the screen. Despite the advances in technology and immersive experiences, people are looking for ways to get together."
The desire for in-person social gaming experiences helps explain the mass appeal of Pokémon GO. The Sequence survey found that 97% of consumers played it as a group. The success of Pokémon GO was of course largely due to a number of factors including its brand power and cultural relevance. However, its ability to disrupt and re-pattern the gaming behaviors of over 20 million users in its first two weeks to interact with the real world and to work together and meet up in Pokémon GO gyms proves that people are more than ready to start playing games that socially connect them in-person.
The findings from the Sequence survey and the overwhelming success of games like Pokémon GO point to the widely untapped potential of creating arcade gaming experiences that make social interaction a priority. The desire for real-life in-person social connections while playing games represents an opportunity for both arcade game manufactures and gamerooms to offer games that bring people together rather than isolate them as so many arcade games currently do. There's enormous upside potential for gamerooms to become more compelling by offering in-person togetherness experiences and so they can become a relevant part of the New School CLV business models.
Vol. XVI, No. 9, November 2016
---
---