Vol. XVI, No. 9, November 2016
---
---
A few of our current projects
Our company's work includes everything from feasibility and concept development to full project design and start-up. Projects range from 8,000 to 150,000 square feet plus many have outdoor spaces. Here's a sampling of a few of our current projects.
South Puget Sound Social Hub, Washington State
The walls are going up on the 57,000 SF social hub project we have designed and are project managing


1. October 7 - Pouring the basement where the geothermal HVAC equipment will be housed; 2. October 28 - the walls are starting to be constructed.
Doc Brundy's, Utah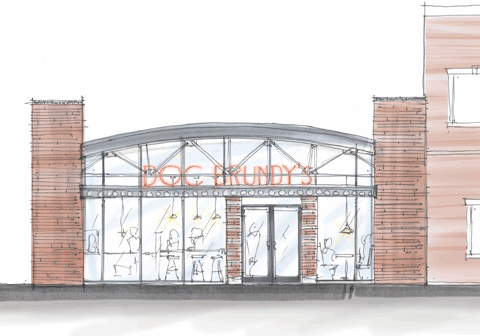 conceptual study sketch
What type project do you design when your client owns 100's of vintage pinball machines and has a 17,000 square foot building? In most situations you would develop some sort of bar-arcade. However, when 88% of the market is Latter-day Saints (Mormons), having alcohol just doesn't work. So we are designing a sodacade grille that will include vintage pinball and duckpin bowling.
Resort, Mexico
Working with a timeshare resort on concepts to create an indoor entertainment venue.
Former FunScape
FunScape was an FEC concept developed by Regal Theaters that adjoined seven of their theaters. They closed the three-year-old venture in 2000. We are evaluating feasibility to renovate one of the still dark centers as a new model community social venue that includes bowling and a destination restaurant.
Children's entertainment center, Florida
Designing a new pretend village area to increase the young child appeal of an existing indoor children's entertainment center
Agritainment farm, Maryland
Developing master plan for relocation of a popular fall agritainment farm.
Davis Farmland, Sterling, Massachusetts
Working with our client of 23 years on expansion of their spraygrounds and renovation of their dry water play area located in another area of the park.
Nevada
Started full market and financial feasibility study for development of a restaurant-entertainment center that will include a sports betting room. Last year we conducted a preliminary market evaluation that determined proceeding with a full feasibility study was warranted (see our article on preliminary feasibility in this issue).
Vol. XVI, No. 9, November 2016
---
---