Vol. XIII, No. 3, March-April 2013
---
---
The ever expanding bricks-'n'- mortar entertainment landscape
It was only 15 years ago when Joe Pine and James Gilmore published an article in Harvard Business Review titled "The Experience Economy." In 1999 they followed with the publication of their book The Experience Economy. They described the experience economy as the next economy following the agrarian economy, the industrial economy, and the service economy.
Pine and Gilmore were a little ahead of their time back in the late 1990s. However today, 15 years later, we are truly in the experience economy and seeing its impact on tradition forms of location-based entertainment venues such as family entertainment (FEC) and children's entertainment centers.
Today, many other types of bricks-'n'-mortar locations are offering entertainment experiences, many for free, to attract the public in the hopes that they will then purchase the goods and services being offered. And at least one whole new category of admission-priced entertainment venue has rapidly expanded. All of these new location-based experiences now compete with the traditional forms of location-based entertainment venues such as FECs for the public's disposable leisure time, and in some cases, dollars.
Retail stores are in trouble today. The value of owning stuff is declining as we are seeing with the growth of Transumers, consumers who values experiences over ownership. Transumers are interested in the experience associated with using a product rather than owning it, and thus are more likely to rent or share things when possible. It is called the Shared Economy. Apps are rapidly growing for sharing and renting. Here's just a few (click on each to go to their website):
And when consumers do decide to buy and own, they are increasingly turning to the Internet. So retail stores no longer have the allure they once did. Today bricks-'n'-mortar stores, shopping centers and malls are trying to drive traffic to their locations by offering experiences, many for free. Following are a few examples.
Sporting goods stores including REI, Cabela's, Scheels and Bass Pro Shops are offering experiential retail (retail-tainment) by offering aquariums, wild life taxidermy displays, bouldering walls, bowling, shooting galleries and even Ferris Wheels to attract customers. On a typical weekend or holiday, you find tons of families and people who visit primarily for the experiences rather than to buy something.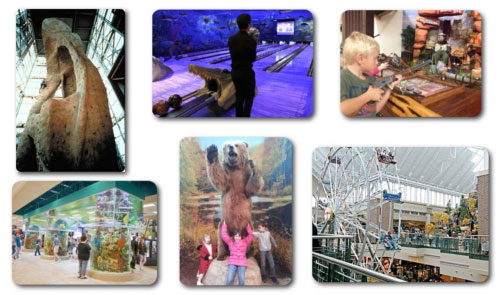 Then there are experiential retail stores such as the Disney Store and American Girl that are both entertainment as well as shopping destinations. The new interactive Disney Stores have an interactive Magic Mirror, a Pixar CARS-branded RideMakerz experience, interactive digital screens and an interactive theatre.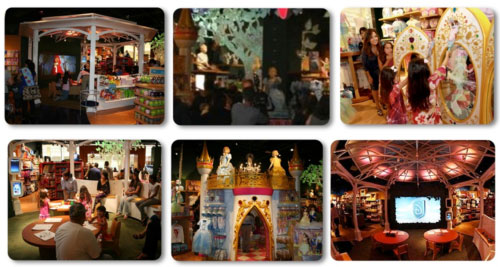 Even restaurants are getting into entertainment. One of the latest is Twin Peaks, part of the restaurant category known as Breastaurants (think Hooter's). The recently opened Twin Peaks restaurant in Las Vegas has a 39' tall rock climbing wall with buzzers installed at the top to encourage climbers to race for bragging rights.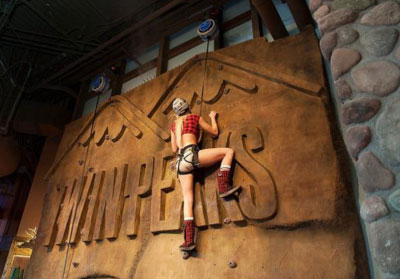 The shopping centers and malls themselves are adding all types of entertainment to attract customers, much of it free. Mall of America holds over 400 events every year.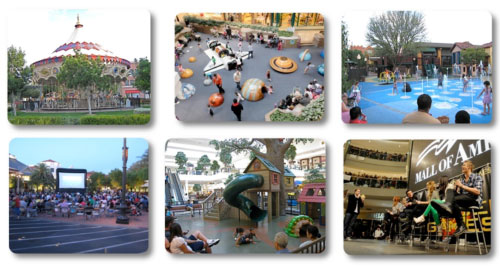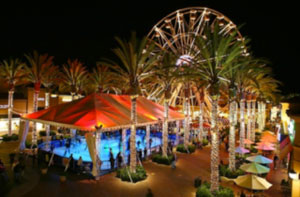 Irvine Spectrum Center
The Irvine Spectrum Center in Orange County California has a 108' Ferris wheel, antique carousel, seasonal ice-skating and a children's train ride on weekends. Shopping centers throughout America are adding rides, indoor and outdoor children's play areas, spray pads and many events including free outdoor movies to attract customer traffic.
There is a new form of location-based entertainment that first emerged two decades ago and has expanded greatly every since – agritainment, and more specifically, corn mazes and pumpkin patches. America's very first corn maze didn't appear until 1993. There are now over 800 corn mazes in the U.S. These agritainment attractions basically own the location-based family entertainment market in October. Some achieve over 200,000 paid admissions during a very short six-week season.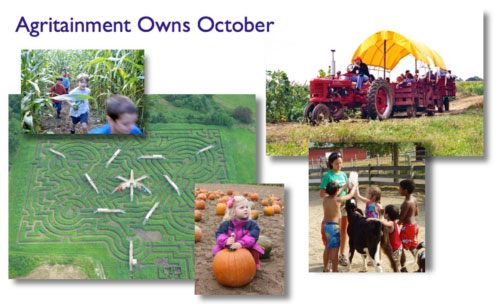 People today have almost exactly the same amount of leisure time, plus or minus a few minutes, which they had 30 years ago. The big difference today is that there are so many choices of what we can do with our leisure time and disposable income. In addition to all the expanded bricks-'n'-mortar options, we have the digital and virtual entertainment worlds that technology and the Internet have brought us*. Furthermore, entertainment is no longer limited to just at-home or out-of-home location-based options. With the introduction of the iPhone in 2007 and the iPad in 2010, we now have mobile entertainment we can access anywhere 24/7.
The competitive entertainment landscape has many more options than it once did not that many years ago. With so many choices, and so many at very low or no costs, traditional location-based entertainment venues need to step up their game** as desired destinations if they want to continue to attract people for leisure time activities and entertainment in the highly competitive entertainment marketplace.
* see article Entertainment spending up 58% since 1995 to see how the digital world is gaining in entertainment market share.
** For a framework on how to step up the game, see:
Vol. XIII, No. 3, March-April 2013
---
---