Vol. XIII, No. 3, March-April 2013
---
---
Chuck E. Cheese's bombs on food and new mascot while moving into the digital world
Every six months Nation's Restaurant News magazine and WD Partners run their Consumer Picks survey on the popularity of different national brand restaurant chains. The recent survey results were just published based on 126,000 restaurant visits by 5,467 survey respondents to 152 different national restaurant chains in four different industry segments during the six months July 15, 2012 to January 14, 2013. The restaurant chains included Chuck E. Cheese's, whichfalls in the limited-service (order at counter) pizza/Italian restaurant category.
The restaurant chains were rated based on 10 different attributes:
Of all the 10 rated attributes, the survey found limited-service category consumers considered Food Quality as most important, followed by Cleanliness. Value was in third place followed by Service. What the survey calls the X Factor, fifth in importance and what can make the most difference in setting a limited-service chain apart and in a chain's overall rating, is Craveability.
100 of the 152 restaurant chains rated were in the limited-service category. In terms of overall scores among those 100 chains, Chuck E. Cheese's came in dead last with its overall score of 33.4%. In fact, it was last among all 152 restaurant brands. In the limited-service category, In-N-Out Burger had the highest overall score of 69.7%. Here are CEC's scores for each attribute and how they compared with the other 99 limited-service chains.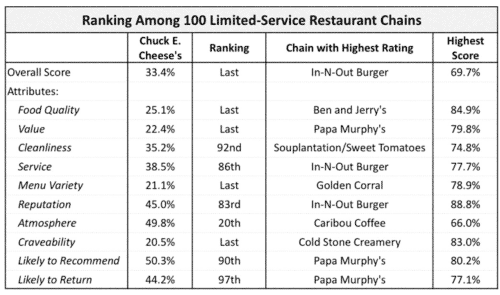 There can be little doubt that CEC's poor food and other ratings are contributing to their decreasing same store sales. Here's their comparable same store sales history over the past two years when most restaurant chains' same store sales were increasing.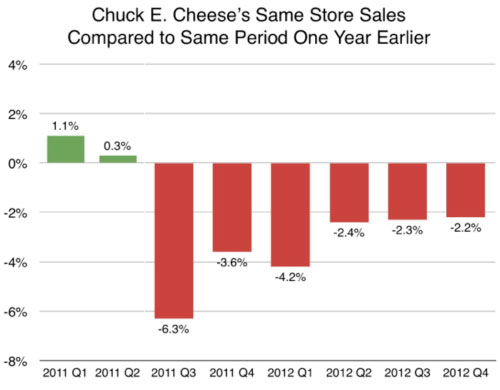 CEC's comparable same store sales for all of 2012 were down 2.9% compared to 2011. However, as is often the situation with statistics, that doesn't give a true picture as the results should be adjusted for inflation. With that adjustment, the 2012 comparable same store sales decreased by 4.9%. CEC has reported that their comparable same store sales in the first seven weeks of 2013 dropped 3.5% (around 5.5% if adjusted for inflation).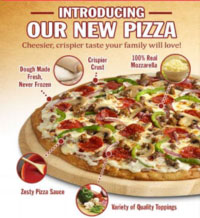 Over the years every adult we have ever talked to about CEC has commented how terrible their food is. CEC recently introduced an upgraded pizza with a made-from-scratch crust and real mozzarella cheese shredded in the store as well as a gluten-free pizza. We haven't had a chance to try their new pizza, but one food reviewer found it much improved (read his review). However, CEC has earned such a poor food reputation over the years that it will probably take them a long time to overcome the stigma of their poor food quality.
It looks like CEC is going downhill as every one of their consumer ratings decreased between the first half of 2012 and the second half. CEC's food quality rating has decreased from 30.8 in the first six months of 2012 to 25.1 and is still the lowest score of any restaurant chain in the survey. Their craveability has also decreased from 24.9 to 21.1. We've never run across a parent yet that craves going to CEC for any reason other than to please their child. Of course the recent scores do not reflect their improved pizza.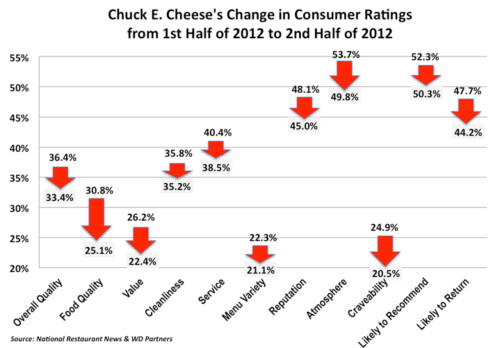 Interestingly, their atmosphere score has also decreased from 53.7 to 49.8. In the first 6 months of 2012 survey, CEC's atmosphere score was the highest among all the restaurant chains. It is now only 20th among the limited-service chains.
One thing we need to keep in mind is that adults are the ones rating the restaurant chains, not children. So it could be that the young children that CEC attracts would give theirfood a much higher rating. They might actually like it. The issue is that modern families are making decisions collaboratively based on the shared needs of all family members rather than the discreet needs of the individuals. To attract both parents and children, a facility has to appeal to both, but not necessarily be the top choice for either. Its appeal needs to have the highest common ground, what all members of the family can agree on. So pizza a child loves but a parent hates won't lead to the visit decision. CEC's pizza improvements are in the right direction to have parents consider CEC as an acceptable family dining destination.
One reason for CEC earning the lowest score in the Value category could well be the pizza, drink & token bundles they offer. CEC is constantly marketing them in newspaper coupon inserts as well as on their website.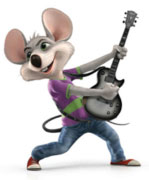 Recent research by Alexander Chernev and Aaron Brough published in the Journal of Consumer Research found the consumers will pay more for a single more expensive item than they will when that item is bundled with a cheaper item, even when they find both items in the bundle attractive. Furthermore, the research showed people were less likely to buy bundles that combined expensive and inexpensive products. In other words, they perceived the value to be less. The research showed the fallacy of the conventional wisdom that bundling more expensive and low price items increases sales. In the case of CEC, bundling the tokens with the food and drink could very well be lowering adults' perceived value.
Another factor in the value score could be CEC's menu prices. They are on the high side, so although customers may be taking advantage of the value bundles, they also remember the full prices when they are rating the chain.
In July 2012, CEC introduced a makeover of their mascot to a hipster mouse with a guitar. A report from E-Poll Market Research in November found that the Chuck E. mascot has lost appeal with children and their parents.
E-Poll's proprietary E-Score Character service ranks thousands of brand characters on 37 different personality attributes by surveying hundreds of children and their parents each month. The latest figures indicated that the new Chuck E. character experienced a 28% drop in total awareness and a 9% drop in appeal when survey respondents were asked to compare him with the mascot's previous version. Chuck E.'s appeal with boys ages six to 12 dropped 11% to 46%. Among girls of the same age, his appeal fell from 57% to 49%. Increasing the appeal to those older age kids, especially boys, is crucial for the chain in the future. "If the character improves the chain's image among boys, who are usually the first to reject something new, it stays hip longer," said Gerry Philpott, president and CEO of E-Poll.
CEC is also most likely suffering from the age compression of childhood – children are growing up faster. What might have appealed to a 9-year-old 20 years ago no longer does. Today, a 9-year-old considers it sissy to be a facility with preschoolers. Children's tastes and preferences mature faster. Plus, technology and video games, both at-home as well as on mobile devices, could be decreasing the appeal of CEC to older children. So whereas the primary market that CEC's attracted years ago might have been 3- to 10-year-olds, it could very well have shrunk to 3- to 7- or 8-year-olds. The new hipster mouse is obviously an attempt by CEC to increase its appeal to the older age group.
However, CEC could well be the most innovative FEC-type facility in terms of moving into the digital age to increase its appeal to tech-savvy children by combining digital and real world experiences, what is called convergence or fusing. They have extended the Chuck E. Cheese's experience 24/7 with on-line games where children can win redemption tickets and they just released a free augmented reality app for iPhone and Android that works in their stores.
Time will tell if Chuck E. Cheese's ratings increase with parents and their same store sales increase based on the upgraded pizza, updated mascot and technology improvements they have introduced.
Vol. XIII, No. 3, March-April 2013
---
---