Vol. XIII, No. 3, March-April 2013
---
---
A super-sized pop-up restaurant
When we were in Ho Chi Minh City (Saigon) to resource interior finish materials and furnishings for the 154,000 SF entertainment center we are designing and producing in Danang, Vietnam, our client suggested that one night we take a taxi to visit the Ben Thanh night market. So our client wrote down the destination in Vietnamese on a slip of paper we could give to the taxi driver, and that night off we went on our adventure.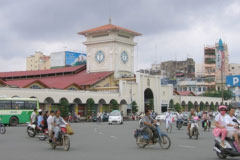 The Ben Thanh night market is at the Ben Thanh Market. The difference is that the market itself is in a large market hall and closes early in the evening, whereas the night market magically appears on the wide-open street next to the market building at night. The Ben Thanh night market is only one of many that can be found throughout Saigon.
The Ben Thanh Market building is one of the earliest surviving structures in Saigon, popular with tourists seeking local handicrafts, textiles, ao dai, and souvenirs, as well as local cuisine. The market developed from informal markets created by early 17th century street vendors gathering together near the Saigon River. The market was formally established by the French colonial powers after taking over the Gia Định citadel in 1859 (see Citadel of Saigon). The market was destroyed by fire in 1870 and rebuilt to become Saigon's largest market. In 1912 the market was moved to a new building and called the New Ben Thanh Market to distinguish over its predecessor. The building was renovated in 1985.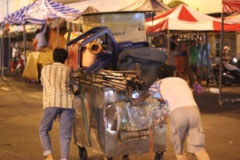 We arrived at Ben Thanh before the night market made its appearance. The indoor market was closing, so we strolled around the adjoining street where there were many shops and vendors spilling out into the sidewalk. When we arrived back to the Ben Thanh market area, things were in motion. People were rolling all kinds of large wheeled containers into the open street area. We couldn't tell where they were originally coming from. They were just arriving from different directions on the streets and up alleys. Soon we understood what was happening. These were the night market vendors bringing their tent like structures and merchandise to set up shop. It was a beehive of activity. Soon things started to take shape. Tents were going up, Merchandise was coming out of the containers to be displayed. Lights were being strung and hooked up.
One particular area caught our attention. It was a restaurant being set up. But this was no small restaurant. There were maybe 75 seats. A full kitchen area was set up and food was being prepared. Open fires were starting to blaze. This all happened over maybe 30 minutes. And at 7:30 pm customers started arriving, were seated and started ordering food. The name of this phenomenal pop-up restaurant is Hai Lua Food Countryside.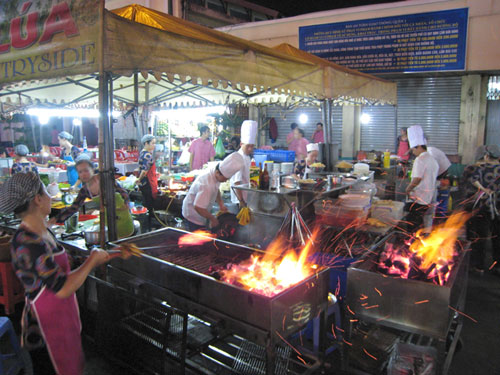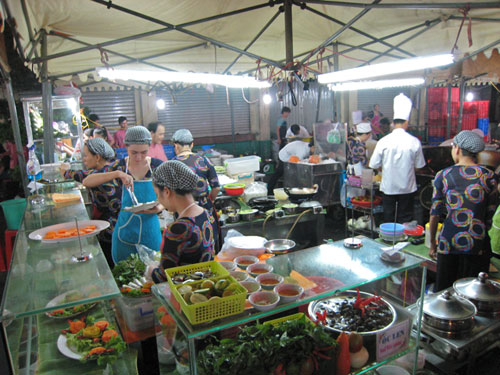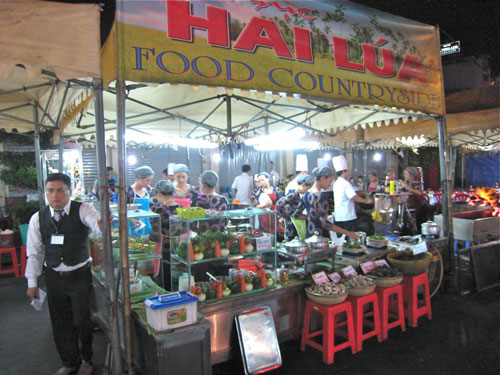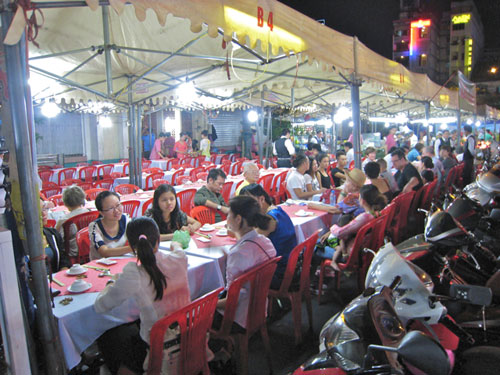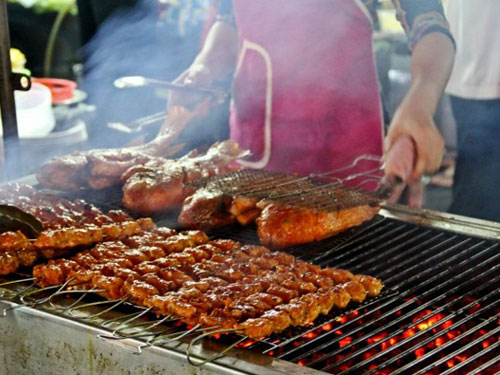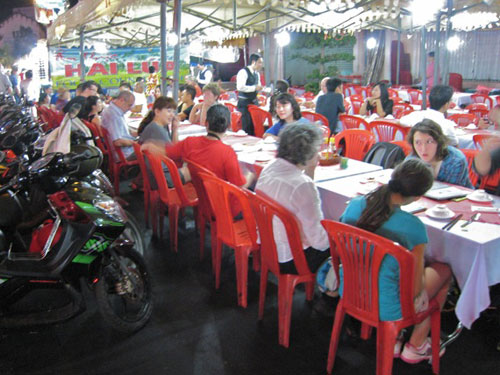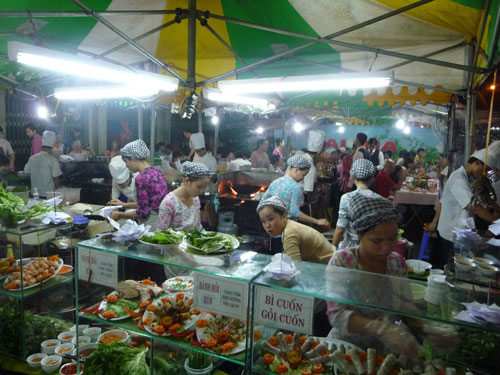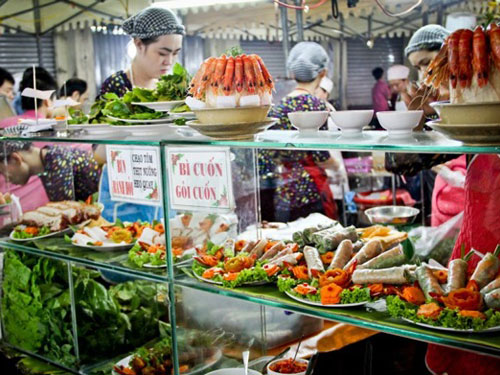 Hai Lua Food Countryside Restaurant at the Ben Thanh night market, Saigon, Vietnam
When I got back to my hotel room, I did a little research on the Hai Lua Food Countryside restaurant. It appears every night and starts seating customers at 7:30 pm. And the majority of customers are not tourists, but rather local Vietnamese.
Without doubt, Hai Lua deserves the title as one of the world's largest pop-up restaurants.
Vol. XIII, No. 3, March-April 2013
---
---