Vol. V, No. 7, August/September 2005
---
---
Editor's Corner
If you missed your August issue of the Leisure eNewsletter, don't worry; it didn't end up in some spam filter. We took a summer vacation from publishing in August.
Even though it's summer, the past two months have been very busy for us. Our business in the Middle East has been increasing with the opening of our Middle East office in Doha, Qatar. I recently returned from a trip to the Middle East where I was in Amman, Jordan; Jeddah and Riyadh, Saudi Arabia; and Doha, Qatar. In some respects, the Middle East's family entertainment and children's edutainment is surpassing that in the United States. Some of this is probably due to how the cultures in most Middle East societies totally center on the family. Family and culture are inseparable there. We are working on a number of exciting projects with several very visionary and progressive clients. We can't reveal the details, but can tell you the projects are taking family leisure and children's edutainment and enrichment to the next level. Hopefully, we will eventually have the opportunity to give you some details and introduce some of the concepts to the West.
While in Doha, the father of Engr. Saeed Al Kuwari, director of our office there, invited me to his home for a traditional Qatari meal. Up until around the late 1930s with the discovery of oil, as Subah Saeed Al Kuwari says, "Qataris were slaves of the sea." They derived almost their entire livelihood from the sea, mostly pearl diving and fishing. So the meal featured fish, four different varieties, plus three varieties of rice. And in traditional Arab style, we ate everything using our right hands as our utensil.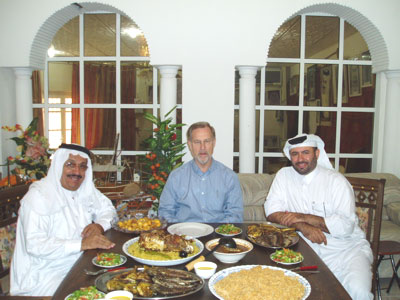 Subah Saeed Al Kuwari (left), Randy White (middle) and Engr. Saeed Sabah Al Kuwari (right)
chow down on a traditional Qatari meal of freshly caught fish and rice at Subah Al Kuwari's home.
One thing I can guarantee you. You will never leave hungry from a Qatari meal. In fact, I can't travel to the Middle East more than once a month, as it takes me three weeks between trips to lose the weight I gained there with all the exceptional food. That includes Iranian, Lebanese and Indian restaurants, and the drive-up food shops selling falafel and other Middle Eastern treats.
It is unfortunate the Middle East has such a bad reputation in the U.S. It is nothing like many people imagine. I have spent time in five different countries and can attest to how friendly and warm the Arabs are. They are people just like anywhere else in the world, concerned with the daily tasks of life: earning a living, taking care of their families and seeing that their children grow into successful adults. The press' emphasis on the very small minority of radical Muslims tends to portray all Muslims as hating the U.S. That is not true, no more than do a few radical groups in the U.S. represent the vast majority of Americans.
The vast majority of Middle Easterners like America. The recent outpouring of support for hurricane Katrina's victims is just one example. Kuwait has contributed $100 million in cash and $400 million in oil for the relief effort, and little Qatar, about the size of Connecticut, has donated $100 million. That's over $500 for every one of its citizens.

Things are just as busy for us back in the U.S. We started work with Lyman Orchards, a 1,100-acre orchard farm near Hartford, Connecticut, that includes two 18-hole golf courses, an original homestead, pick-your-own orchards, the Apple Barrel Market and a corn maze. Lyman Orchards is famous for its Hi Top Apple Pie, voted as Connecticut's best for the last five years.
Lyman Orchards Homestead and the Apple Barrel Market, home of the Hi Top Apple Pie, voted Connecticut's best.
In August I had a chance to visit Davis' Farmland and Davis' Mega Maze for our annual evaluation. This is our 10th year of working with Davis' Farmland as well as the facility's 10th anniversary. We are also working on the master planning for three other agritainment farms. The arrival of the rotund gourd, alias the Great Pumpkin, starting the end of this month promises to make October busy for us, as many of our agritainment clients need us to observe and evaluate their operations when they are busiest during the corm maze and Halloween season.
We continue our market research, strategic planning and renovation plans for the transformation of four bowling centers in Wisconsin, from bowling alleys originally designed to predominately cater to league bowlers, to family bowing/entertainment centers targeting the open play family market.
Plans are about complete for the 36,000-square-foot family pizza buffet/entertainment center in the greater Milwaukee, Wisconsin, area. Ground was broken for construction in early September. We are in the middle of a market and economic feasibility study for a 35,000-square-foot family pizza buffet/entertainment center in Illinois. Our children's learning division is currently designing a 30,000-square-foot childcare center in Naples, Florida, which will include a rooftop play garden and playground. Additionally, we have eight other projects in various stages of development.
As always, we have a great potpourri of articles for you in this issue. We hope you will find them informative.
Feel free to contact us with any comments or suggestions about our Leisure eNewsletter. As you know, it is the only independent newsletter covering the children's and family leisure industry that is free from the influence of trade associations or advertisers, and that gives us the freedom to tell it like we see it.
Randy White, editor
e-mail
Vol. V, No. 7, August/September 2005
---
---