Vol. V, No. 7, August/September 2005
---
---
Sensory overload coming at IAAPA Conference and Trade Show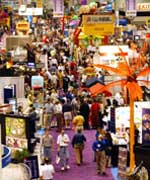 A walk through the IAAPA Attractions Expo 2005 Annual Conference and Trade Show may feel like a sensory overload because of the numerous and vivid experiences, sights, sounds and tastes that are showcased. But there is no better place for the worldwide amusement and entertainment industry to test hot new rides, indulge in fresh specialty treats and interact with the latest technologies, plus more.
At the one marketplace where amusement and attraction industry leaders, decision-makers and visionaries gather to view and explore new amenities for their facilities, the IAAPA Attractions Expo 2005, set for Nov. 14-19, 2005, will fill more than 1 million square feet of the Georgia World Congress Center, in Atlanta, Georgia, with more than 1,100 exhibitors.
IAAPA estimates attendance will be more than 28,000. As the amusement industry's largest worldwide gathering, the Trade Show offers a week of fun business set between 8 miles of trade show floor aisles, educational sessions from basic to advanced, behind-the-scenes tours, and networking opportunities.
IAAPA Attractions Expo 2005 will also boast a well-rounded and relatable schedule of 90 different educational sessions. There are five components to the educational courses, off-site tours and keynote sessions. Each component enables attendees to determine their own educational track through offering modules about specialized disciplines, presentations led by renowned business leaders and behind-the-scenes learning at other facilities.
Our CEO, Randy White, will present a seminar at 1 PM on Tuesday, Nov. 15, entitled, Adults are from the earth, children are from the moon: Designing for success with children. Randy explains, "Most leisure venues target families for a substantial portion of their business. However, all too often, the facilities are designed only for adults. This can set children up to feel incompetent, be bored and misbehave, diminishing the experience for the entire family and other guests.
The physical environment has a profound impact on children's fun, learning, behavior and safety. Young children read the environment differently than adults do. They look for ways to interact with it. Often, when adults think a child is misbehaving, the child is responding exactly the way the environment "told" him to behave. Designs that fail to consider children's "unique way of experiencing the environment" not only produce undesirable, and possibly unsafe, behaviors from children, but that behavior can also disturb the enjoyment of other guests."
Don't miss out on this once a year opportunity to see just about every entertainment product and service in the world at the trade show and learn from the wide array of educational seminars and tours. Register now and book your hotel room and flight before they are all sold out. Go to:
Vol. V, No. 7, August/September 2005
---
---