---
Restaurants that sell gasoline
A major evolution is under way for convenience stores, commonly called c-stores in their industry. C-stores evolved from gas stations, based upon the idea that by offering convenience goods and foods and beverages, the facilities could increase their per capita sales and profitability. C-stores evolved to become both a place to fill-'er-up and grab a drink or snack, as well as a convenient and quick location to pick up that carton of milk or six-pack of beer.
Basically, what food they offered was low quality and pre-packaged to appeal to what the National Association of Convenience Stores spokesperson Jeff Lenard calls the Bubba customer -- a blue-collar man who smokes.
Well, c-stores are now beginning to reach beyond Bubba and Slurpees and shrink-wrapped sandwiches, transforming themselves from their image as junk food pit stops to dining destinations that compete with quick-service and higher quality restaurants and grocers. In an unlikely culinary revolution, Slim Jims are making way for sushi and high-end meals. The reasoning is fairly simple: a good price for fuel might get people in the door once or so a week. Great coffee, freshly baked breads, brick-oven pizza and gelato will pull them in daily.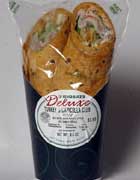 7-Eleven, with 5,800 North American units, is out to take on not only Subway, but also Panera Bread, Quiznos and other fast-casual sandwich chains. Hot dogs still have a place in the stores, but in recent years 7-Eleven has significantly upgraded the variety and quality of its foodservice offerings. Just like the quick-service chains, it has a culinary team charged with taking its food upmarket. In March, it introduced the first two items in a new Big Eats Wraps line. The Turkey and Capicolla Ham Club is wrapped in a sun-dried tomato tortilla and the Chicken Breast with Southwestern Mustard uses a spinach tortilla. And a quarter-pound Southwest Jalapeño and Cheese Big Eats Griller Sausage is joining the hot dogs.
The chain is really smart for upmarket diners on the go. The company developed packaging for the Big Eats Wraps that allows the food to stand upright and fit into standard car cup holders.
7-Eleven isn't alone in this upscale food movement among c-stores. Wawa, Pennsylvania-based Wawa c-stores has rolled out its own line of wraps to join the menu that includes hoagies (East Coast lingo for submarine sandwiches), salads (including chicken curry walnut), bagel melts, soups and fruit bowls.
However, the c-store chain that has really broken away from the industry pack is Sheetz, a 54-year-old family-owned company based out of Altoona, Pennsylvania. With over 300 c-stores, the company has opened two 10,000-square-foot Convenience Restaurant operations, one in Altoona and the other in Raleigh, North Carolina.
The Convenience Restaurants offer a broad menu prepared in a 'food theatre' where customers watch as employees in white chef coats prepare their selections. (This concept is known as display cooking.) Hand-carved ,slow-roasted turkey and roast beef Carverz sandwiches, hand-tossed pizzas, gourmet hand-tossed salads, cold and toasted subs, panini sandwiches, quesadillas, and black angus Burgerz are just a few of the selections available.
"There is a unique visual element to the food theatre in the Convenience Restaurant," said Keith Boston, Sheetz director of culinary development. "Customers can see their fresh salads and brick-oven pizza being assembled or their hand-carved roast beef and turkey sandwiches being prepared. It's food in your face."
There is also a full-service espresso bar with a professionally trained barista preparing specialty mochas, lattes, cappuccinos and fruit smoothies. The facility also features 62 indoor and 46 outdoor seats. As you can see from the photo, the seating is very comfortable and designed for privacy, way above what fast food restaurants offer. The new Sheetz stores also include drive-thru windows and free Wi-Fi.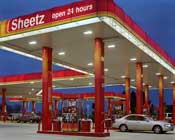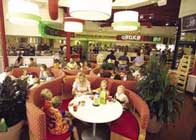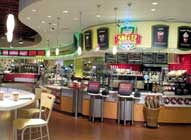 What's Bubba to do with c-stores going upscale? Bubba, you still have a place to eat: those tacky snack bars at many family entertainment centers that still think pre-frozen pizzas, hot dogs and nachos with cheese are the menu of choice, and where guests can sit in plastic chairs or hard booth seats.
---