---
Tour of outdoor play environments in Berlin, Germany
by Randy White, CEO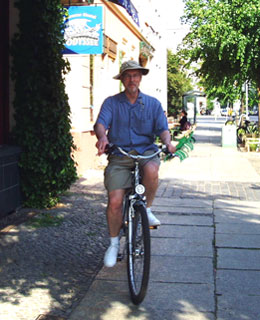 CEO Randy White arriving at the front of the
Hotel Juncker's Garni
after a day of biking throughout Berlin
In early June, I had the opportunity to travel to Berlin, Germany, for a four-day study tour of school and public playgrounds (spielplatz), including ones for children with disabilities, youth farms (also called city farms) and adventure playgrounds. The tour was organized by Frode Svane from Oslo, Norway, a landscape architect who specializes in designing children's outdoor play environments (Children's Landscape Norway). The tour had a total of eight participants from Norway, Germany and Denmark, plus myself as the lone North American.
It was an intensive four days. We traveled by automobile most of the first day, and then switched to public transportation including buses, trams, elevated trains and subways. We spent the entire third day biking throughout the city to different destinations. The public transportation was amazingly efficient and easy to use, and the city is very biking-friendly. You can get almost anywhere in the city of 3 million using the public transportation. Most Berliners rely solely on public and bike transportation.
Europeans, and especially the Germans, Danes, Swedes and Norwegians, have a much more advanced concept of children's outdoor play than we do in the U.S., where the dominant paradigm continues to be metal or plastic manufactured playground equipment plopped down in the middle of an area void of vegetation. Their children's outdoor play areas are much more organic in design, have copious amounts of vegetation that children can interact with, run through and hide and gather in. The vegetation is wild rather than formal. Even the lawns are left to grow wild rather than be regularly mowed to look like a golf course.
Their playground equipment is mostly asymmetrical and almost entirely made from wood. Much of it is not milled lumber, but rather natural shapes with curves and twists. Sand with a hand-operated pump or another device to supply water is a standard feature in every playground we visited. Also, their playgrounds and equipment offer children many more challenges than does the sanitized approach in the U.S. that allegedly helps avoid injuries by making playgrounds and playground equipment risk-free. This approach makes playgrounds challenge-free and boring for children. Europeans believe that offering children increased challenges actually reduces injuries and teaches children how to evaluate risks. Another differentiating feature of many of the Berlin playgrounds we saw is that they incorporate public art. Many of the play features are actually art produced by artists.
One area in which the U.S. is far more advanced than the Germans is in the design of accessible playgrounds. There, the idea is still rather new and design approaches are in their infancy.
There are more than 1,000 schools in Berlin. We saw a number of playgrounds that have been renovated through the consulting work of the municipally funded organization Grün macht Schule, which has already transformed 400 school playgrounds.
We visited two adventure playgrounds where we saw children between 6 and 16 years old building with saws and hammers and cooking. The adventure playgrounds also offered children metalworking, cooking, and places to do their homework. We saw children being allowed to play with fire in one adventure playground and one public playground. The two youth farms we visited were located in public parks, right in the heart of neighborhoods. They were free to all and featured animals as well as organized youth activities. Children performed some of the work at the youth farms. In many respects, the youth farms were a public version of agritainment facilities found in the U.S.
I've put together a slide show of some of the 400+ photographs I took on the trip to illustrate the European approach to children's outdoor play. Click here to see the show.
As a closing note, if you are looking for a European city to visit, I highly recommend Berlin. It has many wonderful sights to see including 138 museums (yes, that number is correct), diverse neighborhoods, a wonderful river (Spee) that winds through the city and you can travel by boat and a sophisticated selection of restaurants and cafes. Everything is reasonably priced. I found the city very clean and safe. It is incredibly green, the most vegetated city I have ever seen.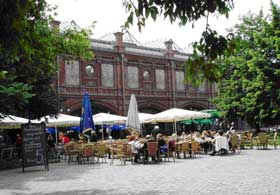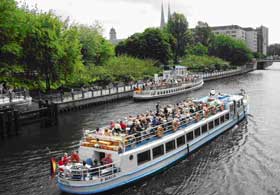 I stayed in the Hotel Juncker's Garni, a small city hotel located in Friedrichshain-Kreuzberg, a popular neighborhood in downtown Berlin, which was only 65 Euros (about $80) a night including breakfast and taxes. It isn't super fancy (no air conditioning), but the staff was nice and the facility very well kept and clean. And if you go, the best way to see Berlin is by bike. There is a tall television tower in the heart of the city you can always see, so you really can't get lost.

---