---
Editor's Corner
Wow, did I rack up the airline miles in June. First it was off to Berlin, Germany, for a study tour of children's outdoor play environments (see story below), followed by a short trip to the Atlanta, Georgia area back in the US. Then I left for the Middle East for a visit to Qatar, Bahrain and Dubai, and after I returned, I headed to Detroit, Michigan, and ended the month with a trip to Milwaukee, Wisconsin.
What I found happening in the GCC (Gulf Cooperative Council) countries in the Arabian Gulf is almost indescribable -- explosive growth and construction. Doha is completely rebuilding almost all the older parts of the city and constructing facilities for the 2006 Asian Olympic Games. Buildings and homes are popping up everywhere. There are 140 construction cranes just in the downtown area. The airport is being expanded.
Although Doha is booming, what is happening in Dubai is beyond comprehension. The construction boom there is colossal. One project alone has 140 high-rise towers coming out of the ground simultaneously (yes, 140). Massive malls are being built (see mall-tainment article below). The world's tallest skyscraper is under construction.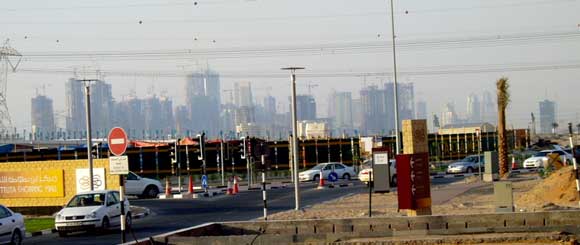 A typical skyline scene in Dubai
I talked with one contractor in Dubai who told me 500,000 construction workers are there, and another 300,000 will be added by the end of the year. To put that into perspective, Dubai has a population of only 1.2 million.
Both Qatar and Dubai are not satisfied with developing billion-dollar projects on land. In both countries, islands are being created in the Arabian Gulf that will be complete communities -- The Palm (3 different ones) in Dubai and The Pearl in Qatar.
| | |
| --- | --- |
| The Palm, Jebel, Dubai, U.A.E | The Pearl, Doha, Qatar |
To better serve our increasing number of clients in the Middle East, we have opened an office in Doha, Qatar (see story below).
In addition to our coverage of mall-tainment in the Middle East and my study tour in Berlin, Germany, this month we have an eclectic selection of stories on restaurants that sell gasoline, worldwide eating trends, who's eating healthy, and follow-up articles to last month's stories on entrepreneurial pitfalls and to a new eatertainment concept at uWink. And if you have been procrastinating about making your reservations to attend 2005's last Foundations Entertainment University, there's still time. See our first story below.
Randy White
Editor
e-mail

---