Vol. XV, No. 2, February-March 2015
---
---
Under-the-radar bar trend
Over the past five years, there's been a craft beer brewing explosion. The Brewer's Association reports that U.S. breweries are opening up at the rate of 1.2 per day.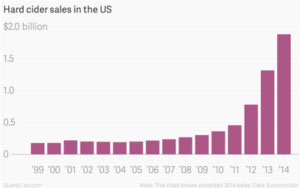 If you haven't been following bar trends, you may have missed a trend that is even hotter than craft beers – hard cider. It is the fast growing category of alcoholic beverage. Dozens of hard cider brewers are popping up around the country, especially in the apple growing regions. Even the major players including MillerCoors and Anheuser-Busch are now producing hard cider.
Back in the days of the 13 British colonies that became the U.S., fermented apple juice used to be big. Back then, hard cider was more popular than whiskey, wine, and beer. 18th-century residents of Virginia and Massachusetts were each drinking between 15 and 35 gallons of the stuff a year. During the 19th century consumption declined. Hard cider never recovered after prohibition.
Millennial drink preferences
Describing all Millennials as trend-seekers looking for the next big alcoholic thing is a bit of an oversimplification for an entire demographic cohort. When it comes to drinks, a blog post titled "Courting Millennial Women's Drink Preferences" by research company Technomic describes Millennials, especially women, as "highly inquisitive, experimental and influential consumers of adult beverages."
So what might the next big thing be for Millennial women (and Millennial-minded older women as well)? It's alcoholic root beer. Yes, root beer with a kick that is more than just the fizz.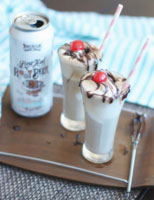 The sarsaparilla and carbonation boozy blend is being supplied by local breweries such as Sprecher Brewing Company in Glendale, WI; Small Town Brewery in Chicago and the Weston Brewing Company in Weston, MO. Hard root beer's combination of nostalgia and alcohol make it a hard choice to pass up when you see it on a menu. And restaurateurs love it as they can get a premium price for it versus a light beer.
And here's a sweet twist on it. How about a hard root beer float (also known as a black or brown cow)? Here's the one that Grinder's Restaurant in Kansas City will serve you using Root Sellers Formidable Fermentables hard root beer.
Vol. XV, No. 2, February-March 2015
---
---