Vol. XV, No. 2, February-March 2015
---
---
Vietnam's largest FEC opens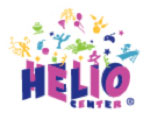 Helio Center, the center we designed and produced in Da Nang, Vietnam is considered to be the Vietnam's largest and most modern FEC. It opened to the public on February 11, 2015 in time for the Tet holiday. The center has 157,000 square feet (14,600 square meters) of indoor space and 2.5-acres (one hectare) of outdoor family entertainment attractions. Da Nang is located on the coast midway between Hanoi and Ho Chi Ming City (formerly Saigon). It has a metropolitan area of one million and is a very popular tourist location for Vietnamese from the throughout the country as well as foreigners with its beaches, 5-star resorts and less crowded and laid back lifestyle.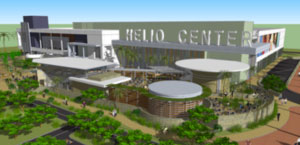 Man Quang, CEO of Helio Center, said, "It is exciting to be able to bring a totally new entertainment experience to the Vietnamese people with this state-of-art, world class FEC. I am confident it will be a major attraction and bring much joy and happiness to both residents and tourists for many years to come."
We began work on the center in July 2012 when Randy White, our CEO, visited both Ho Chi Ming City and Da Nang to conduct cultural research and market feasibility. After we completed feasibility, we immediately proceeded to designing the center. If you've ever wondered how design starts, this is the big idea floor plan that Randy first sketched (now you can see why we don't let Randy do final drawings). It is very close to the final floor plan.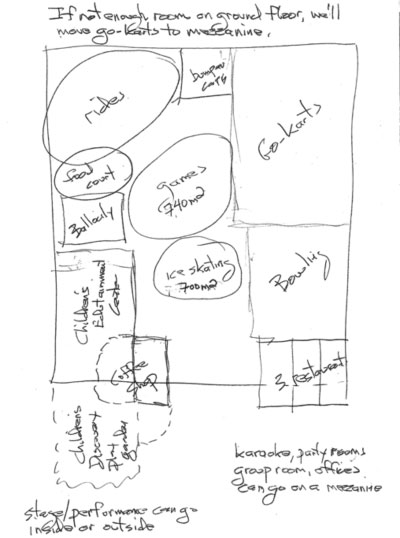 Construction was fast-tracked, meaning construction started while parts of the project were still under design. Considering the complexity of the building design with its ground floor, mezzanine and basement garage plus sourcing and procurement of entertainment equipment and finishes from all over the world, Randy said, "For an FEC of this size and complexity, it was actually completed in a very timely manner, even by Western standards."
The FEC includes both adult-oriented and family attractions:
The outdoor area includes:
At peak times, the FEC will accommodate 4,000 guests. The center employs a staff of 600. Helio Center cost more than USD 45.0 million by Western cost equivalents.
Helio Center started its marketing campaign well before opening on social media, predominately on Facebook. By opening it had already registered 50,000 members who will use its Power Card debit cards to pay for games, attractions and food and beverage, get discounts and earn points towards VIP status.
Unusual for entertainment projects, we designed the building with a natural daylighting roof monitor system that allows the majority of the center to be totally lit by daylight during the day to save on electrical lighting costs. The project also incorporates a number of special acoustic treatments to prevent it from being too noisy.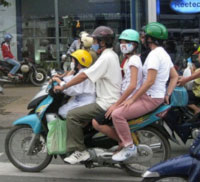 Parking spaces a lot smaller
The basement garage is no ordinary garage. In Vietnam, the vast majority of people travel by motorbike, not by car. Only the very rich own cars due to an import duty that is as much as twice the cost of the base car, making a car up to three times as expensive in Vietnam as in the U.S. So the garage has parking for 1000 motorbikes and only 53 cars. Yes, 95% of the parking is for motorbikes. And motorbikes are not limited to one person per bike. An entire family of two adults and two children can often be seen riding a single motorbike. So we estimate the garage will have parking for over 2,000 customers.
A unique feature of the basement garage is the security system it has to prevent the theft of motorbikes, something you won't find in the West. There is a small charge to park your motorbike, 2,000 dong (10 cents US). When a motorbike enters the garage, they stop at the security check-in, pay and a computer-camera system records both the driver's face and the license plate. Then when leaving, the driver drives through a security checkpoint that verifies the original driver is on the motorbike by matching the license to the original photo of their face.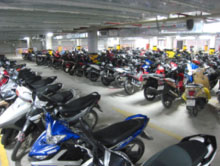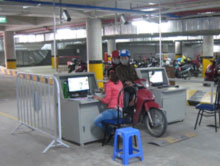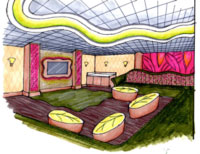 Rendering of one of Helio Center's karaoke rooms
Crazy over karaoke
When Randy first visited Da Nang for the cultural research in July 2012, our client explained that young adults in Vietnam love karaoke. In Da Nang, private karaoke rooms basically take the place of bars where young adults will gather. Asian culture tends to be more conservative about expressing emotions publically, unlike in Western cultures where acting a little crazy and expressing emotions publically in a bar is culturally acceptable. Karaoke rooms are the major form of out-of-home entertainment for young adults in Da Nang. A group of friends, usually eight or more, will rent a private karaoke room for several hours where they will drink beer, eat snacks and participate in karaoke.
So Randy had our client take him to some karaoke parties to learn about it. The karaoke machines are quite sophisticated in Vietnam as they rate the quality of the singing. So the friends often break-up into teams and bet on which team will end up with the highest score. There are entire multi-story buildings throughout Da Nang and other cities in Vietnam that are dedicated karaoke centers.
As is so often the case with design, one designer will just copy what another has done and not necessarily practice evidence-based design. Often what are referred to as best practices are not really the best, only what has become the standard in the industry. We suspected this might be the case with the design of karaoke centers in Vietnam, so along with our client, we embarked on some serious research about the best designs and practices for karaoke rooms and centers. We conducted an on-line survey of young adults (in Vietnamese) and our client interviewed people and sent representatives to Ho Chi Minh City to visit the best karaoke centers there and talk to the owners.
As we suspected, we learned a lot from the research on how to improve the karaoke center's and rooms' designs and the overall karaoke user experience. This included serving fresh cooked foods (not just the packaged snacks and fruits other Da Nang karaoke centers offer) how to improve the wait service to the rooms and how to design the rooms with private toilets. The 19 karaoke rooms at Helio Center vary in size to accommodate 8 to 50 people and each is a unique design.
Bringing duckpin bowling to Vietnam
During Randy's cultural research, he visited all the entertainment centers in Da Nang and Ho Chi Minh City. There were a number of small bowling centers with ten-pin bowling. His research found that ten-pin bowling was not very popular. It was easy to understand why. Adult Vietnamese are shorter and smaller than Westerners. Their hands are smaller. Ten-pin bowling balls are very large and heavy. The three finger holes are very awkward to use, especially if you have smaller fingers and not a wide finger reach. Here we had an excellent example of the first Vietnamese bowling centers literally importing a Western entertainment concept that didn't fit the culture, or should we say, the culture's people.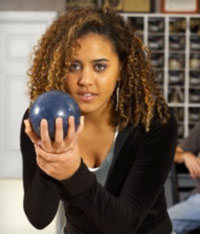 Duckpin bowling balls are much smaller than ten-pin bowling balls and don't have finger holes
We felt bowling could be very popular, as it had similarities to karaoke:
But a cultural modification was needed to make bowling popular. The answer was to use duckpin bowling that uses a smaller ball. Duckpin bowling balls are about the size of a large grapefruit, weigh about 25% of what an adult ten-pin bowling ball weighs and have no finger holes. So we worked with US Bowling Corporation to design bowling lanes with a duckpin pinsetter and ball returns. Here's some photos of the finished bowling center in the project.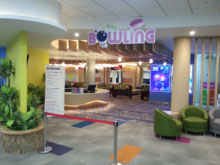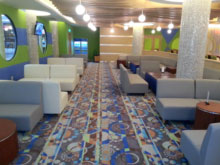 Entry; Bowling lounge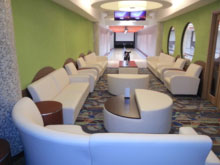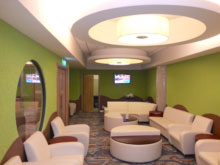 Duckpin VIP bowling suite
Food Options Galore
Helio Center offers food at three different locations. There is a food court that offers a selection of different Asian foods and a from-scratch bakery, a coffee-café and sit-down restaurant with both indoor and outdoor seating for over 500.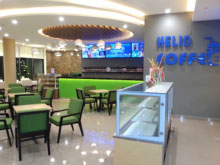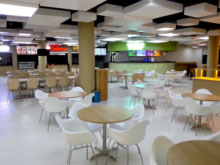 Coffee Shop-Bakery; Food Court
Grand Opening
Helio Center did their grand opening up in style, including a traditional dragon dance.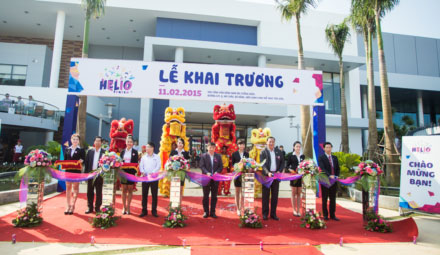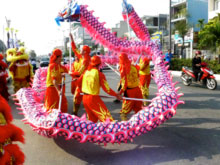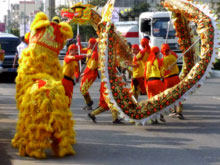 Even by Western standards, Helio Center is a state-of-art FEC. Our company is honored to have been a part of bringing this entertainment attraction to Vietnam.
Vol. XV, No. 2, February-March 2015
---
---