Vol. XII, No. 3, April - May 2012
---
---
Ray's indoor playground - it's no FEC
Ray's, with two locations (97,000 square feet in Cleveland that opened in 2004 and the newer location in a former 110,000-square-foot Menard's home improvement store in Milwaukee) is no family entertainment center. Ray's doesn't feature any inflatable slides, video games or rides. Rather, it's an indoor mountain bike playground built out of wood, nails and concrete.
Ray's Indoor Mountain Bike Park is primarily designed for adult mountain biking (and secondarily, BMXing) enthusiasts. However, you will often find adventurous children there as well. Children younger than 16 must be accompanied by an adult who stays in the park. Children younger than 8 must have an adult riding with them.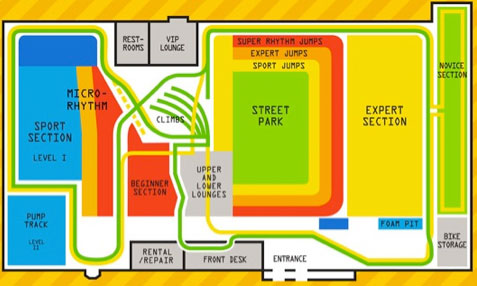 There are two courses. The easier yellow trail includes a novice area that allows first timers to practice riding on treacherous wooden planks, rocks, logs, curved banks and small mounds. The more adventurous green trail is located on the second floor with its steep roller coaster-like descents and other challenges. There's also a sport, super rhythm jumps, expert jumps, sport jumps, pump track and street park areas.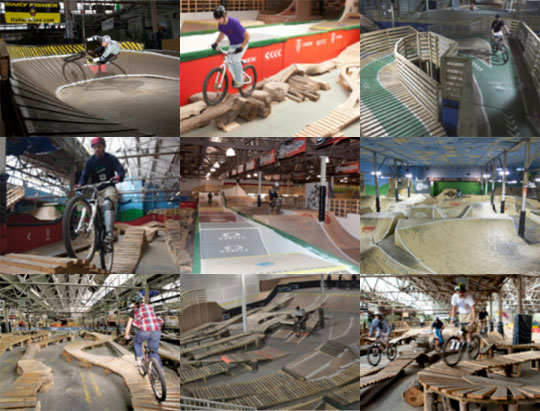 Admission to Ray's is $19.95 on weekdays and $25.99 on weekends. Mountain or BMX bikes can be rented. Gloves, helmets and other protective gear can be rented or purchased at the park.
Each summer when bikers and BMXers hit the outdoor trails, Ray's closes for remodeling and upgrades. This year they closed April 29th, so you'll have to wait until October 1st to give Ray's a test drive.
Vol. XII, No. 3, April - May 2012
---
---