Vol. XII, No. 3, April - May 2012
---
---
Chuck E. Cheese's a pioneer with multichannel entertainment convergence
Location-based entertainment is behind the learning curve in the second decade of the 21st Century. Today consumers want the option of multiple ways to shop. Many retailers now offer multichannel retail convergence; you can shop in real world stores or online 24/7 in the virtual world with computers or mobile devices. Location-based entertainment is definitely behind with 24/7 multichannel convergence.

One of the early pioneers of multichannel convergence in the retail world is Build-a-Bear Workshop, which created an on-line 24/7 extension of the in-store experience with Bearville.com. When a child births her bear, she gets a birth certificate. The child can then go on-line at Bearville.com to register their bear using its birth certificate number. An equivalent virtual bear is then created. The child can also create their own avatar. The website is a virtual world where the child can hangout with their friends, explore with their avatar and virtual bear and play many games.

It's no different with entertainment. Consumers want their options. They no longer want to be confined to real world entertainment venues at some fixed time. In a sense, they want the same control over their entertainment that the DVR gives them with viewing television shows. As the research we have shared with you in past Leisure eNewsletters articles has shown, entertainment dollars and time are migrating to the virtual world. Out-of-home real world entertainment venues are slowly losing market share. To survive and prosper in the 21st century, entertainment venues, and especially community-based ones, need to extend their brands into the virtual world so consumers can experience their brand and entertainment 24/7.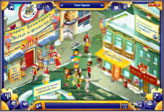 In the family entertainment center industry, it's a kid's venue that is pioneering multichannel entertainment convergence. Now you can experience Chuck E. Cheese's without going to an actual CEC, pizza not included. Chuck E. Cheese's Arcade Room, which recreates the experience of being at CEC, was released April 26, 2012. There are many games where you can win tickets. You can polish off your toy hammer in Smash-a-Munch, make consecutive shots to go on fire in Basketball Frenzy and ride like the wind in Jasper's Racing! You can even customize your very own Chuck E. Cheese's avatar!

You can watch a short video preview on YouTube.
Vol. XII, No. 3, April - May 2012
---
---