Vol. VIII, No. 2, March/April 2008
---
---
The Whopper Bar is coming
We normally don't give coverage to new restaurant-only concepts, but we believe Burger King's new Whopper Bar epitomizes several significant restaurant trends that also apply to eatertainment and location-based entertainment centers.
First, some information about the Whopper Bar planned for airports, mall food court and even casinos.
Burger King plans to unveil a mock-up of the Whopper Bar for franchisees at the company's annual convention in May in Orlando, Florida. Plans call for opening a "handful" of test sites before the end of the year.
"The concept is not meant to replace the free-standing restaurant, but to go into areas where you couldn't fit a full restaurant," said Keva Silversmith, Burger King spokesman. "The idea is to take advantage of the Whopper's trademark cachet."
The Whopper Bar will offer as many as 10 different types of Whoppers, many not typically available at all times in the chain's traditional restaurants. Examples include the Rodeo Whopper, featuring fried onion rings and barbecue sauce; the Texas Double Whopper, with bacon and jalapeños; and the Angry Whopper, topped with spicy onions.
Each Whopper Bar will be about 490 square feet with a hip, contemporary look. The preliminary design features open-style kitchens, chrome, exposed brick and plasma televisions that play looped videos of open flames of fire to evoke Burger King's flame-broiled motto. Customers also will be able to watch their burger being prepared in front of them "to put a little more theater into it," said Russ Klein, the company's president for global marketing, strategy and innovation.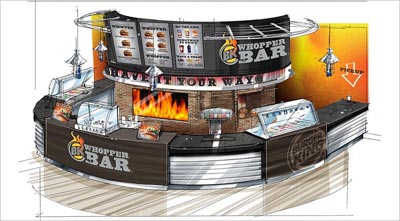 The Whopper Bar will also feature a build-your-own option for customers to customize their burger. "The concept is like 'Pimp My Ride,' " Klein said, referring to the MTV program about customized cars. "To take up your Whopper, make it your own, put you in charge."
The Whopper Bar exemplifies two major trends we are seeing spread throughout the food service industry: open kitchens and the ability to customize your food. Open or display kitchens have been gaining popularity for two main reasons. First, dining away from home needs to be all about the experience, one you can't have at home. Open or display kitchens provide entertainment and theater for the dining out experience. Second, customers like the assurance of knowing where their food is coming from and that it is being properly prepared in a safe manner. As one mother said at a focus group, "With an open kitchen, I know if they drop the hamburger on the floor, they won't serve it to me or my children."
The other trend is customization, also called mass customization, as first identified by Joe Pine in his 1992 book, Mass Customization: The New Frontier in Business Competition. Burger King, with its "Have it your way" marketing, and Starbucks, with its 30,000 ways to have your coffee customized, are probably as responsible as any companies for training restaurant customers to want to have their food offerings prepared to their preferences.
We are noticing a lot of new food concepts in their early stages of prototyping in airports where numerous restaurants are competing for hungry travelers. We recently spotted this Cereality Express at an airport.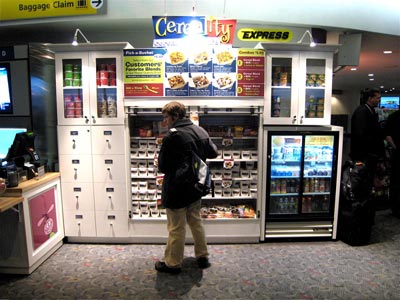 Vol. VIII, No. 2, March/April 2008
---
---