Vol. VIII, No. 2, March/April 2008
---
---
Foundations Entertainment University, May 6-8, 2008, Kansas City, Missouri
It's a little hard to believe that Foundations Entertainment University is now in its fifth year of helping entrepreneurs and existing location-based entertainment (LBE) businesses become successful with their projects and expansions.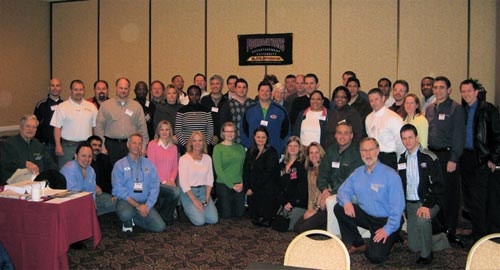 Attendees at the last Foundations Entertainment University held in Dallas, Texas, February 2008
"Foundations Entertainment University, the school for would-be amusement facility operators, defies the old adage about those who can do and those who teach. The sharp and experienced consultant instructors who run Foundations do both, teach and work in the real world, and do them well."

Replay Magazine

click here to read the total review

The next Foundations will be held May 6-8 in Kansas City, Missouri. In addition to three days of instruction on all aspects of developing and operating centers by five of the industry's top consultants and designers, this Foundations will feature a behind-the-scenes tour of a children's edutainment center, an indoor-outdoor family entertainment center and a bowling lounge. We will be visiting Paradise Park, winner of the 2004 Golden Token Award as the best new family entertainment center, and the new Lucky Strike Lanes in the just opened Power & Light District in downtown Kansas City.

Attend Foundations Entertainment University to become part of our "Road Kill Prevention Program." Register today.
Vol. VIII, No. 2, March/April 2008
---
---